2019 Commencement: What You Need to Know
"Pomp and Circumstance" is cued up and the caps and gowns are ready. Saint Louis University will graduate its newest alumni this week. Here's what you need to know before the celebrations begin.
How to Watch SLU's Commencement Ceremonies
See your favorite Billiken become a son or daughter of SLU forever. Saint Louis University graduates are honored at precommencement ceremonies held by their college or school. Precommencement ceremonies start Thursday, May 16 and continue Friday, May 17.
See 2019's Precommencement Schedule
Following the precommencements, all spring graduates and their friends and families will join together for the University's commencement ceremony Saturday, May 18, in Chaifetz Arena.
Browse FAQs About Commencement
Watch the Ceremonies Stream Online
All precommencements held in Chaifetz Arena and the University's commencement ceremony will stream live online at https://www.slu.edu/commencement/stream.php. Most precommencement ceremonies will also stream on the Facebook page of their respective school or college. SLU Madrid held its commencement ceremony in Spain May 11. See the highlights.
Stream 2019 Commencement Ceremonies
The main commencement ceremony will stream on Saint Louis University's Facebook page. Archived live streams will be available on the respective Facebook pages under Videos. The University's commencement ceremony will also be made available on Saint Louis University's YouTube channel. See live updates on commencement day by following Saint Louis University on Twitter or by using #SLU2019.
Download the Commencement Program
Commencement Speakers and Honorees
The 2019 Saint Louis University commencement address will be delivered by Randall L. Stephenson, CEO of AT&T. Stephenson will be honored with a Doctor of Commerce from SLU during the ceremony.
Other honorary degree recipients for 2019 include:
Robert Cardillo, who recently retired as director of the U.S. National Geospatial-Intelligence Agency
Marie Kenyon, director of the St. Louis Archdiocese's Peace and Justice Commission and a 1986 graduate of the Saint Louis University School of Law
Donald Ross, retired chairman of Enterprise
The student address will be delivered by Matthew Prest, 2019 graduate of SLU's Parks College of Engineering, Aviation and Technology.
Other Events Honoring Graduates
In addition to the precommencement and commencement ceremonies, SLU has two other special events for graduates.
Baccalaureate Mass
May 16, 6 p.m.
The Baccalaureate Mass is SLU's Catholic celebration of graduates in St. Francis Xavier College Church. Families are invited to attend with their graduates.
Toast to the Class of 2019
May 16, 7:30 p.m.
SLU's newest graduates raise a glass and mingle with friends, classmates and President Fred P. Pestello, Ph.D.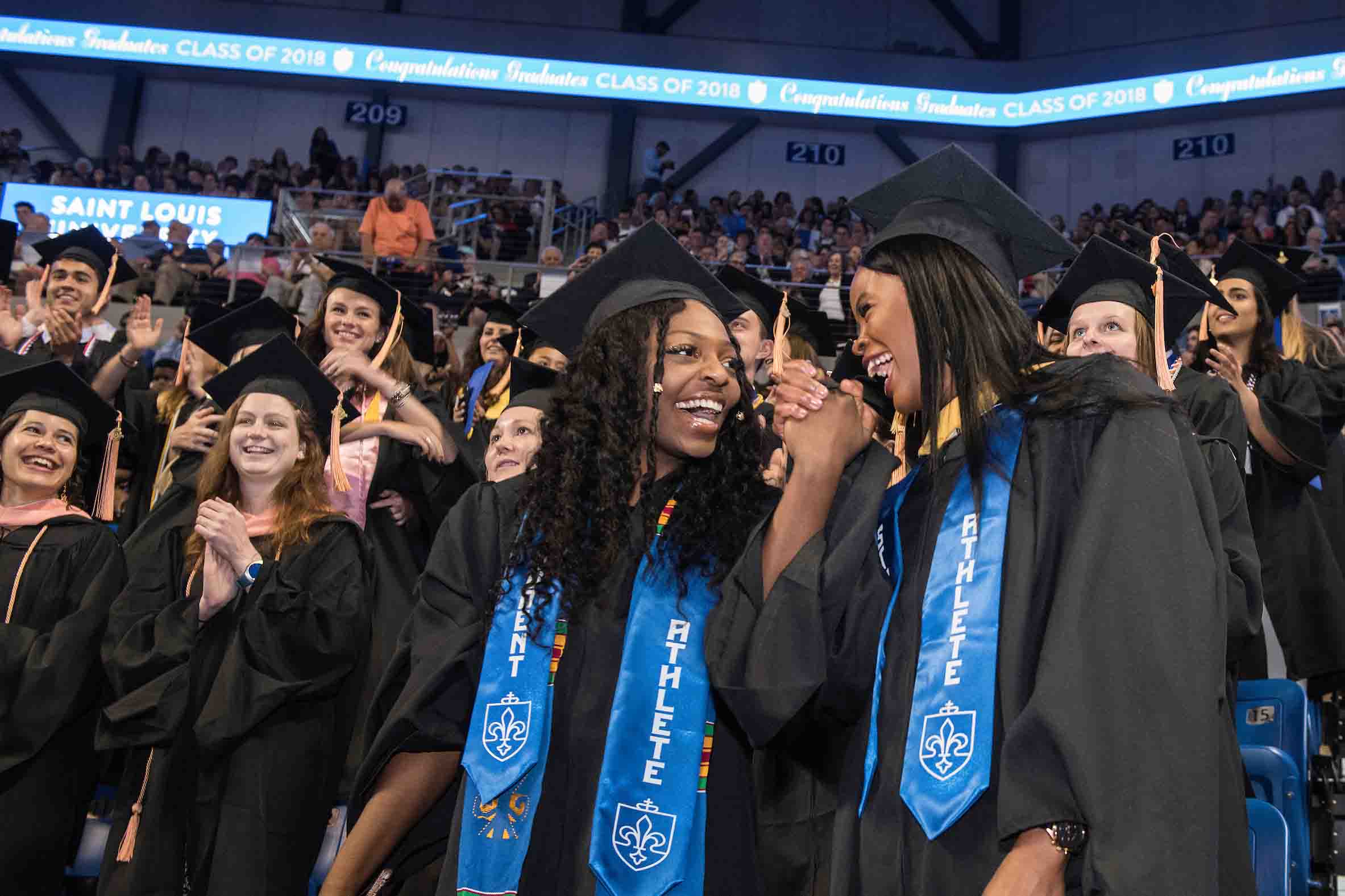 SLU Commencement Fast Facts
Share the News: The official hashtag for commencement week at SLU is #SLU2019. SLU also makes available a commencement news release that can be downloaded and modified, allowing families to share their commencement news with their local newspaper.
Gifts for Grads: Find diploma frames and other items to commemorate your time on campus at the Saint Louis University Barnes & Noble Bookstore.
Tassel Trivia: Wondering what all the different colored tassels stand for?



Apricot: Nursing
Blue (Light): Education
Black: Ph.D. and Ed.D. students
Citron: Social Work
Crimson: Master of Counseling
Drab: Business
Gold: Following graduation, those holding a doctorate may wear this color
Green: Medicine
Maroon: Professional Studies
Mint Green: Allied Health Professions
Navy: Sociology and Criminal Justice
Orange: Technology and Engineering
Peacock Blue: Public Administration
Purple: Law
Salmon: Public Health
Teal: Doctor of Physical Therapy
Yellow Gold: Science and Aviation
White: Arts