5 Things: About the Billikens at the A-10 Championship
The Saint Louis University Billikens are in Brooklyn for the 2019 Atlantic 10 Men's Basketball Championship. Find out everything you need to know to cheer them on in person or closer to home.
1) When is the Tournament?
The Atlantic 10 Men's Basketball Championship is March 13-17, 2019 at Barclays Center in Brooklyn, New York.
2) How Are the Billikens Seeded?
The Billikens were the No. 6 seed this year. They won their first matchup against Richmond Thursday night and second against Dayton Friday night.
Read Coverage of Thursdays Game
Read Coverage of Friday's Game
The Billikens now advance to face No. 2 seed Davidson Saturday at 2:30 p.m. (CT) in the A-10 semifinals. The game will be televised on CBS Sports Network.
3) Are There Any Special Discounts Through SLU?
In New York for the tournament? SLU is hosting receptions to get you pumped before each Billiken game.
Admission to the receptions is free if you buy your tickets via this link. (Tip: New this year, most seats in Barclays Center will be open seating.)
If you already have tickets to the tournament, you can still attend the parties. Purchase a $15 pass for the pre-game reception(s) throughout the tournament.
Watch this page for the times of pre-game parties as the Billikens advance.
4) How Can I Follow the Action from Home?
The semifinal game will be shown on CBS Sports Network. Should the Billikens advance, the A-10 final is set for Sunday at noon CT on CBS.
Keep an eye on #Billikens, #TeamBlue and #A10MBB.
5) Where Can I Find Billikens Gear?
Shop online at the Saint Louis Billikens Official Store or the Saint Louis University Bookstore. And don't forget to download SLU's free emoji sticker pack featuring the Billiken, available on all mobile devices.
Bonus Billiken Tip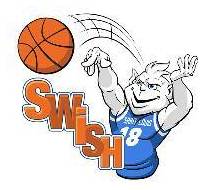 The men aren't the only ones sinking hoops this week. Check out the Tonight Show Monday night (or Jimmy Fallon on Instagram and YouTube) to see how the Billiken's skills matched up in an A-10 mascot shoot out.