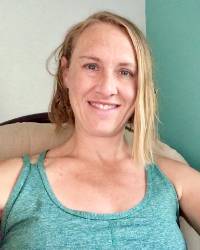 Instructional Consultant
elisabeth.l.hedrickmoser@slu.edu
Role in the Reinert Center
As an instructional consultatn in the Center, Elisabeth consults with the teaching community at SLU related to elements of instruction, assessment strategies, course design, and learning technologies. She keeps current regarding emerging technologies, new approaches to pedagogy and evidence-based practices for online teaching and learning.
Areas of Interest and Expertise
Learning theories and learner-centered pedagogies

Curriculum and course design

Online and blended course design

Creativity in education

Educational technologies

Assessment of and for student learning
Biographical Information
A native of El Paso, TX, Elisabeth Hedrick-Moser lives in San Antonio, where she explores the city and surrounding hill country with her two daughters. She has taught English Literature and Gender Studies for over a decade, as an instructor at Saint Louis University and the University of Texas at El Paso. More recently, she has been working as a full-time mother and part-time freelance writer and educational consultant. Beginning in the fall, she'll be taking her teaching in a new direction, teaching with the IB Literature program at IDEA College Prep in San Antonio.
Elisabeth earned a doctorate in English Literature from Saint Louis University and has published academic essays on war literature, trauma, and teaching. Currently, Elisabeth is finishing a book of essays which interweave meditations on mothering with memories from her pilgrim days. One of these, "Pilgrim, Mother," was a finalist in Talking Writing's Writing and Faith contest. She has also published in Lucia journal and Intima: A Journal of Narrative Medicine.