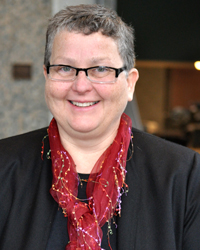 Program Director
sandy.gambill@slu.edu
phone: (314) 977-7202
fax: (314) 977-1695
Role in the Reinert Center
As the program director for digital learning in the Center, Sandy focuses primarily on developing programming around distance teaching, and assisting both departments and instructors in the design, development, and modification of program-level curriculum and individual-level course content. She coordinates the Online University Teaching Skills Certificate for the center, and serves on university level committees on technology and distance teaching.
Areas of Interest and Expertise
Academic program design and development
Curriculum design
Learner-centered and interactive teaching strategies
Online and blended course design and delivery
Learning technologies
Learning spaces, both virtual and physical
Biographical Information
Sandy has been at Saint Louis University for 29+ years, working at the Health Sciences library and ITS before coming to the teaching center. Prior to coming to Saint Louis University, she worked at Harris-Stowe State University where she ran a media center. She has more than fifteen years of teaching experience at the undergraduate level. This wide range of experiences has helped Sandy develop a broad yet practical understanding of faculty needs. Sandy has been involved in building online courses and supporting faculty in using course management systems since the first incarnation of WebCT. She recently managed the migration of courses from Blackboard to the new Canvas LMS, and coordinated training for faculty to use the new system.
She has a Master's of Education from University Missouri-Columbia's School of Information Science and Learning Technology and completed doctoral course work in curriculum and instruction at Saint Louis University.