Leading the Journey Towards a New Learning Environment
Creating and maintaining an innovative learning environment takes the knowledge, effort, and skill of highly engaged staff. To develop the next generation of clinicians and researchers into supportive, nurturing, and respectful servant leaders, faculty must be leaders and mentors who emulate the same qualities.
The School of Medicine Dean's staff is fully engaged in paving the way for the future of medical education.
James F. Duffy, S.J., M.D.
Associate Dean for Clinical Curriculum
---
Lynda Morrison, Ph.D.
Assistant Dean
---
Debra L. Schindler, Ph.D.
Assistant Dean
---
Linda Gwinn
Director, Curriculum Management
---
Jamie S. Sutherell, M.D., M.Ed.
Associate Dean
---
Tyler A. De Shon, Ph.D.
Assistant Dean
---
Lauren Schwarz, Ph.D.
Assistant Dean
---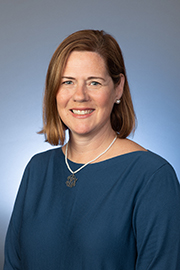 Sara Barnett, Ph.D.
Learning Specialist
---
Tara O'Sadnick, M.A.Ed.
Learning Specialist
---
Hiral Choksi, M.D., FACP, SFHM
Associate Dean of Admissions
---
Marilyn Maxwell, M.D.
Assistant Dean
---
Tina Chen, M.D.
Assistant Dean
---
Tim Havens, M.D.
Medical Director of the Clinical Skills Center
---