Empowering Future Professionals: New Career Services Prepares Billikens to Professionally Succeed
08/30/2019
With a brand new, expanded space and new vision, Saint Louis University's innovative Career Services Center is creating new pathways into the professions of their dreams for SLU students.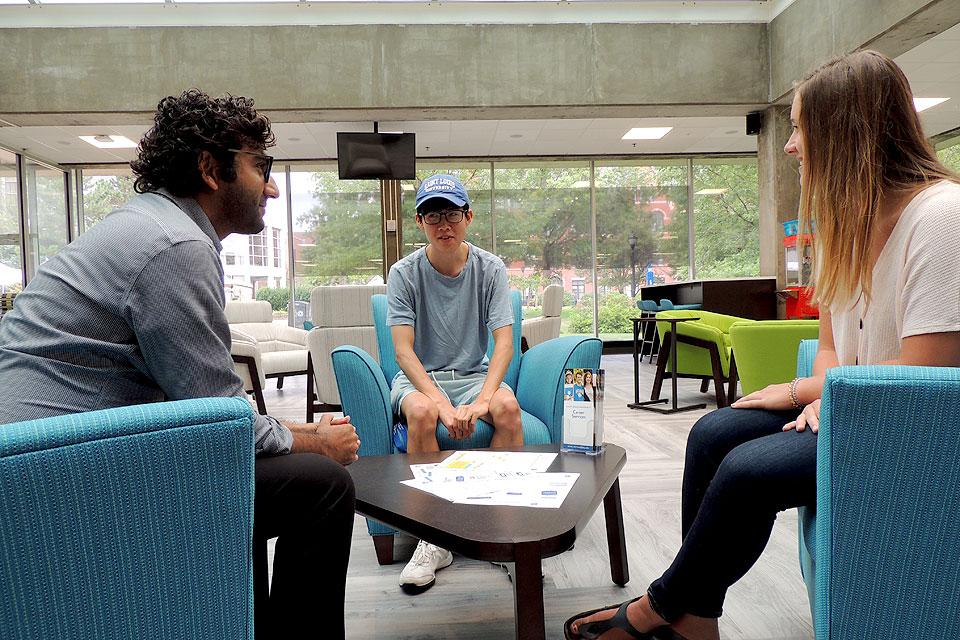 Career counselor Ahmar Ursani (left) meets with students, including student Career Ambassador Lizzie Twardock (right) and junior Steven Kim (center) in the new Career Services Center.
Career Services has moved into a new home in Griesedieck Hall, one that features an array of amenities to help students and alumni on their journeys to their dream careers.
A grand opening celebration and ribbon-cutting bash are planned for Thursday, Sept. 5, to give Billikens their first taste of the exciting possibilities housed within.
The new center is led by Jeffery Jackson, associate provost for career development, and is staffed by new and veteran career counselors.
New Space to Spur Billikens' Professional Dreams
As part of the University's re-organization and innovation on its career service offerings, Jackson and his team will utilize the new center achieve an ambitious program aimed at transforming how Billikens prepare for professions after commencement.
The re-imagination of Career Services is linked to SLU's strategic plan which grounds supporting students' pursuit of meaningful lives and successful careers rooted in entrepreneurialism, the pursuit of truth and Jesuit liberal arts education.
"My goal is to create 'buzz worthiness' about Career Services here at SLU through intentional collaborations with our community while expanding, strengthening and customizing our connections beyond SLU," Jackson said. "We seek to assure students that our degree programs will qualify them for a job, and working with Career Services boosts a student's skills in effectively marketing themselves for those opportunities."
Preparing Billikens to Professionally Succeed
Using a supportive resource like SLU's Career Services can help undergraduate, graduate and professional students, as well as alumni, strike a balance between living their values and making the most of an education that may require a significant personal and financial investment, Jackson explained.
According to Zippia, a career resources website, SLU is the top school in Missouri for job placement, and 94% of SLU graduates reported they were "satisfactorily occupied" within six months of their commencement.
"The number one word reported by students to describe how they feel after an appointment with us is 'confident," Jackson noted, "which is key to setting and achieving students' professional and life goals."
To foster those skills across degree programs as diverse as business administration to aerospace engineering to Medieval and Renaissance Studies, Jackson and his team work with a primary liaison and other staff members at the college, school and department level to identify specific needs and customize services and resources.
According to a recent SLU survey, 81% of its newest alumni also reported completing at least one internship prior to graduation, an experience Jackson and his team will promote to even more students.
"Not every student will need to use all the services the office provides," Jackson said, "but over 90% of recent graduates reported using at least one."
Creating Career Paths in the Spirit of Cura Personalis
Career Services' new programs and space are designed to help SLU students develop as future professionals, putting them on paths to succeed and to find fulfilling work - a concern, Jackson said, raised by prospective students across the nation and their families. Today's students, he continued are concerned with "being able to make use of their education and to provide the means to have a positive impact on their community."
"For many, it is beyond finding an occupation, but rather, it's about vocational discernment to make use of their talents for the greater good," he said.
The transformation of SLU's Career Services is guided by the University's Jesuit mission, Jackson explained, and scaffolds onto its tradition of academic excellence and nurturing growth of the whole person.
"There is a strong intersection between Career Services and our Jesuit mission and values," he said. "Experiential learning is at the core of that intersection, and prompts individuals to reflect on that experience as it relates to their occupational goals as well as its fit with the their ability to fulfill their chosen purpose in life."
Since returning to SLU in July, Jackson has embarked on a listening tour with University departments and stakeholders, and has arranged a series of meetings between SLU faculty and staff members and representatives of leading employers from a diverse array of professions. His goal, he said, is to make SLU the go-to University for employers seeking their newest hires.
"This is a vocation to me," Jackson said.
Advice from the Top
Changing the Career Services Paradigm
Jackson and his team plan to move beyond traditional paradigms of how students use Career Services. Rather than being an office students access as seniors, just before they hit the job market, he said, SLU's Career Services are focused on working with students as soon as they step on SLU's campus.
"Students should intentionally utilize Career Services throughout their time at SLU," Jackson explained, "freshman through senior year."
While a senior might be interested in polishing a resume', for example, a freshman should be steered toward internship fairs and career mentoring, as she, he, or they plan courses and how career planning dovetails with completing a major. That goes for a student who dreams of pursuing a career in public health to one who seeks a professional fulfillment with the skills an English major develops analyzing novels and poetry.
"A key principal is that all degree programs develop the key competencies that employers seek in new graduates," Jackson explained. "Regardless of major, students should increase their knowledge of self, of the world of work and should reflect on how their skills, interests and values intersect with careers."
Celebrate the New Career Services
Inaugural Celebration of Saint Louis University's Career Services Center
Let SLU Help You Jump-start Your Career
Career Services will host a number of events this fall, all designed to connect Billikens with employers and to help them plan their professional futures.
Connect with Career Services at SLU
Founded in 1818, Saint Louis University is one of the nation's oldest and most prestigious Catholic institutions. Rooted in Jesuit values and its pioneering history as the first university west of the Mississippi River, SLU offers nearly 13,000 students a rigorous, transformative education of the whole person. At the core of the University's diverse community of scholars is SLU's service-focused mission, which challenges and prepares students to make the world a better, more just place.