SLU's Parks College Helps Women Envision New Career Horizons in Flight Science, Aviation
11/26/2019
Their names might not be Amelia, Phoebe or Marvel, but for nearly 100 years, Saint Louis University's Parks College of Engineering, Aviation and Technology has been helping women take flight - as pilots, instructors and in a host of careers in aviation and flight science.
In October, that legacy continued as 120 girls from more than a dozen St. Louis area schools got a chance to see how their own careers might take them up, up and away as part of the second annual Girls in Aviation Day, hosted by Parks College and Women in Aviation International.
Inspired by family vacation flights, flying family members and discovery flights offered by Parks through its summer academies and programs, current SLU students and alumnae say that they are part of a community focused on supporting their aviation dreams, one that has pushed them to succeed and that has taught them the skills to thrive as people and as professionals.
"The airline industry is booming right now and companies are hiring more now than ever," Hannah Dalla Riva, a 2015 Parks aviation alumna, said. "Women and girls interested in this industry need to realize that we have just as much opportunity as men."
Racing Toward Excellence for Decades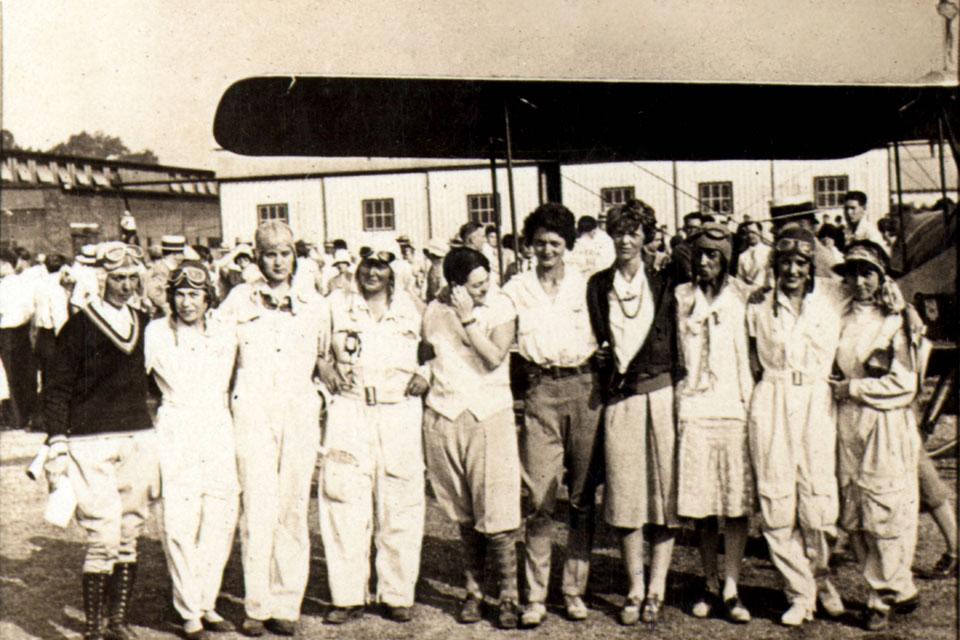 The world's most famous female flyers, including Amelia Earhart (fourth from right) gather at Parks College's field on a stop with the Women's Air Derby in 1929. SLU archival photo
Women flyers have a long history with Parks College and generations of alumnae have followed them into the skies.
Just under a century ago, the top women pilots in the world touched down at the Parks Airport - part of the flight school that became Parks College - as they raced across the country during the 1929 Women's Air Derby, the first all-women's transcontinental air race.
Amelia Earhart, Jessie "Chubbie" Miller, Phoebe Omlie, Louise Thaden, Marvel Crosson and Parks College's own Mary Elizabeth von Mach were all among the early women's piloting pioneers to wait out fog during the stop-over in St. Louis.
Von Mach, the first woman to study at Parks, became the first woman to win a pilot's license from her home state of Michigan and she later inspected aircraft engines for Pratt-Whitney during World War II.
The first female graduate of SLU's Department of Aviation, Elizabeth "Betsy" Carroll Smith would fly as a member of not only the Flying Billikens, but also as a professional pilot and captain with Continental Airlines and other carriers.
Former Dean Peggy Baty Chabrian, Ph.D., would lead Parks from 1990 to 1995 before going on to found WIA to encourage girls and women to pursue aviation and flight science careers.
Currently, Parks' aviation program enrolls more women than the national average, with 16 female students to 112 males. The program is committed to fostering higher female enrollment, Stephen Magoc, chair of aviation at SLU, said.
"SLU's Aviation Science department has been happy to see our current female enrollment be a higher ratio than industry, and we are looking forward to continuing to welcome young women to the industry through our aviation degree programs," Magoc said.
The University's student chapter of WIA and members of the aviation science department travel annually to the national Women in Aviation Conference in addition to hosting outreach events like Girls in Aviation Day.
"The department is excited to continue to encourage women to take advantage of the opportunities that exist for everyone in the aviation industry," Magoc said.
Alumnae Thrive in the Skies
With the skills they learned in SLU classes and cockpits, alumnae Alicia Canetta (Parks '14) and Dalla Riva (Parks '15) have pursued successful careers in the industry.
"SLU really does take to heart the concept of making us well-rounded individuals," Canetta, now a captain with the U.S. Air Force, said.
Now flying the KC-10 Extender at McGuire Air Force Base in New Jersey, Canetta said that SLU's emphasis on teaching the whole person has helped her excel professionally and personally. "Aside from the technical aspect of my education, I think learning to be a good and kind human being is equally as important."
Hannah's Story
Hannah Dalla Riva fell in love with flight when her grandfather, a pilot who retired from the United States Air Force, took her up in a single engine Scottish Aviation Bulldog.
"He let me take the controls during the flight, " Dalla Riva recalled, "and the rest is history."
While she was familiar with SLU, Dalla Riva said she had no idea that colleges offered aviation degrees until she received a brochure about the aviation program at Parks. After touring SLU's campus and its Center for Aviation Science, she knew she'd found a home at Parks.
"The most meaningful part of my education at Parks was the relationships I developed with fellow students and staff," Dalla Riva, who returned to teach as a flight instructor at SLU for three years after graduation, said.
Flight instructors, she said. ensured she received rigorous training, encouraging her even when the training got tough. One of her instructors remains a mentor now that Dalla Riva flies as a first officer and pilot with Trans States Airlines.
"Flight training wasn't always easy and there were times I wanted to give up," she said, "but with their encouragement, I was able to succeed."
Having the freedom to study outside of aviation also inspired Dalla Riva. She minored in business administration and pursued a Master of Business Administration. The University's Jesuit values and emphasis on service have also carried forward into Dalla Riva's life beyond the University.
"I grew up in a relatively small town in southern Illinois, so studying at SLU and Parks exposed me to new ideas and experiences," she said. "I've learned self acceptance, empathy and independent thinking thanks to the many professors and instructors at SLU who encouraged me to think beyond what was obvious."
Alicia's Story
Alicia Canetta's interest in flight was sparked by trips to local airshows, watching the shows' aerial aerobatics acts and climbing into static display cockpits. As time went on, she became interested in flying beyond Earth's bounds as an astronaut.
When she became interested in flying as a career, Canetta didn't consider a taking to the skies as a military pilot.
"My older brother joined the Marines right after high school and that was really hard on our family to watch him deploy to dangerous locations with very little to no communication," she said. "I couldn't see myself doing the same thing."
However, as her freshman year at SLU's Parks College continued, she began to consider how best to achieve her dreams of spaceflight. She began to consider military flying as a path toward achieving her long-term goals. Seeking out the commander of SLU's Air Force ROTC Detachment 207, Canetta buckled down to earn a slot to go into field training as a sophomore.
Earning her pilot's training slot during her junior year, "it seemed as though the pieces were starting to all fit together," she said.
After graduating from SLU, Canetta went on to complete pilot training with the U.S. Air force. Assigned first to Scott Air Force Base across the river from SLU's St. Louis campus, Canetta flew C-21s, transporting high-ranking military and civilian officials and flying aeromedical evacuation missions. She has served an Air Force flight instructor and is now flying KC-10 Extenders at McGuire Air Force Base in New Jersey - a choice assignment.
Canetta said SLU's small aviation classes maximized the meaning of the instruction she received, and the connections she forged with other students.
"I wasn't just another face in the crowd," Canetta recalled. "Everyone knew everyone. This meant more directed instruction, more meaningful conversations, and friendships that would only continue to build as we progressed through the program together."
"Our flight slots in Cahokia were a one-to-one teacher-to-student ratio, so I was receiving personalized instruction numerous times a week," she continued.
The confidence and skills she gained at SLU have inspired her to share her passion and profession with other would-be female flyers.
"Aviation is still a significantly male-dominated career field," Canetta said. "I think visibility makes a huge difference for people who may be unsure of pursuing a dream because they don't look like the majority. When you see someone who looks like you or closely identifies with who you are, the fear of doing what they are doing diminishes."
The individual attention they received, Dalla Riva and Canetta, said, was critical to their future success.
"The staff at the Center for Aviation Science truly became family to me. It felt like everyone in the department was invested in my success, not only as a student, but also as a professional in this industry," Dalla Riva said.
Both Dalla Riva and Canetta also spoke the need for women in the field to provide examples for other women to follow them into the skies.
"I don't do what I do to make history, but I do hope that when someone takes a second glance at a woman in uniform, be it civilian or military, they are able to acknowledge her ability to succeed in any given career field," Canetta explained. "There is no limit for the opportunities for women in aviation. You name it, we've done it; astronaut, mechanic, air traffic controller, pilot, engineer, the list goes on and on. "
" I am so glad I never saw my gender as a road block for my dreams. I wanted to be a pilot and I went for it!" Canetta continued. "Unfortunately, this isn't the case for everyone, which is why visibility is huge. Going to schools and interacting with the students, speaking at public events, STEM days, Girls in Aviation Day, fly-ins, they are all important. The impact we can have is incredible and can be life-changing."
SLU Students Seek Out Careers Above the Clouds
For Riya Srambichira, a sophomore majoring in aeronautics with a flight science concentration, pursuing a career in aviation has meant being bold, and stepping out of her comfort zone.
Sparked by a longtime interest in flying, a discovery flight Srambichira took as a teenager cemented her choice.
"No words can really describe the rush you feel when taking the flight controls for the first time," she said. "Being a pilot is challenging as well as rewarding and the thrill of this career made me want to pursue it event more."
Srambichira's classmate, senior Christina Connell, dreams of flying at United Airlines with her mother, a current captain with the company. Her father was also a pilot as were her grandparents. Her aunt also flies for fun.
Learn About What Inspired Christina to Fly
"I grew up in the industry," Connell explained. Her first flight lesson at age 16 sealed her interest in becoming a pilot.
Parks College's unique attributes - a storied aviation program emphasizing interdisciplinary connections and grounding in the liberal arts - drew her to fly at SLU.
"Parks is very widely known for its production of excellent pilots for over 90 years," Connell said. "It still has that reputation within the industry, and I hope that through my studies I have formed into a pilot that is an example of Parks' high standards."
Propelling Girls Into Future Career Paths
October's Girls in Aviation Day is a worldwide event that aims to pipeline young women into aviation careers.
The day-long event at the St. Louis Downtown Airport in Cahokia, Illinois, is part of the long history of aviation achievements for SLU and Parks students, faculty, staff and alumni.
Pilots, engineers and related skills are in high demand and, according to WIA, the number of women involved in the aviation industry at large has steadily increased, although women still only make up six percent of the total pilot population.
As part of the day's focus, the high school students flew planes in high-tech simulators, climbed into the cockpits of SLU's newly-enhanced aviation fleet and participated in a career expo featuring 21 leading aviation, aerospace and flight science companies and organizations.
"It's really about getting industry connected to these students," Amy Preis, a SLU alumna and outreach coordinator for Parks' Department of Aviation Science, said. "There's lots of learning, lots of inspiration, and we hope the girls take away something for their own future."
I hope that young women can look into the cockpit of my aircraft and see that this is an industry in which women can plan an important role."

Hannah Dalla Riva (Parks '15), first officer and pilot, Trans State Airlines
A panel discussion with current aviation students and flight instructors gave the students an opportunity to hear from other young women who were in the early stages of or embarking on a variety of careers in the aviation industry.
Opportunities exist across the field beyond piloting aircraft, experts told students on Oct. 4, and careers can range from working in human resources, crew scheduling, maintenance and accounting.
SLU panel members including Connell, and Srikanth Gururajan, Ph.D., assistant professor of aerospace engineering highlighted the hands-on learning students can pursue at Parks College, from working with the SLU fleet's state-of-the-art aircraft or by flying unmanned aerial vehicles (UAVs) to improve drone safety.
Three students would get a chance to start their hands-on learning early, winning discovery flights to take them up beyond the clouds in SLU training aircraft.
The college's current students hope to see those women join them in advancing the next chapter of SLU women in the skies, and in class at the University's hangar.
"I truly feel the people, the community, the faculty and the opportunities that SLU has given me are far more than I could have thought a school could do for me," Connell said. "Nationally, 7% of pilots are female, so to see our numbers are up there in a leading aviation university is very promising for the future of our industry."
Participating High Schools
Missouri
Cardinal Ritter College Prep, St. Louis
Collegiate School of Medicine and Bio Sciences, St. Louis
Gateway STEM High School, St. Louis
Incarnate Word Academy, St. Louis
Innovation School at Cool Valley, Cool Valley, Missouri
Lutheran High School of St. Charles County, St. Charles, Missouri
Normandy High School, St. Louis
Oakville High School, St. Louis
Parkway North High School, St. Louis
Sumner High School, St. Louis
Roosevelt High School, St. Louis
Illinois
Alton High School, Alton, Illinois
Metro East Lutheran High School, Edwardsville, Illinois
Waterloo High School, Waterloo, Illinois
Seeking out a SLU education, the Billiken alumnae added, was a great early step to stand out from the crowd in the field.
"Did I mention that I was flying airplanes within a month of starting college?" Canetta said. "By the end of my freshman year I was an FAA-licensed pilot, and before I graduated I was teaching other students to fly. Talk about a sense of accomplishment!"
Learn More About How SLU Can Help You Fly

To learn more about Girls in Aviation or opportunities to participate in future events, contact Amy Preis via email at parksevents@slu.edu.
---
Parks College of Engineering, Aviation and Technology graduates technically proficient and socially responsible engineering and aviation innovators. To learn more, visit the college.
Story by Amelia Flood, University Marketing and Communications