Performing Artists in the Spotlight
Performing art students showcased their hard work and talent in end-of-semester theatre, dance and music performances.
The end-of-semester performances kicked off with the Theatre Workshop production of Molière's 17th-century comedy, "The Misanthrope." The production, directed by fine arts program director Cary Barney, was not just a witty comedy spoken in rhyme but also a wise and subtle meditation on love.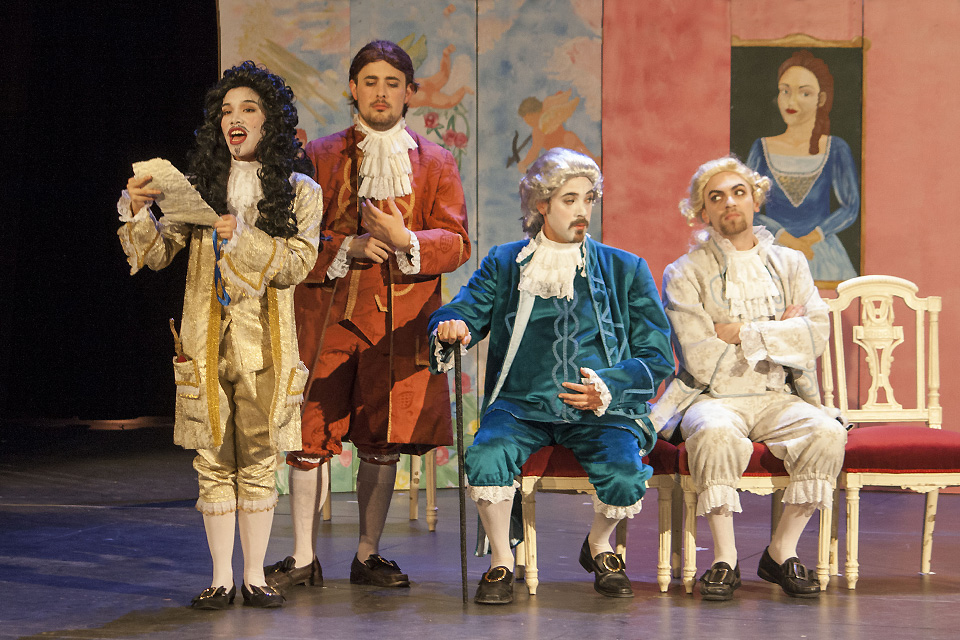 Nachelle Perez reads an incriminating letter to a scandalized audience, Gonzalo de Castro Sucre, SLU-Madrid graduate Mikey Mondejar, and Nolan Murphy, in The Misanthrope. A portrait of Bethanie Brown looks on.
The menagerie of characters included Nolan Murphy as Philinte, Gonzalo de Castro Sucre as Alceste, Bethanie Brown as Célimène, Lucy Hauser as Basque, Molly Jackson as Eliante, Megan Burke as Clitandre, Nichelle Pérez as Acaste, Patricia Meneses as Arsinoé and Connor Christensen as Du Bois. William Carrick offered guitar interludes between scenes. SLU-Madrid was also thrilled to welcome back alumnus and Theatre Workshop veteran Mickey Mondejar (Class of '14), who played the role of Oronte. In addition to the cast, the production required substantial involvement of a large backstage crew.
The following week students in both voice and instrumental music classes showcased their skills during SLU-Madrid's end-of-semester concert. The performance was a multicultural and multilingual event, featuring a variety of different musical genres ranging from classical pieces by Mozart and Bach to a cover of Lady Gaga's "Bad Romance," Andrew Lloyd Weber show tunes and a folk song in Icelandic sung by the University Chorale.
"What made this event particularly special was that the piano, guitar and voice were all presented by a similar number of students, and guitar students got involved in ensemble-playing," said Gudrún Ólafsdóttir, voice and choir director.
The performances came to a close as dance students of all levels gave a crowd-pleasing show with the theme "Around the World in Eighty Days." The setting of the show, which began with a performance by the University Chorale, starts in London, followed by an opening scene with main characters Nick Legaspi and Yaiza Llamas, who embark on a journey around the world as they star in both flamenco and Latin rhythm dances. Legaspi, Llamas and the rest of the performers takes the audience to France, Japan, Iceland, New York, Cuba, Puerto Rica, South Africa and Argentina before making their way back to London. The performers conveyed stories through dance, explored through salsa, bachata, tango, flamenco, kizomba, Sevillanas and Bollywood rhythms. They even paid tribute to American swing dance in a piece choreographed to Frank Sinatra's "New York, New York."
Original choreography was created by dance professors, Yolanda Granado and Susi Peces-Barba. One of the highlights of the evening came when a trio consisting of Troy Baines and brothers David and Ian Castellano performed to a mash-up of famous boy band pop songs. Vocal performances also included the guitar-accompanied "la venda," sung by Rafael Da Costa, and Jay Z's "Empire State of Mind," sung by Deasia Fairley.
The show was capped off by a salsa routine performed by the Advanced Latin Rhythms and Dance class, followed by a final scene in which Llamas and Legaspi return to London, signifying the completion of their journey.