Nine New Members Inducted into Order of the Fleur de Lis Hall of Fame
02/13/2023
On Feb. 10, 2023, Saint Louis University School of Law inducted 9 new members into the Order of the Fleur de Lis Hall of Fame.
This group marked the seventh class to be inducted.
The Order of the Fleur de Lis is the highest honor from Saint Louis University School of Law. As a Catholic, Jesuit university, SLU's mission is the pursuit of truth for the greater glory of God and for the service of humanity. Inductees are selected for living this mission in their everyday lives and throughout their careers.
Fr. Afonso Seixas-Nunes, SJ., professor of law, gave the evening's invocation. Law development director Michael Ruiz (Chaifetz '12) and School of Law Dean William P. Johnson gave brief remarks.
"We have seen tonight compelling examples of lawyers doing good and meaningful works," Johnson said at the end of the ceremony.
"These inductees have demonstrated a shared commitment to service and to the pursuit of justice. Each of our honorees offers an example of what's possible when good people wield the law in positive ways, and that lifts my spirit and gives me hope. It gives me pride in our shared profession. I hope each of you shares a deep sense of pride in being lawyers not only who do well, but also who do good, and who seek justice."
Learn more about the Order of the Fleur de Lis Hall of Fame
Three SLU LAW students served as the award presenters: Mary Quandt, Jeffrey Lin, and Queen Nwaudo.
The 2023 honorees are:
Adjoa A. Aiyetoro, 1978
Gerard T. Carmody, 1975
Joseph P. Conran, 1970
The Honorable Margaret T. Donnelly, 1988
Joel K. Goldstein
Rudolph Hasl, 1967
Rebecca R. Jackson, 1978
The Honorable Michael T. Jamison, 1976
Marie L. Kenyon, 1986
Learn more about each honoree at slu.edu/law/alumni/order-fleur-de-lis.php.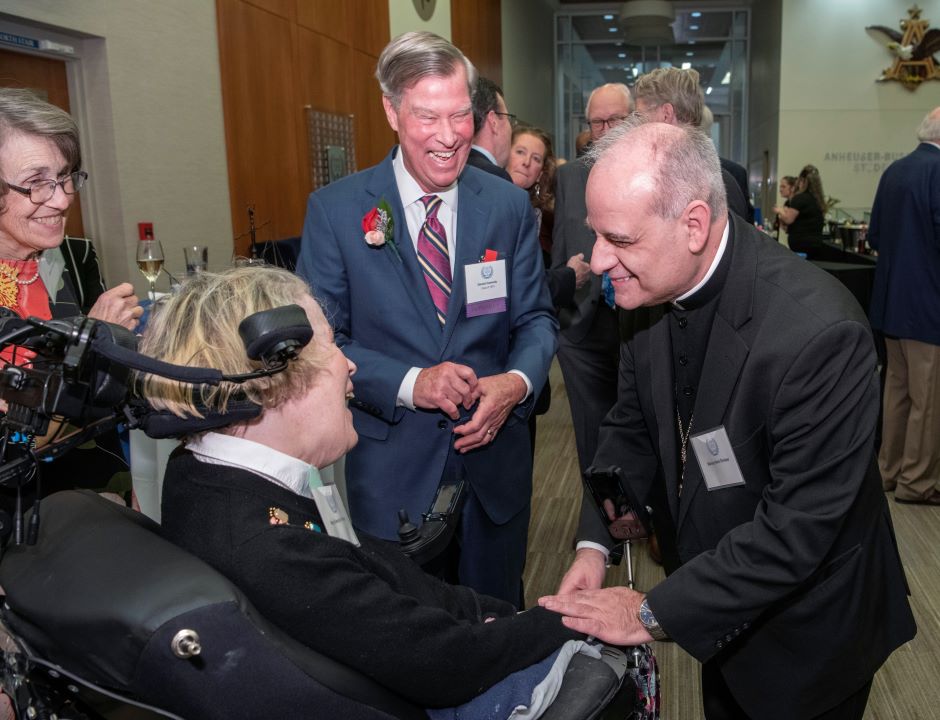 Archbishop greets guest at Order of the Fleur de Lis Hall of Fame
---
Saint Louis University School of Law was founded in 1843 and is the oldest law school west of the Mississippi River. The strength of the faculty, breadth of course offerings and extensive clinical and professional skills experience provide students with a well-rounded legal education. The School of Law's rich history consists of strong connections to the community and a long tradition of public service. SLU LAW's location in the heart of downtown St. Louis offers students unparalleled access to leading law firms, courthouses, corporations, government agencies and nonprofit organizations — and a unique opportunity to see the law in action. For more information, visit slu.edu/law.