SLU School of Medicine News
Christine Jacobs, New Vice President for Medical Affairs and Dean of the School of Medicine, Appointed
After a national search, Christine Jacobs, M.D., F.A.A.F.P., was appointed vice president for medical affairs and dean of the School of Medicine on February 17, 2022. Dr. Jacobs had served as interim in that role since February 1, 2021.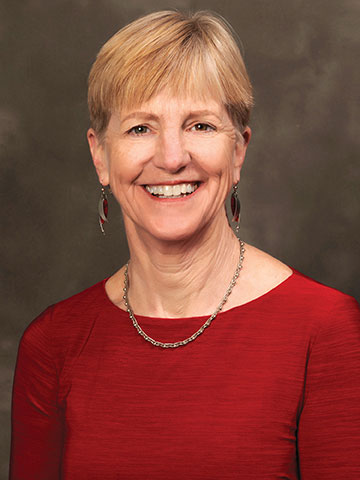 "Dr. Jacobs is a talented, mission-centered leader who, as interim dean and vice president, has demonstrated her ability to effectively lead the medical enterprise," said University President Fred P. Pestello, Ph.D. "Dr. Jacobs is a leader who will inspire our faculty, staff, students, partners, alumni, and other stakeholders to take SLU's School of Medicine to higher levels of excellence in research, teaching, and patient care."
---
Dr. Jacobs holds an M.D. from Vanderbilt University, completed a family medicine residency at Brown University, and is Board-certified in Family Medicine and Geriatrics. She joined Saint Louis University in 2008, in 2011 founded the SLU Family Medicine Residency in St. Louis, and since 2017 served as Chair of the Department of Family and Community Medicine.
Dr. Jacobs has a deep dedication to the mission, expressing, "I enthusiastically embrace the opportunity to build on my current role to advance SLU School of Medicine in our Jesuit mission of education, patient care, research, and community service."
SSM Health and Saint Louis University Fully Integrate SLUCare Physician Group
On Friday, May 6, 2022, SSM Health and Saint Louis University signed a definitive agreement to fully integrate SLUCare with SSM Health. SLUCare's integration with SSM Health will create one of the region's leading integrated healthcare networks. It will expand access to quality Catholic health care to more patients across the St. Louis region and allow SLUCare to grow and flourish.
The SLUCare-SSM Health integration results from a partnership that has grown since 2015 between the School of Medicine, SLUCare, and SSM Health, which led to the $550 million SSM Health Saint Louis University Hospital and SLUCare's Center for Specialized Medicine on South Grand Boulevard in 2020.
The agreement will establish the SLUCare Physician Group as the academic practice of SSM, alongside the community SSM Medical Group practice. The agreement includes a substantial contribution that will enable SLU to establish a new transformational endowment for the School of Medicine. This endowment will strengthen and support our core education and research missions, provide resources for the appointment of permanent chairs, and help develop new state-of-the-art educational facilities.