Ratna B. Ray, Ph.D.
Professor
Pathology
Research
---
Education
University of Calcutta, India, Ph. D., 1985
Research Interests
Please contact us for more information.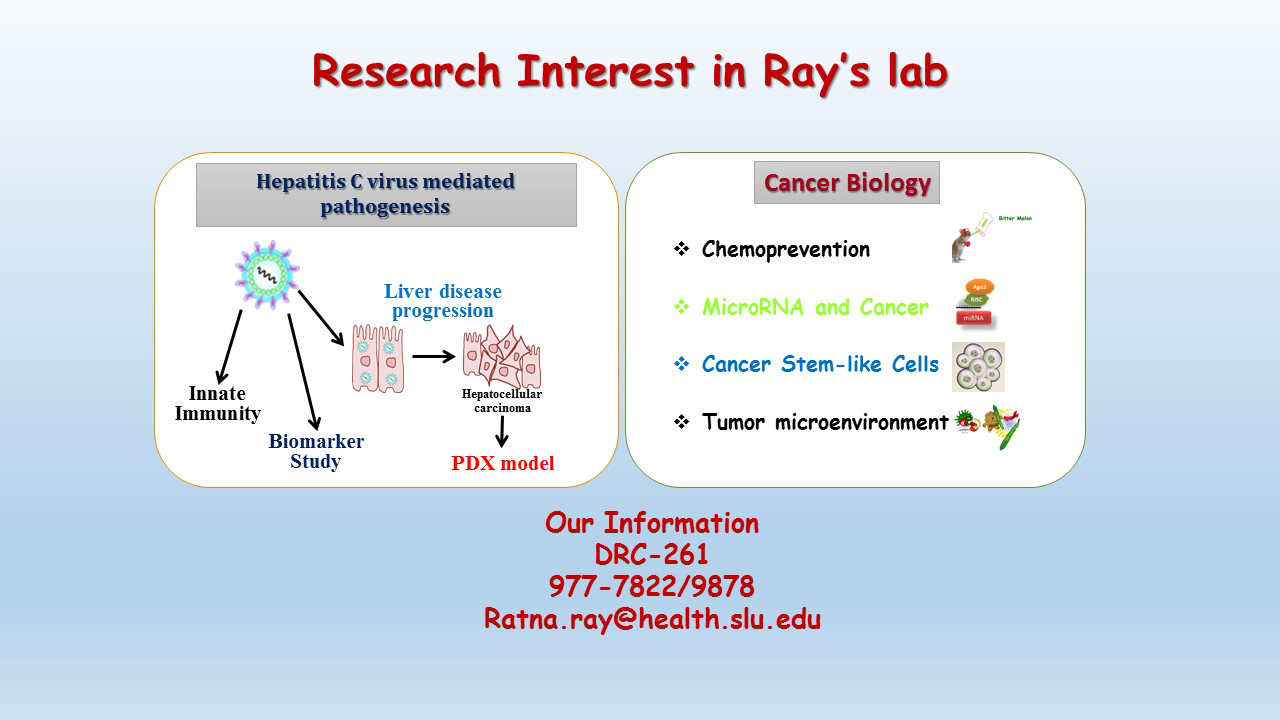 Publications
Selected Publications
Shrivastava S, Petrone J, Steele R, Lauer GM, Bisceglie AM, Ray RB. Upregulation of circulating miR-20a is correlated with hepatitis C virus mediated liver disease progression. Hepatology. 58(3):863-71, 2013 doi: 10.1002/hep.26296. (Highlighted in September, 2013 issue), PMCID: PMC3664107
Devhare PB, Sasaki R, Shrivastava S, Di Bisceglie AM, Ray R, Ray RB. 2017 Exosome mediated intercellular communication between hepatitis C virus infected hepatocytes and hepatic stellate cells. J Virol. 91(6). pii: e02225-16. PMCID: PMC28077652
Sasaki R, Devhare PB, Steele R, Ray R, Ray RB. 2017. Hepatitis C virus induced CCL5 secretion from macrophages activates hepatic stellate cells. Hepatology. 2017; 66(3):746-757Mar 20. doi: 10.1002/hep.29170. PMCID: PMC28318046
Ray RB, Ray R. Hepatitis C virus manipulates humans as its favorite host for long term relationship. Hepatology. 2018 Aug 13. doi: 10.1002/hep.30214. [Epub ahead of print] Review.
Muhammad N, Bhattacharya S, Steele R, Phillips NJ, Ray RB. 2017. Involvement of c-Fos in the promotion of cancer stem-like cell properties in head and neck squamous cell carcinoma. Clin Cancer Res. 23(12):3120-3128, PMCID: PMC27965308
Sur S, Steele R, Aurora R, Vavares M, Schwetye KE, Ray RB. Bitter Melon prevents the development of 4-NQO-induced oral squamous cell carcinoma in an immunocompetent mouse model by modulating immune signaling. Cancer Prev Res (Phila). 2018 Apr;11(4):191-202. PMC29061560 [selected as most cited publication in 2018 at the journal]
Shim S, Sur S, Steele R, Albert C, Huang C, Ford D, Ray RB. Disrupting cholesterol esterification by bitter melon suppresses triple-negative breast cancer cell growth. Mol Carcinog. 2018 Aug 3. doi: 10.1002/mc.22882
Professional Organizations and Associations
1992-Present American Society for Microbiology 1993-Present
American Association for Cancer Research 1999-Present
American Society for Virology