Browse the chronological list of past exhibitions at the Saint Louis University Museum of Contemporary Art (MOCRA), or search for a specific exhibition. Click "View" for more information about an exhibition. If you need further information about an exhibition, please contact us.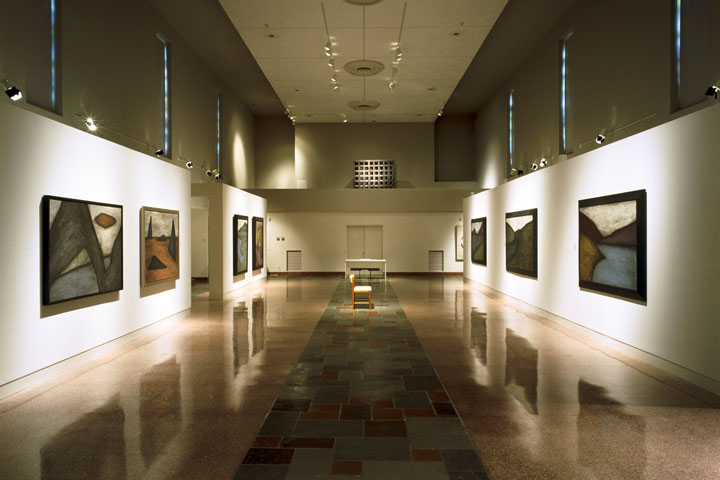 Tobi Kahn: Metamorphoses
March 8, 1998 to May 8, 1998
Curated by the distinguished art historian Peter Selz, Tobi Kahn: Metamorphoses brings together 37 paintings and 20 sculptures of an artist who extends an American tradition-the distillation of the natural world into elemental forms. Kahn's antecedents in landscape painting include Albert Pinkham Ryder, Marsden Hartley, Arthur Dove, and Georgia O'Keefe. As with these earlier American painters, Kahn translates his subjective impressions of places into formal compositions, always aware of the transcendental equivalencies of natural forms to spiritual truths.
Kahn is not alone in his pursuit; pioneers of abstraction such as Vasily Kandinsky and Kasemir Malevich were aware of the spiritual implications of their work. And twentieth-century figures such as Mark Rothko, Barnett Newman, and Agnes Martin had contemplation and transcendental response as artistic concerns.
Kahn employs a well-developed technique in his paintings. He transfers a graphite drawing to his painting surface-wood or canvas, prepared with layers of gesso (an acrylic polymer emulsion that provides a ground for the paint). Then acrylic paint is applied: first vibrant, opaque bottom layers, then translucent washes. Along with variations in brushwork, this technique lends Kahn's work a density of color rich in subtlety and nuance.
Of the early paintings in the exhibition, art historian Dore Ashton writes, "While the allusions are much more obviously to landscape in a conventional definition, they are already once-removed from immediate recognitions." More importantly, as Ashton notes, "By 1990, Kahn's imaginative allusions to natural form take on almost surrealistic overtones." These works introduce forms which might be read as flowers, birds, and microscopically enlarged cells--or as nothing more than their own unique shapes and colors.
Two notable characteristics of Kahn's paintings are their perspective and their lighting. Ashton reminds us that artists have long experimented with different ways of viewing a scene. In many cases Kahn removes the groundlines from his paintings. Ashton writes, "It is this spatial ambiguity that provides the tension in several of Kahn's recent paintings. Despite the simplicity of composition, there is a figure-ground challenge. Associations shift." Of Kahn's use of light, curator Lisa Dennison writes, "Though there is no discernible light source in Kahn's work, there is a magical luminosity that emanates from the white ground and is enhanced by the delicate translucency of his veils of color." Peter Selz links this suffuse, mysterious light to the work of the Luminists, a group of mid-nineteenth century American landscape painters.
Regarding the often elusive titles given to the works in this exhibition: They are made up, but not arbitrary. They are ambiguous but evocative, inviting us to make associations. Phonetics and orthography tease our memory, just as the painted images jog recognition. At times, the titles may derive from actual words. Kahn notes, "Within the name Shalev are intimations of [Hebrew] words for 'peace,' 'tranquility,' and 'heart.'"
Kahn's shrines are distinct from, yet related to, his paintings. As with the paintings, a prepared surface is built up with layers of paint and washes. The figures within the shrines are carved from scrap wood, then cast in bronze. Like the paintings, the shrines are concerned with place. In discussing the shrines, Kahn recalls the Holy of Holies from the Book of Leviticus. "Throughout my travels I noticed that it was the space surrounding the sacred object in various cultures that interested me. In these sculptures I try to replicate the aura of a chosen object in communion with its own constructed space." Small in size, the relation between the shrines' architectural and figural forms suggests a much larger scale. The buildings and the figures exist in an uneasy tension. Art critic Michael Brenson notes the contradictions: The figures are presented to us, but shrouded; the threshold cannot be crossed and the viewer is kept at a distance. The dynamism of the figures is checked by an air of austerity and formality. Brenson links these works to artists such as Susan Rothenberg and Joel Shapiro, and further back to sculptor Alberto Giacometti.
As the child of refugees who lost family members in the Holocaust, Kahn is well aware of the nature of loss and of exile. Kahn has said, "My work has been a quest to distill what we remember into essential images, into archetypes that allow the past to be transformed by imagination into a living future."
The exhibition catalogue features 70 color reproductions, a catalogue essay by art historian Dore Ashton, and an introduction and interview with the artist by exhibition curator Terrence Dempsey, S.J. Find it in the MOCRA online store.
---
In 1985, Tobi Kahn was one of nine artists whose work was selected for the Guggenheim Museum's national exhibition, New Horizons in American Art. Since then, Kahn's paintings and sculpture have been shown in more than 30 solo exhibitions and more than 80 museum and gallery group shows. His work has been acquired by major American museums and has been the subject of significant critical attention. Kahn has completed commissions for Jewish liturgical objects and installations. Notable examples are the set for Jonah, directed by Elizabeth Swaydos, at the Public Theater in New York; The Twelve Tribes and Creation of the World, a set of paintings for the Jewish Family Congregation in South Salem, New York; and Gan Hazikaron: Garden of Remembrance, a Holocaust Memorial in Tenafly, New Jersey.
Tobi Kahn: Metamorphoses was organized and circulated by the Council for Creative Projects, Lee, MA and New York. The presentation at MOCRA is made possible through a grant from the Jewish Federation of St. Louis.
---
above:
Installation view of Tobi Kahn: Metamorphoses at MOCRA, 1998. Photo by Jeffrey Vaughn.
---
Related programming
Dates
Exhibition
2017-02-3 to 2017-04-2

Bernard Maisner: The Hourglass and the Spiral
February 3, 2017 to April 2, 2017

2016-01-26 to 2016-05-8

Georges Rouault: Miserere et Guerre
January 26, 2016 to May 8, 2016

2016-09-25 to 2016-12-11

Erika Diettes: Sudarios
September 25, 2016 to December 11, 2016

2015-01-24 to 2015-05-10

Regina DeLuise: Vast Bhutan – Images from the Phenomenal World
January 24, 2015 to May 10, 2015

2015-09-13 to 2015-12-6

Painting Prayers: The Calligraphic Art of Salma Arastu
September 13, 2015 to December 6, 2015

2014-02-16 to 2014-08-1

Thresholds: MOCRA at 20 - Part Two, The Second Decade
February 16, 2014 to August 1, 2014

2014-09-14 to 2014-12-14

Rebecca Niederlander: Axis Mundi
September 14, 2014 to December 14, 2014

2013-01-20 to 2013-05-12

Jordan Eagles: BLOOD / SPIRIT
January 20, 2013 to May 12, 2013

2013-09-22 to 2013-12-15

Thresholds: MOCRA at 20 - Part One, The First Decade
September 22, 2013 to December 15, 2013

2012-02-26 to 2012-05-20

Archie Granot: The Papercut Haggadah
February 26, 2012 to May 20, 2012

2012-06-12 to 2012-08-26

A Tribute to Frederick J. Brown
June 12, 2012 to August 26, 2012

2012-09-23 to 2012-12-16

Patrick Graham: Thirty Years – The Silence Becomes the Painting
September 23, 2012 to December 16, 2012

2011-09-24 to 2011-12-18

Adrian Kellard: The Learned Art of Compassion
September 24, 2011 to December 18, 2011

2010-02-2 to 2010-05-16

Good Friday: The Suffering Christ in Contemporary Art
February 2, 2010 to May 16, 2010

2010-09-26 to 2011-02-13

James Rosen: The Artist and the Capable Observer
September 26, 2010 to February 13, 2011

2009-02-15 to 2009-05-17

MOCRA at Fifteen: Good Friday
February 15, 2009 to May 17, 2009

2009-09-13 to 2009-12-13

Michael Byron: Cosmic Tears
September 13, 2009 to December 13, 2009

2008-02-3 to 2008-05-18

Miao Xiaochun: The Last Judgment in Cyberspace
February 3, 2008 to May 18, 2008

2008-09-21 to 2008-12-14

MOCRA at Fifteen: Pursuit of the Spirit
September 21, 2008 to December 14, 2008

2007-03-31 to 2007-06-24

Oskar Fischinger: Movement and Spirit
March 31, 2007 to June 24, 2007

2007-09-16 to 2007-12-09

The Celluloid Bible: Marketing Films Inspired by Scripture
September 16, 2007 to December 09, 2007

2006-01-22 to 2006-03-12

Arshile Gorky: The Early Years – Drawings and Paintings, 1927–1937
January 22, 2006 to March 12, 2006

2001-11-9 to 2002-02-10

Andy Warhol: Silver Clouds
November 9, 2001 to February 10, 2002

2005-03-18 to 2005-07-31

Junko Chodos: The Breath of Consciousness
March 18, 2005 to July 31, 2005

2005-09-15 to 2005-12-18

DoDo Jin Ming: Land and Sea
September 15, 2005 to December 18, 2005

2004-03-28 to 2004-06-13

Rito, Espejo y Ojo / Ritual, Mirror and Eye: Photography by Luis González-Palma, Maria Magdalena Campos-Pons, and Pablo Soria
March 28, 2004 to June 13, 2004

2004-09-10 to 2005-02-27

Radiant Forms in Contemporary Sacred Architecture: Richard Meier and Steven Holl
September 10, 2004 to February 27, 2005

2004-09-10 to 2005-02-27

Daniel Ramirez: Twenty Contemplations on the Infant Jesus, an Homage to Oliver Messiaen
September 10, 2004 to February 27, 2005

2003-09-2 to 2003-10-12

Avoda: Objects of the Spirit – Ceremonial Art by Tobi Kahn
September 2, 2003 to October 12, 2003

2002-02-23 to 2002-08-9

Tony Hooker: The Greater Good – An Artist's Contemporary View of the Tuskegee Syphilis Study
February 23, 2002 to August 9, 2002

2002-08-27 to 2002-12-14

Andy Warhol: Silver Clouds, an encore presentation
August 27, 2002 to December 14, 2002

2006-09-10 to 2006-12-17

Andy Warhol's Silver Clouds: A Fortieth Anniversary Celebration
September 10, 2006 to December 17, 2006

2000-04-15 to 2000-11-05

Lewis deSoto: Paranirvana
April 15, 2000 to November 05, 2000

2000-11-18 to 2001-04-01

Robert Farber: A Retrospective, 1985–1995
November 18, 2000 to April 01, 2001

1998-11-14 to 1999-06-28

Bernard Maisner: Entrance to the Scriptorium
November 14, 1998 to June 28, 1999

1998-03-8 to 1998-05-8

Tobi Kahn: Metamorphoses
March 8, 1998 to May 8, 1998

1998-05-26 to 1998-10-25

MOCRA: The First Five Years
May 26, 1998 to October 25, 1998

1997-02-7 to 1997-03-16

Steven Heilmer: Pietre Sante | Holy Stones
February 7, 1997 to March 16, 1997

1997-04-4 to 1997-07-31

Utopia Body Paint Collection and Australian Aboriginal Art from St. Louis Collections
April 4, 1997 to July 31, 1997

1997-09-26 to 1997-12-21

Manfred Stumpf: Enter Jerusalem
September 26, 1997 to December 21, 1997

1995-12-2 to 1996-04-19

Frederick J. Brown: The Life of Christ Altarpiece
December 2, 1995 to April 19, 1996

1996-06-30 to 1996-06-30

Edward Boccia: Eye of the Painter
June 30, 1996 to June 30, 1996

1996-12-1 to 1997-02-5

Consecrations Revisited
December 1, 1996 to February 5, 1997

1995-04-8 to 1995-05-7

Keith Haring: Altarpiece – The Life of Christ
April 8, 1995 to May 7, 1995

1995-05-19 to 1995-07-2

Ian Friend: The Edge of Belief – paintings, sculpture, and works on paper, 1980–1994
May 19, 1995 to July 2, 1995

1995-08-26 to 1995-10-22

Eleanor Dickinson: A Retrospective
August 26, 1995 to October 22, 1995

1994-05-3 to 1994-06-27

Post-Minimalism and the Spiritual: Four Chicago Artists
May 3, 1994 to June 27, 1994

1994-10-15 to 1995-02-19

Consecrations: The Spiritual in Art in the Time of AIDS
October 15, 1994 to February 19, 1995

1993-02-14 to 1993-04-11

Sanctuaries: Recovering the Holy in Contemporary Art, Part One
February 14, 1993 to April 11, 1993

1993-10-24 to 1993-12-19

Body and Soul: The Alvin Ailey American Dance Theater
October 24, 1993 to December 19, 1993

2017-04-26 to 2018-04-8

Transformations: Highlights from the MOCRA Collection
April 26, 2017 to April 8, 2018

2011-03-8 to 2011-07-31

Georges Rouault: Miserere et Guerre
March 8, 2011 to July 31, 2011

2003-03-2 to 2003-05-11

Georges Rouault: Miserere et Guerre
March 2, 2003 to May 11, 2003

2000-01-18 to 2000-04-2

Georges Rouault: Miserere et Guerre
January 18, 2000 to April 2, 2000

1994-03-21 to 1994-04-26

Georges Rouault: Miserere et Guerre
March 21, 1994 to April 26, 1994

2017-09-22 to 2018-04-8

Visible Conservation
September 22, 2017 to April 8, 2018

2016-07-25 to 2016-09-3

Highlights from the MOCRA Collection
July 25, 2016 to September 3, 2016

2015-05-30 to 2015-08-2

Highlights from the MOCRA Collection
May 30, 2015 to August 2, 2015

2018-04-21 to 2018-07-28

Highlights from the MOCRA Collection: The Romero Cross
April 21, 2018 to July 28, 2018

2006-03-28 to 2006-07-30

Highlights from the MOCRA Collection
March 28, 2006 to July 30, 2006

2004-06-20 to 2004-08-29

Highlights from the MOCRA Collection
June 20, 2004 to August 29, 2004

2003-11-4 to 2004-03-5

Highlights from the MOCRA Collection
November 4, 2003 to March 5, 2004

2003-01-7 to 2003-02-23

Highlights from the MOCRA Collection
January 7, 2003 to February 23, 2003

2001-05-6 to 2001-11-8

Highlights from the MOCRA Collection
May 6, 2001 to November 8, 2001

1999-07-29 to 1999-12-22

Highlights from the MOCRA Collection
July 29, 1999 to December 22, 1999

1998-01-15 to 1998-02-22

Highlights from the MOCRA Collection
January 15, 1998 to February 22, 1998

1993-04-18 to 1993-08-29

Sanctuaries: Recovering the Holy in Contemporary Art, Part Two – Three Major Installations
April 18, 1993 to August 29, 1993

2018-05-24 to 2018-11-12

Beyond Words: Three Contemporary Artists and the Manuscript Tradition
May 24, 2018 to November 12, 2018

2018-09-16 to 2019-03-3

MOCRA: 25
September 16, 2018 to March 3, 2019

2019-03-19 to 2019-06-30

Gary Logan: Elements
March 19, 2019 to June 30, 2019

2019-09-15 to 2019-12-15

Gratitude
September 15, 2019 to December 15, 2019

2020-02-05 to 2020-11-22

Surface to Source
February 05, 2020 to November 22, 2020

2021-02-03 to 2021-05-20

Quiet Isn't Always Peace
February 03, 2021 to May 20, 2021

2021-09-3 to 2021-12-19

Tom Kiefer: Pertenencias / Belongings
September 3, 2021 to December 19, 2021

2022-02-16 to 2022-05-22

Double Vision: Art from Jesuit University Collections
February 16, 2022 to May 22, 2022

2022-08-24 to 2022-10-16

Lesley Dill: Dream World of the Forest
August 24, 2022 to October 16, 2022

2022-10-26 to 2022-12-18

Jordan Eagles: VIRAL\VALUE
October 26, 2022 to December 18, 2022

2022-08-24 to 2022-12-18

This Road Is the Heart Opening: Selections from the MOCRA Collection
August 24, 2022 to December 18, 2022