Browse the chronological list, or search for a specific exhibition. Click "View" for more information about an exhibition. If you need further information about an exhibition, please contact us.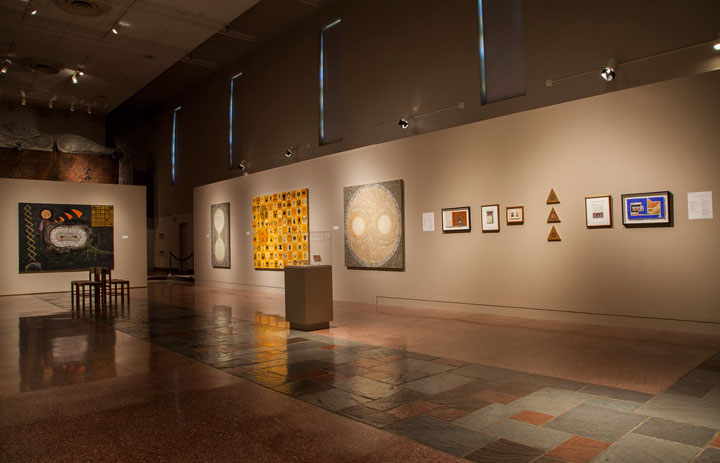 Bernard Maisner: The Hourglass and the Spiral
February 3, 2017 to April 2, 2017
Bernard Maisner (b.1954) is regarded internationally as one of the greatest contemporary masters of calligraphy. Maisner first became familiar with illuminated manuscripts during his studies at The Cooper Union in New York. He went on to teach Medieval and Renaissance manuscript illumination methods and techniques and was a guest lecturer and researcher at such prominent institutions as the Bibliothèque Nationale in Paris, the Cloisters Museum of the Metropolitan Museum of Art, the Getty Museum in Malibu, California, and the Morgan Library and Museum. His work is represented in some of this country's most prestigious private and public collections, including the Morgan Library and Museum and the Philadelphia Museum of Art.
An accomplished painter as well as a master calligrapher and manuscript illuminator, Maisner brings together materials and design in unexpected ways. He engages texts from diverse, sometimes surprising sources (Kierkegaard, Nin, Kafka, and Heraclitus, to name just a few) and arrives at a vibrant compositional and scribal expression strongly rooted in the past but conveyed with a fresh contemporary visual vocabulary. Maisner's simultaneous search for meaning through his art takes him in the direction of the infinite, of opposites, of things mystical and unanswerable. The result is stunning works of art that are ravishing in their beauty and intriguing in their mystery. More recently Maisner has made a foray into social calligraphy, creating elaborately embellished styles of writing for clients including Oprah Winfrey, Alicia Keys, and Sir Elton John. He is also on-call for Hollywood; his hands have played Johnny Depp in Sleepy Hollow, Daniel Day Lewis in Age of Innocence, and Sean Connery in Finding Forrester.
---
Long-time visitors to MOCRA may recall that in 1998, MOCRA organized an exhibition of Maisner's work titled Entrance to the Scriptorium that traveled nationally to five venues. That exhibition was made possible through significant financial support and loans of artwork from Peter and Helen Du Bois. Helen recalls that they enjoyed exploring the New York galleries together, and discovered Maisner's work at the Cavin Morris Gallery. According to Helen, they both were "immediately impressed with the intricacy and beauty of Bernard's works. Peter seemed always to be drawn to artists who expressed some kind of spiritual feeling. This is certainly true of Bernard's works." Peter Du Bois died in March 2015. Later that year, Helen donated to MOCRA six of Maisner's large-scale paintings, which the artist describes as "giant miniatures." We are pleased to display these works, alongside a number of smaller scale works by the artist, also from the Du Bois collection. MOCRA Director Terrence Dempsey, SJ, notes that, "Through this exhibition we wish to thank Helen for her generous gift, and honor Peter's memory."
I believe those of us that are puzzled by our own existence are the ones that are called spiritual. Art that acknowledges or points to these unanswerable questions is seen as spiritual. Some people see life as a mysterious, unknowable gift, unexplainable and undefinable. One can marvel, focus, pay attention to and honor the unknowableness of life. One can study the mystery of life without a desire for explanation. Herein lies the spiritual for me. | Bernard Maisner
---
above:
Installation view of Bernard Maisner: The Hourglass and the Spiral at MOCRA, 2017. Photo by Jeanie Stephens.
---
Related programming
"The Hand Acts Out a Joyous Dance": Celebrating the Art of Bernard Maisner
Bernard Maisner: "The Art of the Illuminator"
Two Lectures: Ellen Dissanayake and Jack Renard
---
Watch "The Hand Acts Out a Joyous Dance": Celebrating the Art of Bernard Maisner on the MOCRA Voices Vimeo channel
Dates
Exhibition
2017-02-3 to 2017-04-2

Bernard Maisner: The Hourglass and the Spiral
February 3, 2017 to April 2, 2017

2016-01-26 to 2016-05-8

Georges Rouault: Miserere et Guerre
January 26, 2016 to May 8, 2016

2016-09-25 to 2016-12-11

Erika Diettes: Sudarios
September 25, 2016 to December 11, 2016

2015-01-24 to 2015-05-10

Regina DeLuise: Vast Bhutan – Images from the Phenomenal World
January 24, 2015 to May 10, 2015

2015-09-13 to 2015-12-6

Painting Prayers: The Calligraphic Art of Salma Arastu
September 13, 2015 to December 6, 2015

2014-02-16 to 2014-08-1

Thresholds: MOCRA at 20 - Part Two, The Second Decade
February 16, 2014 to August 1, 2014

2014-09-14 to 2014-12-14

Rebecca Niederlander: Axis Mundi
September 14, 2014 to December 14, 2014

2013-01-20 to 2013-05-12

Jordan Eagles: BLOOD / SPIRIT
January 20, 2013 to May 12, 2013

2013-09-22 to 2013-12-15

Thresholds: MOCRA at 20 - Part One, The First Decade
September 22, 2013 to December 15, 2013

2012-02-26 to 2012-05-20

Archie Granot: The Papercut Haggadah
February 26, 2012 to May 20, 2012

2012-06-12 to 2012-08-26

A Tribute to Frederick J. Brown
June 12, 2012 to August 26, 2012

2012-09-23 to 2012-12-16

Patrick Graham: Thirty Years – The Silence Becomes the Painting
September 23, 2012 to December 16, 2012

2011-09-24 to 2011-12-18

Adrian Kellard: The Learned Art of Compassion
September 24, 2011 to December 18, 2011

2010-02-2 to 2010-05-16

Good Friday: The Suffering Christ in Contemporary Art
February 2, 2010 to May 16, 2010

2010-09-26 to 2011-02-13

James Rosen: The Artist and the Capable Observer
September 26, 2010 to February 13, 2011

2009-02-15 to 2009-05-17

MOCRA at Fifteen: Good Friday
February 15, 2009 to May 17, 2009

2009-09-13 to 2009-12-13

Michael Byron: Cosmic Tears
September 13, 2009 to December 13, 2009

2008-02-3 to 2008-05-18

Miao Xiaochun: The Last Judgment in Cyberspace
February 3, 2008 to May 18, 2008

2008-09-21 to 2008-12-14

MOCRA at Fifteen: Pursuit of the Spirit
September 21, 2008 to December 14, 2008

2007-03-31 to 2007-06-24

Oskar Fischinger: Movement and Spirit
March 31, 2007 to June 24, 2007

2007-09-16 to 2007-12-09

The Celluloid Bible: Marketing Films Inspired by Scripture
September 16, 2007 to December 09, 2007

2006-01-22 to 2006-03-12

Arshile Gorky: The Early Years – Drawings and Paintings, 1927–1937
January 22, 2006 to March 12, 2006

2001-11-9 to 2002-02-10

Andy Warhol: Silver Clouds
November 9, 2001 to February 10, 2002

2005-03-18 to 2005-07-31

Junko Chodos: The Breath of Consciousness
March 18, 2005 to July 31, 2005

2005-09-15 to 2005-12-18

DoDo Jin Ming: Land and Sea
September 15, 2005 to December 18, 2005

2004-03-28 to 2004-06-13

Rito, Espejo y Ojo / Ritual, Mirror and Eye: Photography by Luis González-Palma, Maria Magdalena Campos-Pons, and Pablo Soria
March 28, 2004 to June 13, 2004

2004-09-10 to 2005-02-27

Radiant Forms in Contemporary Sacred Architecture: Richard Meier and Steven Holl
September 10, 2004 to February 27, 2005

2004-09-10 to 2005-02-27

Daniel Ramirez: Twenty Contemplations on the Infant Jesus, an Homage to Oliver Messiaen
September 10, 2004 to February 27, 2005

2003-09-2 to 2003-10-12

Avoda: Objects of the Spirit – Ceremonial Art by Tobi Kahn
September 2, 2003 to October 12, 2003

2002-02-23 to 2002-08-9

Tony Hooker: The Greater Good – An Artist's Contemporary View of the Tuskegee Syphilis Study
February 23, 2002 to August 9, 2002

2002-08-27 to 2002-12-14

Andy Warhol: Silver Clouds, an encore presentation
August 27, 2002 to December 14, 2002

2006-09-10 to 2006-12-17
Silver Clouds: A Fortieth Anniversary Celebration' style='float:left;width:200px;height:200px;margin-right:5px;object-fit: cover;'>

Andy Warhol's Silver Clouds: A Fortieth Anniversary Celebration
September 10, 2006 to December 17, 2006

2000-04-15 to 2000-11-05

Lewis deSoto: Paranirvana
April 15, 2000 to November 05, 2000

2000-11-18 to 2001-04-01

Robert Farber: A Retrospective, 1985–1995
November 18, 2000 to April 01, 2001

1998-11-14 to 1999-06-28

Bernard Maisner: Entrance to the Scriptorium
November 14, 1998 to June 28, 1999

1998-03-8 to 1998-05-8

Tobi Kahn: Metamorphoses
March 8, 1998 to May 8, 1998

1998-05-26 to 1998-10-25

MOCRA: The First Five Years
May 26, 1998 to October 25, 1998

1997-02-7 to 1997-03-16

Steven Heilmer: Pietre Sante | Holy Stones
February 7, 1997 to March 16, 1997

1997-04-4 to 1997-07-31

Utopia Body Paint Collection and Australian Aboriginal Art from St. Louis Collections
April 4, 1997 to July 31, 1997

1997-09-26 to 1997-12-21

Manfred Stumpf: Enter Jerusalem
September 26, 1997 to December 21, 1997

1995-12-2 to 1996-04-19

Frederick J. Brown: The Life of Christ Altarpiece
December 2, 1995 to April 19, 1996

1996-06-30 to 1996-06-30

Edward Boccia: Eye of the Painter
June 30, 1996 to June 30, 1996

1996-12-1 to 1997-02-5

Consecrations Revisited
December 1, 1996 to February 5, 1997

1995-04-8 to 1995-05-7

Keith Haring: Altarpiece – The Life of Christ
April 8, 1995 to May 7, 1995

1995-05-19 to 1995-07-2

Ian Friend: The Edge of Belief – paintings, sculpture, and works on paper, 1980–1994
May 19, 1995 to July 2, 1995

1995-08-26 to 1995-10-22

Eleanor Dickinson: A Retrospective
August 26, 1995 to October 22, 1995

1994-05-3 to 1994-06-27

Post-Minimalism and the Spiritual: Four Chicago Artists
May 3, 1994 to June 27, 1994

1994-10-15 to 1995-02-19

Consecrations: The Spiritual in Art in the Time of AIDS
October 15, 1994 to February 19, 1995

1993-02-14 to 1993-04-11

Sanctuaries: Recovering the Holy in Contemporary Art, Part One
February 14, 1993 to April 11, 1993

1993-10-24 to 1993-12-19

Body and Soul: The Alvin Ailey American Dance Theater
October 24, 1993 to December 19, 1993

2017-04-26 to 2018-04-8

Transformations: Highlights from the MOCRA Collection
April 26, 2017 to April 8, 2018

2011-03-8 to 2011-07-31

Georges Rouault: Miserere et Guerre
March 8, 2011 to July 31, 2011

2003-03-2 to 2003-05-11

Georges Rouault: Miserere et Guerre
March 2, 2003 to May 11, 2003

2000-01-18 to 2000-04-2

Georges Rouault: Miserere et Guerre
January 18, 2000 to April 2, 2000

1994-03-21 to 1994-04-26

Georges Rouault: Miserere et Guerre
March 21, 1994 to April 26, 1994

2017-09-22 to 2018-04-8

Visible Conservation
September 22, 2017 to April 8, 2018

2016-07-25 to 2016-09-3

Highlights from the MOCRA Collection
July 25, 2016 to September 3, 2016

2015-05-30 to 2015-08-2

Highlights from the MOCRA Collection
May 30, 2015 to August 2, 2015

2018-04-21 to 2018-07-28

Highlights from the MOCRA Collection: The Romero Cross
April 21, 2018 to July 28, 2018

2006-03-28 to 2006-07-30

Highlights from the MOCRA Collection
March 28, 2006 to July 30, 2006

2004-06-20 to 2004-08-29

Highlights from the MOCRA Collection
June 20, 2004 to August 29, 2004

2003-11-4 to 2004-03-5

Highlights from the MOCRA Collection
November 4, 2003 to March 5, 2004

2003-01-7 to 2003-02-23

Highlights from the MOCRA Collection
January 7, 2003 to February 23, 2003

2001-05-6 to 2001-11-8

Highlights from the MOCRA Collection
May 6, 2001 to November 8, 2001

1999-07-29 to 1999-12-22

Highlights from the MOCRA Collection
July 29, 1999 to December 22, 1999

1998-01-15 to 1998-02-22

Highlights from the MOCRA Collection
January 15, 1998 to February 22, 1998

1993-04-18 to 1993-08-29

Sanctuaries: Recovering the Holy in Contemporary Art, Part Two – Three Major Installations
April 18, 1993 to August 29, 1993

2018-05-24 to 2018-11-12

Beyond Words: Three Contemporary Artists and the Manuscript Tradition
May 24, 2018 to November 12, 2018

2018-09-16 to 2019-03-3

MOCRA: 25
September 16, 2018 to March 3, 2019

2019-03-19 to 2019-06-30

Gary Logan: Elements
March 19, 2019 to June 30, 2019

2019-09-15 to 2019-12-15

Gratitude
September 15, 2019 to December 15, 2019