Executive Master of Health Administration Students Gather For 'Experience Weekend' With Industry Professionals
On Friday, September 9th and Saturday September 10th, students in the Executive Master of Health Administration (eMHA) program gathered in person for an experience weekend designed to network and learn from other local health care leaders.
The theme of the weekend was "Improving Quality Through Innovation," as St. Louis is a leading midwestern health care innovation hub, with quality improvement as a focal point. Leaders from across the region discussed how their organizations are using innovative methods to drive performance excellence and improve population health outcomes.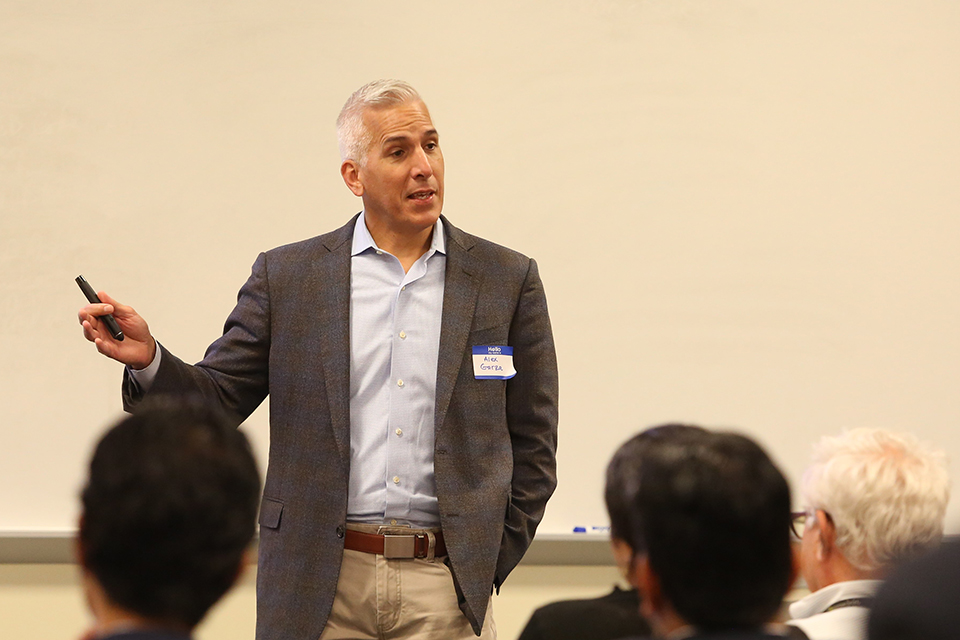 Students and industry leaders network during the Executive Master of Health Administration weekend event.
"There is so much creative energy in St. Louis aimed at solving real problems faced by those in our community. This weekend is a great opportunity for our students to learn from our generous alumni and partners about what it takes identify durable solutions in health care and beyond," Health Management and Policy Department Chair Michael Rozier, SJ, PhD said.
Students took part in discussions and breakout sessions with leaders from companies that included SSM Health, BJC HealthCare, the Washington University School of Medicine, Accumen Inc., Centene Corporation, Gremlo, GlobalSTL, BioSTL, St. Louis Integrated Health Network, EleVATE, Nutrible and MedLAUNCH.
The speakers include CEOs and Presidents, organization founders, community health officers, outreach managers and more.
The full list of speakers included, Alex Garza, MD, Chief Community Health Officer, SSM Health; Alicia Nail-Kosydor, Director of Innovation Lab, BJC HealthCare and Washington University School of Medicine; Amy (Yost-Hansel) Winker, Director, Saint Louis University Cancer Center, Adjunct Professor, HMP, Saint Louis University; Mark Gaynor, PhD, Professor, HMP, Saint Louis University; Katie Castree Benyo, ASQ CSSBB; Client Account Lead, Accumen, Inc.; Charles Andrus, Senior Architect, Centene Corporation; Eric Vanderhoef, Founder and CEO, Gremlo; Scott Huston, Director, Health Care Business Development, GlobalSTL; Anne Silea, Programs and Community Outreach Manager, Center for Rural Health Innovation, BioSTL; Andwele Jolly, CEO, St. Louis Integrated Health Network; Cheron Phillips, Community Collaborator, EleVATE; Richelle Smith, Community Collaborator, EleVATE; Kwamane D. Liddell, Founder and CEO, Nutrible; MedLAUNCH leadership: Aakash Nagarapu, President; Samantha Arledge, VP of Finance; Madi Person, VP of Curriculum; Jasmine Thakkar, VP of Recruitment and Retention; Hance Wilbert, VP of Clinical Outreach; Vamsi Marla, Alumni.
As one of the nation's most established Master of Health Administration programs, Saint Louis university's Executive MHA connects students to a coast-to-coast network of alumni and mentors working in senior leadership positions.
The eMHA program blends distance learning with periodic face-to-face classes. The unique hybrid format is structured to allow students to balance a full-time educational experience with full-time jobs. The program is structured to support working professionals looking to advance current careers in health care as well as professionals who want to transition into the healthcare field from other industries.
College for Public Health and Social Justice
The Saint Louis University College for Public Health and Social Justice is the only academic unit of its kind, studying social, environmental and physical influences that together determine the health and well-being of people and communities. It also is the only accredited school or college of public health among nearly 250 Catholic institutions of higher education in the United States. Guided by a mission of social justice and focus on finding innovative and collaborative solutions for complex health problems, the college offers nationally recognized programs in public health and health administration.