The Saint Louis University Division of Hematology and Medical Oncology offers a three-year subspecialty residency that places an emphasis on inpatient and outpatient care, as well as developing the teaching and research skills of our trainees.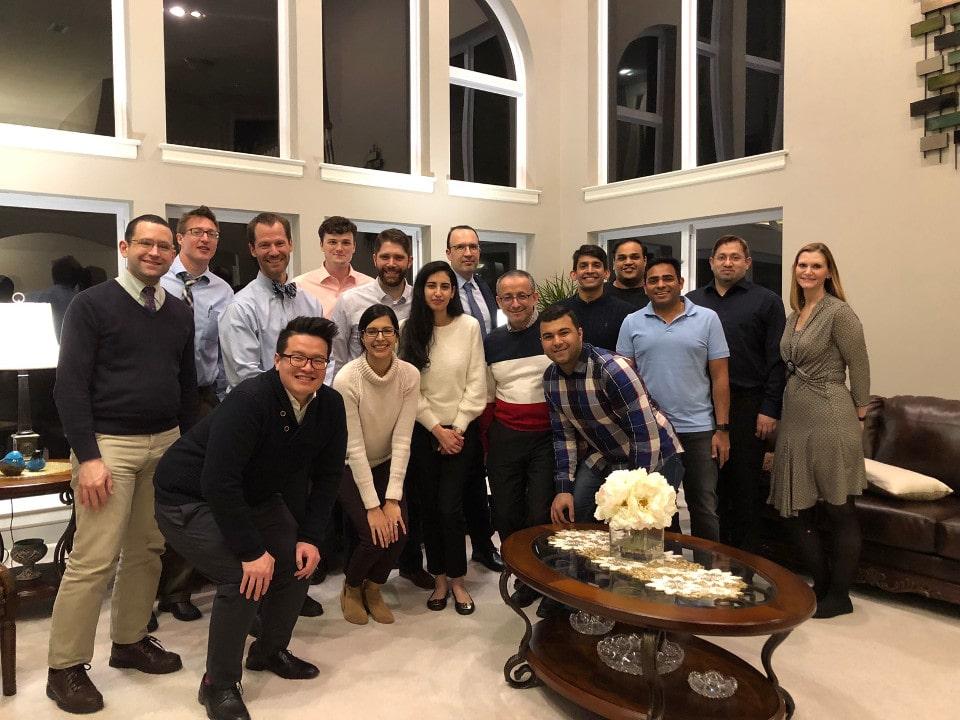 Hematology Oncology Fellows at a gathering
The mission of Saint Louis University's Hematology & Medical Oncology Fellowship program is to train a new generation of hematologists and oncologists in cutting-edge, research-based, patient-centered care.
We aim to provide mentorship and career-oriented guidance to ensure that our trainees are prepared to pursue careers in academia, research, or community practice. We strive to produce fellows who are confident in their practice and well-prepared for ABIM: Hematology and Oncology board certification. We aspire to cultivate a culture of well-being, collegiality, and positivity to promote academic pursuit.
This broad-based educational opportunity explores all aspects of solid tumors and malignant and nonmalignant hematologic disorders, as well as bone marrow and peripheral stem cell transplantation.
Program Overview
Requirements
Entrance into the program requires three years of internal medicine residency training at a United States institution with resulting board eligibility in internal medicine. After completing the program, trainees are board eligible in both hematology and medical oncology by the American Board of Internal Medicine.
Hematology and Medical Oncology Subspecialty Residency Program
Hematology and Medical Oncology Training
First-year trainees practice inpatient care and consult skills, and see patients in the outpatient clinic. During their second year, trainees rotate through subspecialty clinical assignments in disciplines such as radiation oncology, immunopathology, gynecologic oncology, hemostasis laboratory, nuclear medicine and blood banking. Third-year trainees refine their patient care skills and focus on the research and development of clinical studies.
Trainees are also educated in chemotherapy administration and safety precautions, as well as procedures such as bone marrow biopsy and aspiration, bone marrow harvest, and various laboratory procedures. Throughout their three years, trainees attend many educational lectures and multidisciplinary conferences and regularly give their own presentations. They attend national conferences such as the American Society of Clinical Oncology and American Society of Hematology meetings.
Our subspecialty residents continually have exposure to clinical research studies during their training. Trainees are expected to produce abstracts and a manuscript and/or protocol by the end of their third year.