The Department of Neurology at Saint Louis University School of Medicine is a leader in medical education and research, training highly skilled neurologists to serve the Midwest and the rest of the nation.
We offer diverse patient care and teaching experiences for our students and residents. Our primary inpatient service site is at SSM Health Saint Louis University Hospital where we offer active stroke, neurological intensive care, neurointerventional and general neurology services.
We also have outpatient general neurology and subspecialty clinics (e.g., neuromuscular, concussion). We have an active presence at the VA Saint Louis Health Care System - John Cochran Division, which has faculty with primary appointments within our department. Our child neurology faculty and residents provide service to SSM Health Cardinal Glennon Children's Hospital and Medical Center.
Our Mission
The Department of Neurology aims to:
Provide the best neurological care to patients and their families.
Discover and investigate new treatments for nervous system disorders.
Educate the next generation of practitioners as well as our patients and the lay community.
Vision Statement
All members of the Saint Louis University Department of Neurology will collaborate to support state-of-the-art neurological education, compassionate patient care and a growing research enterprise. The department will develop the most exciting intellectual environment in the nation for investigation, treatment and training in neurology. We will fulfill this vision in an environment of mutual respect and collaboration.
Letter from the Chairman
I would like to take a moment to welcome you to the Department of Neurology at Saint Louis University School of Medicine. I am certain you will find this information both helpful and informative.
Saint Louis University School of Medicine has a long history of excellence in teaching, research and patient care. Saint Louis University established the first medical school west of the Mississippi River in 1836.In 1929, Mother Marie Kernaghan became the first woman to graduate from Saint Louis University with a Ph.D. Her degree was in physics. In 1932, the University opened the Firmin Desloge Memorial Hospital, later named Saint Louis University Hospital. Dr. Gilbert Chaddock was the first neurologist of record at Saint Louis University. He was the main consulting neurologist in the 1930's.
Our institution is rooted in tradition while looking forward to growing in new and exciting ways. Saint Louis University Hospital's partnership with SSM (Sisters of St. Mary) has helped to create more diversity in patient care and in teaching experiences for our students and residents and has us excited about the construction of the new SSM Health St. Louis University Hospital, due to be finished in the fall of 2020. We are also extremely excited to continue our partnerships with Saint Louis John Cochran VA Medical Center and SSM Health Cardinal Glennon Children's Hospital.
As a graduate of Saint Louis University School of Medicine in 1997 and completing a fellowship in Child Neurology at Saint Louis University in 2007, I know first-hand of the amazing faculty, students, residents and staff we have in the Department of Neurology. Our department is dedicated to our patients, students, and residents. We strive to provide the best care possible for our patients while committing to teaching our students and residents so they will become experts in the field of neurology. We have extensive research ongoing in most subspecialty fields of neurology. Our graduates have been consistently successful in procuring competitive subspecialty fellowship positions, academic appointments at noteworthy institutions throughout the country and job offers for many private practice positions. Without question, we will have you prepared for the next phase of your career. I am looking forward to all that we will accomplish in the future and I encourage you to peruse our website for further information about our department.
Sincerely,
Sean Goretzke, M.D.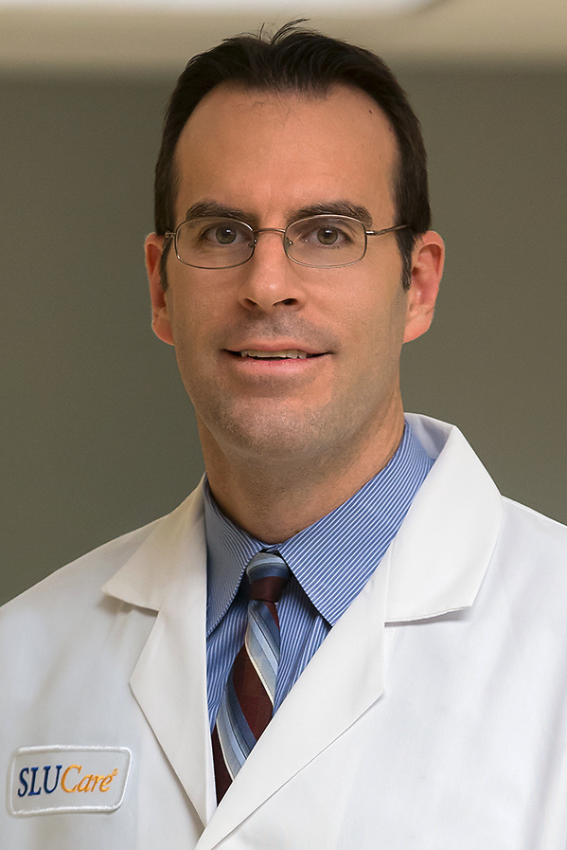 Sean Goretzke, M.D.
Associate Professor and Interim Chairman, Department of Neurology Director,
Division of Child Neurology
---