The Department of Pathology at Saint Louis University School of Medicine actively integrates research into the mechanisms of diseases at the genetic, molecular and cellular levels with clinical activities.
This provides the foundation for further developments in diagnosis and therapy while ensuring an increasing understanding of human diseases. We provide extensive research and training opportunities to graduate students and medical trainees to support these fundamental activities.
Letter from the Department Chair
The mission of the Pathology Department is to deliver patient-centered quality diagnostic services, provide exceptional pathology education, and advance innovative research.
Our faculty and staff provide medical service and leadership and fulfill our academic missions at SSM Health Saint Louis University Hospital, SSM Health Cardinal Glennon Children's Hospital, and SSM Health St. Mary's Hospital – Saint Louis. We also provide medical services and leadership to four community hospitals in the region.
We provide a full range of reference laboratory services, including adult, pediatric, and perinatal autopsy; placental pathology; dementia-related brain pathology; cytopathology; flow cytometry; toxicology; renal, muscle, and peripheral nerve technical and professional services; histology technical work to include immunohistochemistry, immunofluorescence, and histochemistry; and electron microscopy.
Our ACGME-accredited Anatomic and Clinical Pathology residency training program benefits from the broad range of expertise shared by our faculty. Fellowship programs available in our department include Forensic Pathology, GI/Liver Pathology, Hematopathology, Pediatric Pathology, and Transfusion Medicine. Graduate students in the Ph.D. program receive the training required to become successful scientists.
Our faculty participate actively in innovative research. Projects span from natural killer cell function, to tumor suppression by bitter melon, to participation in national liver pathology study groups.
Through these endeavors, we strive to live our departmental mission in the Jesuit traditions of cura personalis and being men and women for and with others.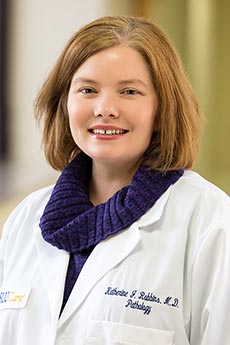 Katherine J. Robbins, M.D.
Associate Professor and Interim Chair
Department of Pathology
Saint Louis University
---
Research Facilities
Our department occupies space on the lower level of SSM Health Saint Louis University Hospital and also has research facilities in the SLU School of Medicine, SLU's Doisy Research Center and SSM Health Cardinal Glennon Children's Hospital.
Our faculty members work closely with graduate students, medical students and residents to help them acquire the academic background and practical laboratory skills needed for successful research careers in academics, industry, medicine or government.
We offer excellent research facilities for student use, including:
Confocal microscope image analysis laboratory
Transmission and scanning electron microscopes
Fluorescence microscopy
Flow cytometry tissue culture labs
Video image analysis
A wide range of centrifuges, lyophilizers, scintillation and gamma counters,
HPLCs, GCs, etc.
Excellent library facilities are also available. Our departmental faculty maintain research collaborations with colleagues in the academic and industrial community, which further broadens opportunities and exposure to technical skills and research expertise for graduate students.
Our department stresses close interactions among students, mentors and the graduate steering committee to foster each student's intellectual and scientific growth.
Divisions
Anatomic Pathology
Clinical Pathology/Laboratory Medicine
Community Hospital Division
Forensic Pathology
Pediatric Pathology
Research
Accreditation
Laboratories operated by the pathology department at Saint Louis University School of Medicine recently were reaccredited by the College of American Pathologists (CAP), an independent medical society.