The Saint Louis University Department of Radiology offers a five-year fully-accredited residency program in Interventional Radiology following a yearlong clinical internship.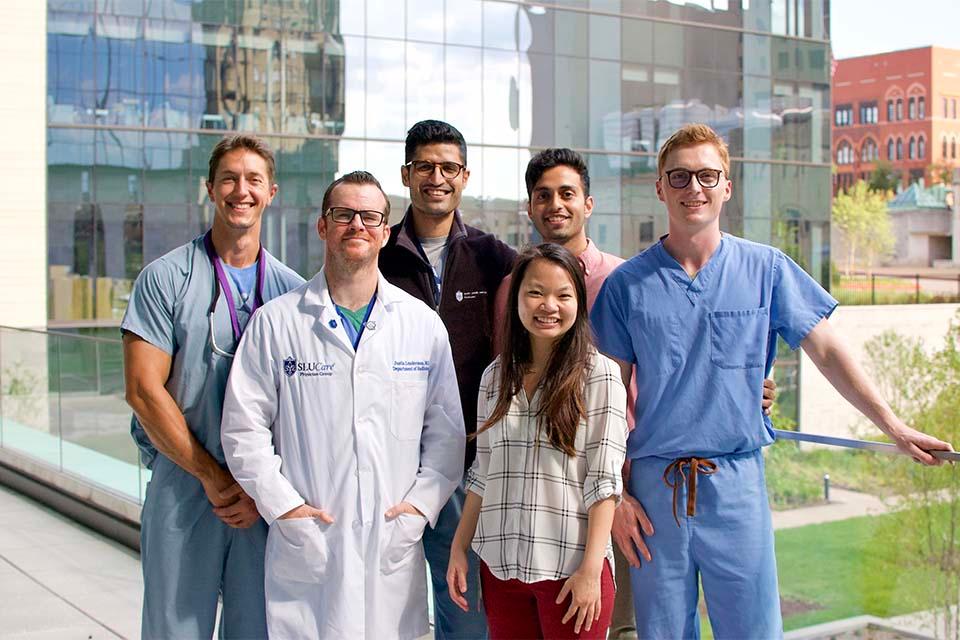 Group of six residents outside hospital
Interventional Radiology Training
The program accepts one resident per year. The first three years of training emphasize the development of strong diagnostic radiology skills and therefore closely mirrors the Diagnostic Radiology Residency Program. Basic image-guided interventions are acquired during this time by rotating through IR at least once per year. The final two years of training prepare the trainee for advanced image-guided interventions with mostly IR and IR-related rotations. At the completion of the residency, graduates are dual certified in interventional and diagnostic radiology, capable of excelling in both academic and private practice.
Our faculty have expertise in a wide range of adult and pediatric procedures including TIPS, TACE, Y-90 radiotherapy, thermal ablation, cryoablation, dialysis interventions, biliary interventions, uterine fibroid embolization, prostate artery embolization, kyphoplasty/vertebroplasty, trauma, IVC filters, angioplasty/stenting, thrombolysis, and more.
The department boasts a robust interventional radiology clinic, inpatient admitting service, and several multidisciplinary conferences including liver tumor board, GI tumor board, and musculoskeletal tumor board.
Our Facilities
Radiology training takes place at three major teaching hospitals: SSM Health Saint Louis University Hospital, including its Cancer Center, VA Saint Louis Health Care System - John Cochran Division and SSM Health Cardinal Glennon Children's Hospital. Exposure to the private practice of radiology is provided by means of limited rotations through SSM Health St. Mary's Health Center.
Learn More About Our Facilities
Program Features
Level 1 Trauma Center with a high volume and wide range of pathology.
Independent overnight call develops skills, builds confidence and simulates private practice.
Leading-edge interventional radiology procedures with hands-on experience.
Dynamic department with many exceptional faculty.
Collegial and fun working atmosphere.
100 percent pass rate for the new American Board of Radiology (ABR) core exam.
Approximately two to three months out of the call-pool preceding the ABR core exam with relatively light rotations.
Funds to buy books and attend board prep courses (including AIRP) if desired.
Three weeks of vacation per year with the flexibility to take days or weeks off.
In-house moonlighting opportunities to earn additional money.
Fringe benefits include on call meal allowance, malpractice insurance, health coverage for residents and their families, parking and gym membership. Dental and vision insurance can be purchased at a reasonable cost.