Browse the chronological list, or search for a specific event. Click "View" for more information about an event. If you need further information about an event, please contact us.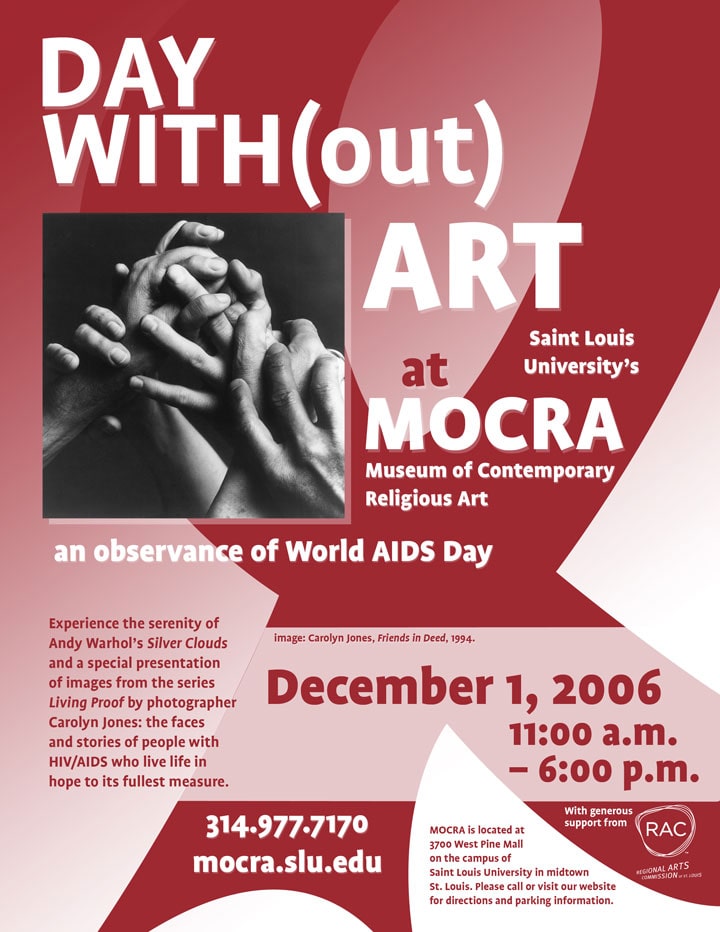 Day With(out) Art
December 1, 2006
MOCRA observes Day With(out) Art, a national day of action and mourning in response to the AIDS crisis, with a special presentation of images from the photographic project titled Living Proof.
The 1992–93 Living Proof project is a suite of positive portraits of people with HIV/AIDS—people who did not experience their diagnosis as an imminent death sentence. Though the dynamics of the HIV/AIDS epidemic have shifted in the intervening years, the images and their accompanying stories are as fresh and compelling now as when they were first published in 1994.
The creative force behind the images is Carolyn Jones, whose wide-ranging career in photography and film includes stints shooting for national magazines like Esquire and Details and directing projects for PBS and Oxygen. MOCRA has five prints from Living Proof in its collection, and has arranged with Jones to project additional portraits in its nave gallery for this Day With(out) Art observance.
The Living Proof images complement MOCRA's installation of Andy Warhol's Silver Clouds, the mercurial and buoyant pillow-shaped silver mylar balloons that roam the air currents of MOCRA's spacious nave gallery.
For many of our visitors who have confronted serious illness, the Silver Clouds have served as a tangible embodiment of the letting go of pain and the hope of healing. On December 1, we invite all those who have experienced HIV and AIDS in some way, to come to MOCRA and share in that experience of hope and healing. | Terrence Dempsey, S.J.
---
above:
Day With(out) Art flyer
---
Listen to artist Carolyn Jones reflecting on Living Proof on Episode 17: MOCRA Memories - Consecrations
Listen to a conversation about the origins of Day With(out) Art on Episode 3: Thomas Sokolowski
Dates
Exhibition
2018-10-07 to 2018-10-14

Walking in Hope: A Weeklong Celebration of the Canonization of Archbishop Oscar Romero
October 7, 2018 to October 14, 2018

2017-04-20

"The Hand Acts Out a Joyous Dance": Celebrating the Art of Bernard Maisner
April 20, 2017

2016-09-25

Erika Diettes: "Stories Told from the Threshold"
September 25, 2016

2015-12-06

So That You Know Each Other: Intercultural Reflections on Art, Beauty, and Islam
December 6, 2015

2014-11-15

John Handley: "The Religious Art of Pablo Picasso"
November 15, 2014

2018-09-28 to 2018-09-29

Fleur-de-Lis Floral Art Walk
September 28, 2018 to September 29, 2018

2014-02-23

"The Economy of Gift" in Socially Engaged Art Practices: A Public Deliberation
February 23, 2014

2013-10-02

"Art21: The Spiritual Light" screening at CAM
October 2, 2013

2013-03-02

Rituals and Spirituality in the Performative Photographic Work of Maria Magdalena Campos-Pons
March 2, 2013

2012-11-11

Breaking Boundaries: A Conversation about the Art of Patrick Graham
November 11, 2012

2012-05-20

Stephen P. Durchslag: "The Jewish Experience and the Haggadah"
May 20, 2012

2012-03-27

2012 Loyola Chair Lecture: "The Image of the Wounded Body of Christ and the Modern Social Consciousness"
March 27, 2012

2011-10-06

2011 Loyola Chair Lecture: "The Pursuit of the Spirit: The Renewed Interest in the Spiritual and Religious Dimensions in Contemporary Art"
October 6, 2011

2011-05-01

Terrence Dempsey, S.J.: "Georges Rouault and the Art of Sacred Engagement"
May 1, 2011

2010-11-15

Terrence Demspey, S.J.: "Creating a Religious Environment through Contemporary Art and Architecture"
November 15, 2010

2010-03-28

Terrence Dempsey, S.J.: "The Wounded Body of Christ and the Modern Social Conscience"
March 28, 2010

2009-12-01

Day With(out) Art
December 1, 2009

2009-11-15

Michael Byron: "Cosmic Tears: Word and Image"
November 15, 2009

2009-03-29

Art and the Religious Imagination
March 29, 2009

2008-04-15

Wu Hung: "What Is Contemporary Chinese Art?"
April 15, 2008

2007-10-07

Celluloid Bible Classics: The Ten Commandments
October 7, 2007

2007-11-04

Celluloid Bible Classics: Ben-Hur
November 4, 2007

2007-09-16

Michael Morris, O.P.: "Moving Pictures: The Bible and Beyond"
September 16, 2007

2007-03-30

Peter Frank: "An Oskar Fischinger Tribute"
March 30, 2007

2006-12-01

Day With(out) Art
December 1, 2006

2005-12-04

Robert Rosenblum: "DoDo Jin Ming: An Art Historian's View"
December 4, 2005

2003-09-07

To Make Extraordinary: The Role of Sacred Objects in Life and Worship
September 7, 2003

2002-05-04

The Tuskegee Syphilis Experiment: A University Response
May 4, 2002

2002-04-30

Fred D. Gray: "The Tuskegee Syphilis Experiment: A Study That Should Never Have Occurred"
April 30, 2002

2002-01-31

Cloudlanders
January 31, 2002

2002-01-26

Thomas Sokolowski: "The Last Temptation: Andy Warhol's Art as Belief"
January 26, 2002

2000-11-30

Day With(out) Art
November 30, 2000

2001-04-06

Bare Naked Statues in concert
April 6, 2001

1999-04-15

Two Lectures: Ellen Dissanayake and Jack Renard
April 15, 1999

1999-03-27

Bernard Maisner: "The Art of the Illuminator"
March 27, 1999

1998-03-22

Renaissance and Modern
March 22, 1998

1997-11-15

The Role of the Computer in Contemporary Art
November 15, 1997

1997-07-24

Jennifer Biddle: "Body, Country, Canvas: Meaning and Identity in Central Desert Aboriginal Women's Art"
July 24, 1997

1997-06-07

Creativity as Ancestral Mind: Living with the Ancestors
June 7, 1997

1997-02-27

The Artist and the Theologian Dialogue: The Body of Christ as Veiling and Unveiling the Invisible God
February 27, 1997

1996-12-01

Day Without Art
December 1, 1996

1996-05-19

The Artist as Poet: Readings by Edward Boccia
May 19, 1996

1995-05-20

Ian Friend: "The Edge of Belief"
May 20, 1995

1995-05-04

Peter Selz: "Degenerate Art"
May 4, 1995

1995-02-05

Lynn Hague in recital
February 5, 1995

1994-11-13

Terrence Dempsey, S.J.: "The Spiritual in Art in the Time of AIDS"
November 13, 1994

1994-12-01

Day Without Art
December 1, 1994

1994-11-05

Thomas Sokolowski: "The Changing Face of AIDS"
November 5, 1994

1994-11-01

The Amici String Quartet in recital
November 1, 1994

1994-10-15

Consecrations: The Spiritual in Art in the TIme of AIDS dance program and opening reception
October 15, 1994

1993-10-29

I Remember Alvin
October 29, 1993

1993-11-05

An Evening with Katherine Dunham
November 5, 1993

1992-11-07

The Artist and Sacred Space
November 7, 1992

2019-04-14

A Conversation with Gary Logan
April 14, 2019

2019-11-10

Pursuing the Spirit in Contemporary Art: A Celebration of Terrence Dempsey, S.J.
November 10, 2019