Global and Local Social Justice (Graduate Minor)
Before you can confront social problems such as poverty, inequality or war, you must first understand the social and political systems that contribute to them. Graduate students who minor in global and local social justice at Saint Louis University examine the theory and philosophy of justice and gain awareness of pressing national and international issues.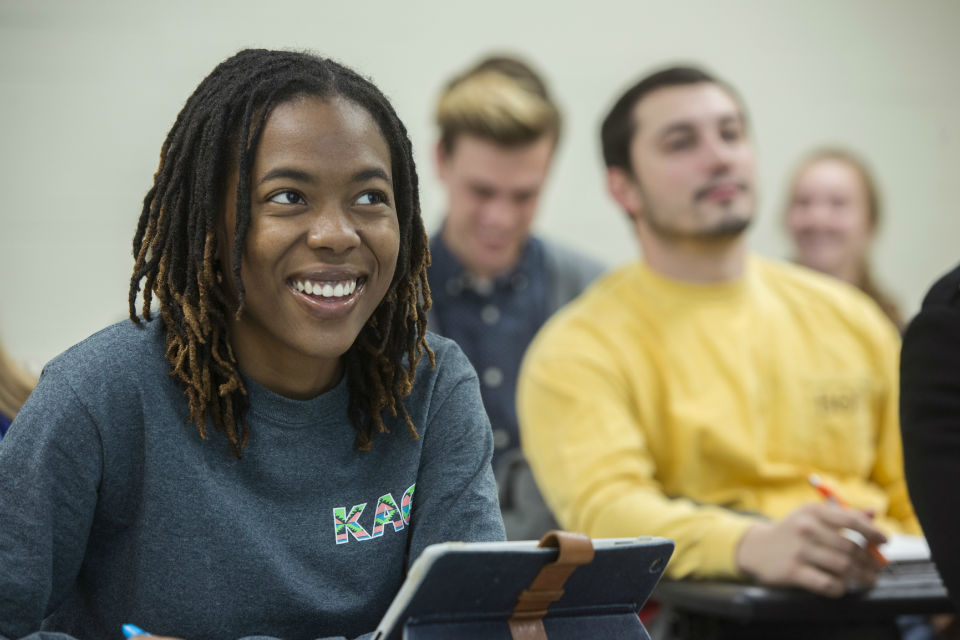 ---
Minor in Global and Local Social Justice
SLU's graduate minor in global and local social justice is comprised of 15 hours of classes in four required areas: theories of justice, stratification/structures of inequality, global issues, and processes of change. Remaining credit hours can be earned through elective courses or additional courses in each area, although no more than nine of the required hours can be taken in a single area.

You'll be required to complete a capstone project to complete the minor. For the capstone, you will give a public presentation based on a paper written in one of the classes taken as part of the minor.
Curriculum
Theories of Justice:
POLS 5730: Contemporary Political Ideologies
POLS 5750: American Political Thought
POLS 5930: Structures of Power/Structures of Thought
ASTD 6700/POLS6700: Seminar in American Political Thought
WSTD 5010: Feminist Theory
Stratification/structures of inequality:
ASTD 5270: Anti-Black Racism
ASTD 5400: Metropolitan America
ASTD 6390: Race, Rights & American Identity
PPS 5760: Poverty Policy
SOC 5400: Race, Gender, Class and Criminal Justice
SOC 5500: Social Stratification
SOC 5510: Constructing Social Problems
SWRK 7150: Social Work Practice with Low Income Families and Neighborhoods
SWRK 7160: Diversity and Anti-Oppression Practice
Global Issues:
POLS 5840: Politics of Health
PPS 4930: Structure of Poverty - Global and Local
SWRK 7030: International Social Work: Mexico/Ghana
Processes of Change:
POLS 5500: Democratization
POLS 5620: International Organization and the Management of World Problems
POLS 6710: Leadership and Choice
PPS 5000: The Metropolis
PPS 6050: Policy Ethics / Social Responsibility
SWRK 7020: Social Policy
Electives:
SWRK 7010: Social Justice: Human Liberation and Community Building
SWRK 7170: Foundations of Nonviolent Peacemaking
SWRK 7930: Social Work in an International Context
SWRK 7680: Health and Mental Health Policy
SWRK 7980: Non-Profit Management
PPS 5400: Organizational Theory and Behavior
Admission Requirements
To be admitted to the program, students must be accepted into a SLU graduate program with at least a 3.0 undergraduate GPA. Normally, students accepted into the program will have taken at least 15 credit hours of social science courses as undergraduates. The program director will approve enrollment in the program and advise students on the best order in which to take courses.
---
---