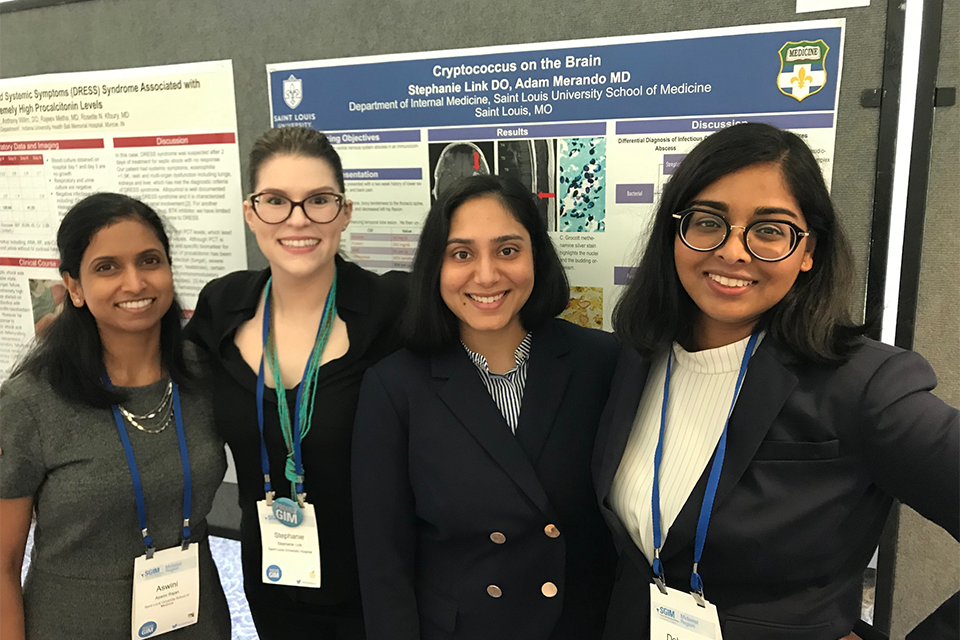 Students standing in front of poster
Our guiding principle towards resident education (centered on our mission) is:
"How can we create the best structure to train great internists".
In developing our clinical curriculum, we focus rotational schedules on what knowledge and experience we want the learner to acquire at a given stage of training. The decision to have a resident do a rotation is not determined by the clinical needs of the department/hospital, but on the skills and abilities we want the learner to acquire.
General Medicine Inpatient Schedule "Mario Kart!"
We have a unique schedule on the general medicine floors rotations termed "Mario Kart." In this system, interns and residents are divided into 5 different patient care teams (aka "karts"), fondly named after beloved Mario Kart characters. Each team is composed of 2 interns and a senior resident, who remain on this "kart" team for the entire rotation.
Each resident-intern "kart" team follows an 8+2 schedule, meaning you work on a patient care team for 8 days straight, followed by 2 consecutive days off. After the 2 days off, the kart team then joins a new patient care team for another 8 days. This schedule varies from a traditional model in which interns and residents have different scheduled days off throughout a block, leaving multiple days where the full patient care team is not present.
The call schedule also improved for the "kart" teams with our new system. Residents follow a q5 day call cycle, starting on call when joining each new patient care team. The call team is responsible for admitting new patients from 0700-1900 on each call day. Additionally, the non-call teams are also eligible for "drip" admissions until 1500 on non-call days. The goal of the "drip" admission system is to maintain all teams at an equal patient census.
Advantages of "Mario Kart"
Residents get an average of 5-6 days off in a 4-week period, as opposed to the typical 4 days off in the traditional model. Additionally, residents get two consecutive days off at a time, mimicking a "golden weekend" each week.
Each member of the patient care team is present every day, improving continuity of care and dividing the workload among team members.
Patient care teams generally have equal numbers of patients, creating balanced workloads.
Residents get the opportunity to practice in a schedule similar to the modern hospitalist model, by caring for the same group of patients for 8 days continuously.
While the "Mario Kart" model was originally developed in response to restructuring our academic hospitalist workload, it has been maintained on our SLU general medicine floors rotations and has even been adapted to the VA general medicine floors and MICU rotations as well.
Below is our conceptual framework for your future schedule: