Practical Anatomy and Surgical Education's continuing medical education courses for surgeons are held in Young Hall, a 105,000 square-foot facility on the campus of Saint Louis University.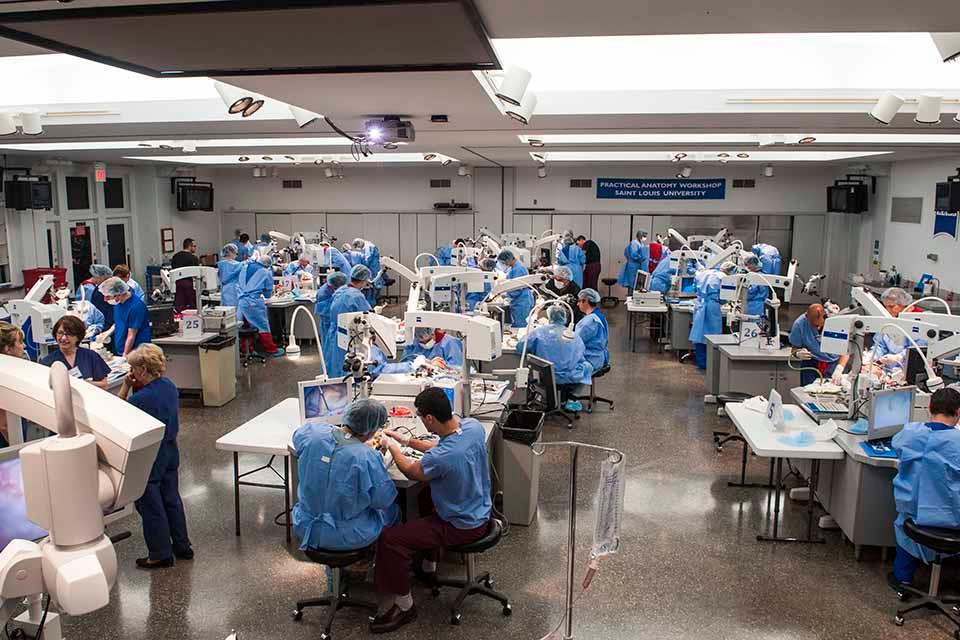 Slide 1 PASE Facility and Rentals
Didactic segments are held in our 400-seat auditorium, where facilitators at a master station lead live procedures that are shown in 3-D on a 16-by-25 foot screen.
Hands-on cadaver dissections are held in the Zeiss Learning Center, which offers an additional master station with 2-D and 3-D presentation options, as well as 26 dissection workstations equipped with floor-mounted Zeiss microscopes, compressed air, irrigation, suction and 2-D video monitors.
A second lab can be configured with up to eight surgical suites, accommodating large sessions or our dual and multi-track CME courses.
PASE's laboratory inventory includes:
Basic surgical equipment and instrumentation at each station
Supplies and personal protective wear/scrubs
Autoclave for sterilization
LCD projector
Endoscopic systems
Lead aprons and thyroid shields
Radiolucent tables
Specimen/head holders
PASE's cadaver material is provided by the Center for Anatomical Science and Education at the Saint Louis University School of Medicine. All specimens are tested serologically for HIV, as well as Hepatitis B and C.
Rentals: Using Young Hall For Surgical Training
Each year, more than 2,200 health care professionals attend practice labs, practical workshops and CME workshops through Saint Louis University's Practical Anatomy and Surgical Education.
In addition to the advanced surgical training offered through PASE in the form of continuing medical education for physicians, local and national medical organizations can use our interactive lab facilities for research, development and training. At 105,000 square feet, Young Hall offers space for surgical education, bioskills labs, on-site catering and more.
Highlights of PASE's facility include:
A 4,000 square-foot laboratory
State-of-the-art surgical procedures lab with 26 surgical workstations
A 400-seat auditorium
Video conferencing
Master station surgical microscope with 3-D projection
A dining/exhibit hall (accommodates 120 seated)
Distance learning suite
To inquire and schedule your lab event, please fill out our facility request form or email joyce.bryan@health.slu.edu .