Browse the chronological list, or search for a specific event. Click "View" for more information about an event. If you need further information about an event, please contact us.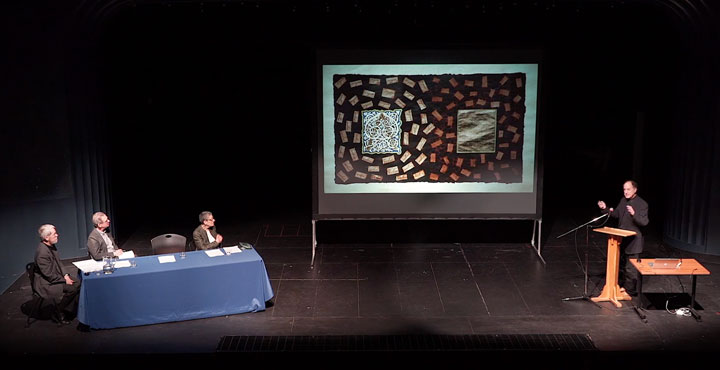 "The Hand Acts Out a Joyous Dance": Celebrating the Art of Bernard Maisner
April 20, 2017
A master calligrapher and manuscript illuminator, artist Bernard Maisner brings together materials and design in unexpected ways. From tiny illuminated manuscripts to large-scale paintings reminiscent of ancient mosaics, he achieves a vibrant compositional and scribal expression rooted in the past but conveyed with a fresh contemporary visual vocabulary.
For this program, Maisner will reflect on his work, discussing his sources, techniques, and inspirations. He will be joined by Susan L'Engle, a noted scholar of medieval manuscripts, and Ken Botnick, a highly regarded printer, publisher and book maker. MOCRA Director Terrence Dempsey, SJ, will moderate the conversation. We also welcome special guest Helen Du Bois. Together with her late husband, Peter, she has been a major collector of Maisner's work. Six large-scale Maisner paintings, donated by Helen in honor of Peter, form the centerpiece of MOCRA's exhibition Bernard Maisner: The Hourglass and the Spiral.
---
Participants:
Bernard Maisner (b.1954) is regarded internationally as one of the greatest contemporary masters of calligraphy. Maisner first became familiar with illuminated manuscripts during his studies at The Cooper Union in New York. He went on to teach Medieval and Renaissance manuscript illumination methods and techniques and was a guest lecturer and researcher at such prominent institutions as the Bibliotheque Nationale in Paris, the Cloisters Museum of the Metropolitan Museum of Art, the Getty Museum in Malibu, California, and the Morgan Library and Museum. His work is represented in some of this country's most prestigious private and public collections, including the Morgan Library and Museum and the Philadelphia Museum of Art. More recently Maisner has made a foray into social calligraphy, creating elaborately embellished styles of writing for clients including Oprah Winfrey, Alicia Keys, and Sir Elton John. He is also on-call for Hollywood; his hands have played Johnny Depp in Sleepy Hollow, Daniel Day Lewis in Age of Innocence and Sean Connery in Finding Forrester.
Ken Botnick has been designing, printing and publishing books for over 35 years, in limited editions published by his own presses, and for leading publishers such as Yale University Press and Princeton Architectural Press. The archive of his co-proprietorship, Red Ozier Press, is part of the permanent collection of The New York Public Library. Under the imprint emdash, Botnick continues production of artists books in St Louis. His work is found in collections around the world, including the Library of Congress, The Getty Center for Humanities, the Boston Athenaeum, The Bodleian Library, The Newberry Library, The National Library of the Netherlands in the Hague, the Yale Arts of the Book Collection, libraries at Smith, Harvard, Wellesley and notable private collections. His book, "Kamini, selections from the Gitagovinda", published in Sanskrit and English, was selected by the American Institute of Graphic Arts for its "50 Books/50 Covers, 2007" annual juried show, and his 2015 publication, Diderot Project, was selected as the winner of the Minnesota Center for the Book Arts International Biennial Prize. Botnick was the recipient of a Fulbright Fellowship in 2006 to support his residency at the National Institute of Design in Ahmedabad, India. He is Professor of Art at Washington University in St Louis where he directs the Kranzberg Book Studio and teaches courses in publication design.
Susan L'Engle (Ph.D. Art History, Institute of Fine Arts, New York University) is an art historian and manuscript scholar, specializing in the codicology and illumination of medieval manuscripts of canon and Roman law. She is currently working on a book that focuses on pedagogical methods in the study of Roman law as evidenced by pictographic reader annotations in their textbooks. Recent publications include articles in Viator, Wolfenbatteler Mittelalter-Studien, and Caritas im Schatten von Sankt Peter, Der Liber Regulae des Hospitals Santo Spirito in Sassia: Eine Prachthandschrift des 14. Jahrhunderts. Based in the Vatican Film Library at Saint Louis University, she co-edits the journal Manuscripta; publishes a quarterly newsletter called "Manuscripts on My Mind"; plans and organizes the annual Saint Louis Conference on Manuscript Studies, and teaches classes on codicology and manuscript illumination to a variety of student groups.
---
above, from left:
Terrence Dempsey, S.J., Ken Botnick, Susan L'Engle, and Bernard Maisner.
---
Watch "The Hand Acts Out a Joyous Dance": Celebrating the Art of Bernard Maisner on the MOCRA Voices Vimeo channel
Dates
Exhibition
2018-10-07 to 2018-10-14

Walking in Hope: A Weeklong Celebration of the Canonization of Archbishop Oscar Romero
October 7, 2018 to October 14, 2018

2017-04-20

"The Hand Acts Out a Joyous Dance": Celebrating the Art of Bernard Maisner
April 20, 2017

2016-09-25

Erika Diettes: "Stories Told from the Threshold"
September 25, 2016

2015-12-06

So That You Know Each Other: Intercultural Reflections on Art, Beauty, and Islam
December 6, 2015

2014-11-15

John Handley: "The Religious Art of Pablo Picasso"
November 15, 2014

2018-09-28 to 2018-09-29

Fleur-de-Lis Floral Art Walk
September 28, 2018 to September 29, 2018

2014-02-23

"The Economy of Gift" in Socially Engaged Art Practices: A Public Deliberation
February 23, 2014

2013-10-02

"Art21: The Spiritual Light" screening at CAM
October 2, 2013

2013-03-02

Rituals and Spirituality in the Performative Photographic Work of Maria Magdalena Campos-Pons
March 2, 2013

2012-11-11

Breaking Boundaries: A Conversation about the Art of Patrick Graham
November 11, 2012

2012-05-20

Stephen P. Durchslag: "The Jewish Experience and the Haggadah"
May 20, 2012

2012-03-27

2012 Loyola Chair Lecture: "The Image of the Wounded Body of Christ and the Modern Social Consciousness"
March 27, 2012

2011-10-06

2011 Loyola Chair Lecture: "The Pursuit of the Spirit: The Renewed Interest in the Spiritual and Religious Dimensions in Contemporary Art"
October 6, 2011

2011-05-01

Terrence Dempsey, S.J.: "Georges Rouault and the Art of Sacred Engagement"
May 1, 2011

2010-11-15

Terrence Demspey, S.J.: "Creating a Religious Environment through Contemporary Art and Architecture"
November 15, 2010

2010-03-28

Terrence Dempsey, S.J.: "The Wounded Body of Christ and the Modern Social Conscience"
March 28, 2010

2009-12-01

Day With(out) Art
December 1, 2009

2009-11-15

Michael Byron: "Cosmic Tears: Word and Image"
November 15, 2009

2009-03-29

Art and the Religious Imagination
March 29, 2009

2008-04-15

Wu Hung: "What Is Contemporary Chinese Art?"
April 15, 2008

2007-10-07

Celluloid Bible Classics: The Ten Commandments
October 7, 2007

2007-11-04

Celluloid Bible Classics: Ben-Hur
November 4, 2007

2007-09-16

Michael Morris, O.P.: "Moving Pictures: The Bible and Beyond"
September 16, 2007

2007-03-30

Peter Frank: "An Oskar Fischinger Tribute"
March 30, 2007

2006-12-01

Day With(out) Art
December 1, 2006

2005-12-04

Robert Rosenblum: "DoDo Jin Ming: An Art Historian's View"
December 4, 2005

2003-09-07

To Make Extraordinary: The Role of Sacred Objects in Life and Worship
September 7, 2003

2002-05-04

The Tuskegee Syphilis Experiment: A University Response
May 4, 2002

2002-04-30

Fred D. Gray: "The Tuskegee Syphilis Experiment: A Study That Should Never Have Occurred"
April 30, 2002

2002-01-31

Cloudlanders
January 31, 2002

2002-01-26

Thomas Sokolowski: "The Last Temptation: Andy Warhol's Art as Belief"
January 26, 2002

2000-11-30

Day With(out) Art
November 30, 2000

2001-04-06

Bare Naked Statues in concert
April 6, 2001

1999-04-15

Two Lectures: Ellen Dissanayake and Jack Renard
April 15, 1999

1999-03-27

Bernard Maisner: "The Art of the Illuminator"
March 27, 1999

1998-03-22

Renaissance and Modern
March 22, 1998

1997-11-15

The Role of the Computer in Contemporary Art
November 15, 1997

1997-07-24

Jennifer Biddle: "Body, Country, Canvas: Meaning and Identity in Central Desert Aboriginal Women's Art"
July 24, 1997

1997-06-07

Creativity as Ancestral Mind: Living with the Ancestors
June 7, 1997

1997-02-27

The Artist and the Theologian Dialogue: The Body of Christ as Veiling and Unveiling the Invisible God
February 27, 1997

1996-12-01

Day Without Art
December 1, 1996

1996-05-19

The Artist as Poet: Readings by Edward Boccia
May 19, 1996

1995-05-20

Ian Friend: "The Edge of Belief"
May 20, 1995

1995-05-04

Peter Selz: "Degenerate Art"
May 4, 1995

1995-02-05

Lynn Hague in recital
February 5, 1995

1994-11-13

Terrence Dempsey, S.J.: "The Spiritual in Art in the Time of AIDS"
November 13, 1994

1994-12-01

Day Without Art
December 1, 1994

1994-11-05

Thomas Sokolowski: "The Changing Face of AIDS"
November 5, 1994

1994-11-01

The Amici String Quartet in recital
November 1, 1994

1994-10-15

Consecrations: The Spiritual in Art in the TIme of AIDS dance program and opening reception
October 15, 1994

1993-10-29

I Remember Alvin
October 29, 1993

1993-11-05

An Evening with Katherine Dunham
November 5, 1993

1992-11-07

The Artist and Sacred Space
November 7, 1992

2019-04-14

A Conversation with Gary Logan
April 14, 2019

2019-11-10

Pursuing the Spirit in Contemporary Art: A Celebration of Terrence Dempsey, S.J.
November 10, 2019