Browse the chronological list of events at the Saint Louis University Museum of Contemporary Religious Art (MOCRA), or search for a specific event. Click "View" for more information about an event. If you need further information about an event, please contact us.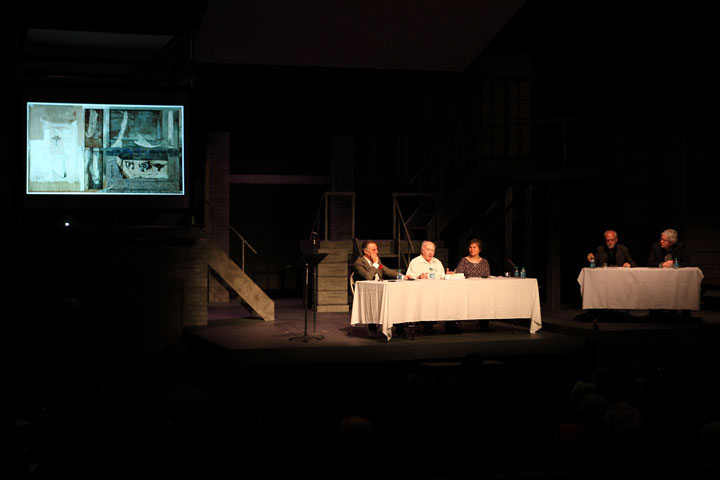 Breaking Boundaries: A Conversation about the Art of Patrick Graham
November 11, 2012
Patrick Graham has been credited with changing the face of contemporary painting in Ireland. Join us for a panel discussion bringing together five distinguished voices who will consider the art of Patrick Graham from the perspectives of a curator and art historian, an art critic, a gallery director, and two noted scholars of Irish culture. There will be an opportunity for audience questions.
"Breaking Boundaries" is held in conjunction with the exhibition Patrick Graham: Thirty Years – The Silence Becomes the Painting.
---
Featured Speakers:
Peter Selz is Professor Emeritus of Art History at the University of California-Berkeley, and curator of Patrick Graham: Thirty Years – The Silence Becomes the Painting. Selz is a renowned curator of contemporary art as well as a historian of German Expressionism. He arrived in the United States in 1936 where he was introduced to many New York and European artists by a distant relative, Alfred Stieglitz. Selz became the curator of the department of painting and sculpture at the Museum of Modern Art, New York in 1958. At the Modern, his exhibitions included the 1960 Jean Tinguely Homage to New York, a sculpture that destroyed itself (and started a fire) in the sculpture garden of the Museum. In 1965 he curated a comprehensive exhibition of Alberto Giacometti's work. That same year he was called to the University of California, Berkeley to found the university's art museum. Peter Selz served as its director from 1965 to 1973. He is known most recently for his provocative, politically charged exhibitions like The Art of Engagement, which showed at the American University Museum at the Katzen Arts Center in 2006.
Kenneth Baker, Chief Art Critic for the San Francisco Chronicle, is one of the best-known art writers in the United States. He is a native of the Boston area, and served as art critic for the Boston Phoenix before joining the Chronicle. He has contributed to numerous publications, including Artforum, Art in America and the New York Times Book Review. Mr. Baker has also authored Minimalism: Art of Circumstance (Abbeville Press, 1989/1997).
Jack Rutberg is owner and director of Jack Rutberg Fine Arts, in Los Angeles, a gallery established in 1979. He has lectured extensively on a wide range of subjects related to Modern and Contemporary art in colleges and universities, including the University of California-Los Angeles, California State University-Northridge, Utah State University, and has been a guest speaker at the Douglas Hyde Museum in Dublin, the Crawford Museum in Cork, Ireland, Portland Art Museum in Oregon, Santa Barbara Museum of Art, Long Beach Museum of Art, Los Angeles County Museum of Art, and the Laguna Art Museum. Rutberg is the international representative for the art of Patrick Graham, and has written extensively on the artist.
Special Guests:
Ellen Crowell (Ph.D University of Texas at Austin) is an Associate Professor of English at Saint Louis University, with areas of emphasis in modernism, Irish Studies and the Literature of the American South. Her work illuminates the pre-history of modernism as a historical period heralding a transformative change in political, social, and aesthetic expression. Particular areas of focus include: Modernist writing in English; the cultural history of Decadence and Aestheticism; Queer Theory and the History of Sexuality; Film Studies and Modernist Cinema; and Irish Studies, with particular emphasis on Oscar Wilde, W.B. Yeats, and Elizabeth Bowen. Her publications include Aristocratic Drag: The Dandy in Irish and American Southern Fiction (Edinburgh, 2007).
Eamonn Wall (Ph.D. City University of New York) is a native of Enniscorthy, Co. Wexford, Ireland. He is the Smurfit-Stone Corporation Professor of Irish Studies at University of Missouri-St. Louis. He has published five collections of poetry: A Tour of Your Country (2008), Refuge at De Soto Bend (2004), The Crosses (2000), Iron Mountain Road (1997), and Dyckman-200th Street (1994). From the Sin-E Cafe to the Black Hills: Notes on the New Irish, a book of literary and personal essays about the Irish Diaspora, received the Michael J.Durkan prize from the American Conference for Irish Studies as the best book published internationally in the field of Language & Literature in 2000. Wall's latest book is Writing the Irish West: Ecologies and Traditions (University of Notre Dame Press, 2011).
---
above, from left:
Jack Rutberg, Peter Selz, Ellen Crowell, Kenneth Baker, and Eamonn Wall. Photo by Jeffrey Vaughn.
---
---
Related programming
---
Watch Breaking Boundaries: A Conversation about the Art of Patrick Graham on the MOCRA Voices Vimeo channel
Exhibition
2018-10-07 to 2018-10-14

Walking in Hope: A Weeklong Celebration of the Canonization of Archbishop Oscar Romero
October 7, 2018 to October 14, 2018

2017-04-20

"The Hand Acts Out a Joyous Dance": Celebrating the Art of Bernard Maisner
April 20, 2017

2016-09-25

Erika Diettes: "Stories Told from the Threshold"
September 25, 2016

2015-12-06

So That You Know Each Other: Intercultural Reflections on Art, Beauty, and Islam
December 6, 2015

2014-11-15

John Handley: "The Religious Art of Pablo Picasso"
November 15, 2014

2018-09-28 to 2018-09-29

Fleur-de-Lis Floral Art Walk
September 28, 2018 to September 29, 2018

2014-02-23

"The Economy of Gift" in Socially Engaged Art Practices: A Public Deliberation
February 23, 2014

2013-10-02

Art21: The Spiritual Light screening at CAM
October 2, 2013

2013-03-02

Rituals and Spirituality in the Performative Photographic Work of Maria Magdalena Campos-Pons
March 2, 2013

2012-11-11

Breaking Boundaries: A Conversation about the Art of Patrick Graham
November 11, 2012

2012-05-20

Stephen P. Durchslag: "The Jewish Experience and the Haggadah"
May 20, 2012

2012-03-27

2012 Loyola Chair Lecture: "The Image of the Wounded Body of Christ and the Modern Social Consciousness"
March 27, 2012

2011-10-06

2011 Loyola Chair Lecture: "The Pursuit of the Spirit: The Renewed Interest in the Spiritual and Religious Dimensions in Contemporary Art"
October 6, 2011

2011-05-01

Terrence Dempsey, S.J.: "Georges Rouault and the Art of Sacred Engagement"
May 1, 2011

2010-11-15

Terrence Demspey, S.J.: "Creating a Religious Environment through Contemporary Art and Architecture"
November 15, 2010

2010-03-28

Terrence Dempsey, S.J.: "The Wounded Body of Christ and the Modern Social Conscience"
March 28, 2010

2009-12-01

Day With(out) Art
December 1, 2009

2009-11-15

Michael Byron: "Cosmic Tears: Word and Image"
November 15, 2009

2009-03-29

Art and the Religious Imagination
March 29, 2009

2008-04-15

Wu Hung: "What Is Contemporary Chinese Art?"
April 15, 2008

2007-10-07

Celluloid Bible Classics: The Ten Commandments
October 7, 2007

2007-11-04

Celluloid Bible Classics: Ben-Hur
November 4, 2007

2007-09-16

Michael Morris, O.P.: "Moving Pictures: The Bible and Beyond"
September 16, 2007

2007-03-30

Peter Frank: "An Oskar Fischinger Tribute"
March 30, 2007

2006-12-01

Day With(out) Art
December 1, 2006

2005-12-04

Robert Rosenblum: "DoDo Jin Ming: An Art Historian's View"
December 4, 2005

2003-09-07

To Make Extraordinary: The Role of Sacred Objects in Life and Worship
September 7, 2003

2002-05-04

The Tuskegee Syphilis Experiment: A University Response
May 4, 2002

2002-04-30

Fred D. Gray: The Tuskegee Syphilis Experiment: A Study That Should Never Have Occurred
April 30, 2002

2002-01-31

Cloudlanders
January 31, 2002

2002-01-26

Thomas Sokolowski: "The Last Temptation: Andy Warhols Art as Belief"
January 26, 2002

2000-11-30

Day With(out) Art
November 30, 2000

2001-04-06

Bare Naked Statues in concert
April 6, 2001

1999-04-15

Two Lectures: Ellen Dissanayake and Jack Renard
April 15, 1999

1999-03-27

Bernard Maisner: "The Art of the Illuminator"
March 27, 1999

1998-03-22

Renaissance and Modern
March 22, 1998

1997-11-15

The Role of the Computer in Contemporary Art
November 15, 1997

1997-07-24

Jennifer Biddle: Body, Country, Canvas: Meaning and Identity in Central Desert Aboriginal Women's Art
July 24, 1997

1997-06-07

Creativity as Ancestral Mind: Living with the Ancestors
June 7, 1997

1997-02-27

The Artist and the Theologian Dialogue: The Body of Christ as Veiling and Unveiling the Invisible God
February 27, 1997

1996-12-01

Day Without Art
December 1, 1996

1996-05-19

The Artist as Poet: Readings by Edward Boccia
May 19, 1996

1995-05-20

Ian Friend: "The Edge of Belief"
May 20, 1995

1995-05-04

Peter Selz: "Degenerate Art"
May 4, 1995

1995-02-05

Lynn Hague in recital
February 5, 1995

1994-11-13

Terrence Dempsey, S.J.: "The Spiritual in Art in the Time of AIDS"
November 13, 1994

1994-12-01

Day Without Art
December 1, 1994

1994-11-05

Thomas Sokolowski: "The Changing Face of AIDS"
November 5, 1994

1994-11-01

The Amici String Quartet in recital
November 1, 1994

1994-10-15

Consecrations: The Spiritual in Art in the TIme of AIDS dance program and opening reception
October 15, 1994

1993-10-29

I Remember Alvin
October 29, 1993

1993-11-05

An Evening with Katherine Dunham
November 5, 1993

1992-11-07

The Artist and Sacred Space
November 7, 1992

2019-04-14

A Conversation with Gary Logan
April 14, 2019

2019-11-10

Pursuing the Spirit in Contemporary Art: A Celebration of Terrence Dempsey, S.J.
November 10, 2019

2021-10-26 to 2021-10-26

Religion and Complex Social Issues Series: Panel on Immigration, Justice, and Religion
October 26, 2021 to October 26, 2021

2021-11-03 to 2021-11-03

Sobrevida: A Conversation with Prof. Daisy Vargas
November 3, 2021 to November 03, 2021

2021-11-05 to 2021-11-05

Meet the Artist: Tom Kiefer
November 5, 2021 to November 05, 2021

2021-11-06 to 2021-11-06

Conversations with Photographer Tom Kiefer
November 6, 2021 to November 06, 2021

2022-04-07 to 2022-04-07

Tom Lucas, S.J.: Art in the Jesuit Tradition
April 7, 2022 to April 07, 2022

2022-09-29

Artist, Poet, Curator: A Conversation with Lesley Dill, Tom Sleigh and Rene Paul Barilleaux
September 29, 2022

2022-11-19

What Is Viral? What Is Value? — Open Mic
November 19, 2022