On Nov. 10, MOCRA honors Founding Director Terrence Dempsey, S.J., as he retires from Saint Louis University after nearly three decades of teaching and museum leadership.
Terrence Dempsey, S.J., has been known to joke that he may be the only person ever to turn his dissertation into a museum. It's a distinction, to be sure, but hardly the only one that marks a long, creative, and productive career in art and education.
During his doctoral studies at the Graduate Theological Union in Berkeley, CA, a chance remark from a former student set Dempsey off in an unexpected direction that would define his career and his life: Why don't you see what's going on with artists now, rather than study the artists of the past? Dempsey's imagination was soon captivated by what he saw as something significant but under-recognized happening in contemporary art. But he was not content to confine his passion for the subject to the printed page, and in 1993, MOCRA opened to the public.
Dempsey has focused on certain key qualities during his quarter-century tenure as MOCRA's Founding Director, qualities that will continue to guide the museum in the years to come: breadth of scope in the artists, subjects, and perspectives; a deep respect for artists and visitors; an emphasis on education; an openness to collaboration; and at the core of it all, compassion as the perennial touchstone.
With this program we reflect on and celebrate Dempsey's rich and varied scholarship and his accomplishments with MOCRA. We welcome special guest Dr. Aaron Rosen, who will reflect on the intersection of art, faith and spirituality, in a talk titled "Brushes with Faith: Encounters in Contemporary Art."
This program is made possible with support from the Art History Program of the Department of Fine and Performing Arts, Saint Louis University, and a generous private donor.
Time and Location
The program is free and open to the public. It takes place on Sun., Nov. 10, at 2 p.m. in Boileau Hall, located at 38 N. Vandeventer Ave. on the SLU campus. There is a limited amount of free parking at Boileau Hall. Free parking is also available on the nearby streets.
The program will be followed by a reception at MOCRA, just a short walk from Boileau Hall. This is also an opportunity to see the exhibition Gratitude, curated by Fr. Dempsey.
Learn about the exhibition Gratitude
Featured presenter
---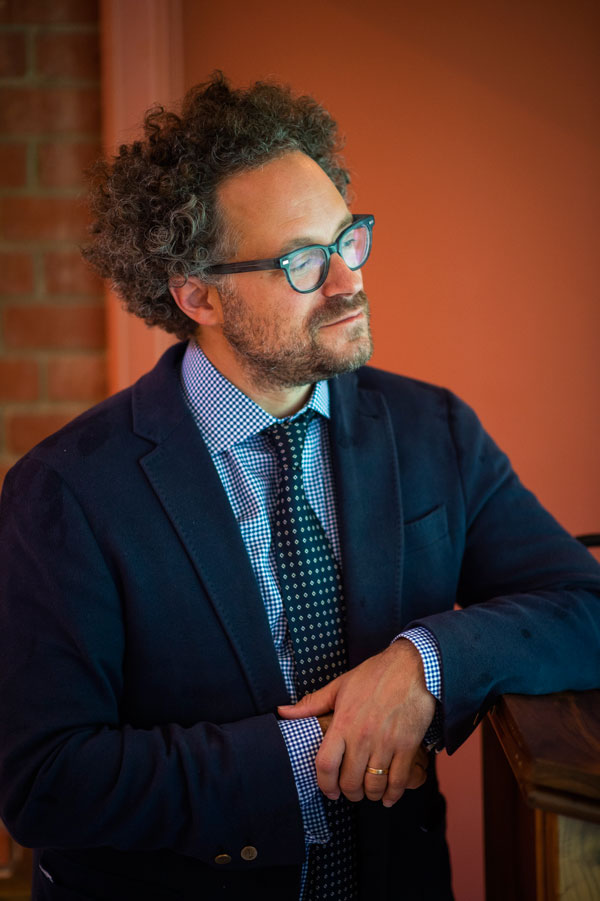 Aaron Rosen
Dr. Aaron Rosen is Professor of Religion & Visual Culture and Director of the Henry Luce III Center for the Arts & Religion at Wesley Theological Seminary in Washington, D.C. He is also Visiting Professor at King's College London, where he taught previously. Rosen began his career at Yale, Oxford, and Columbia Universities, after receiving his doctorate from the University of Cambridge. He has held various honorary posts, including Visiting Professor at University College Utrecht, The Netherlands.

Prof. Rosen is the author of several books: Imagining Jewish Art; Art and Religion in the 21st Century; and Brushes with Faith. His edited books include: Religion and Art in the Heart of Modern Manhattan; Visualising a Sacred City; Encounters: The Art of Interfaith Dialogue; and Religion and Sight (forthcoming). He is currently working on a monograph entitled The Hospitality of Images: Modern Art, Architecture, and Interfaith Dialogue.

Rosen is the visual arts editor for Image Journal. He has written widely for popular publications, including The Guardian, The Los Angeles Times, CNN.com, Apollo, and Times Higher Education, and often provides commentary for US, UK, and Irish radio. He regularly curates exhibitions and is the co-founder of the arts project Stations of the Cross, which has been staged in London, New York, Washington, D.C., and Amsterdam. He also writes books for young people, including Where's Your Creativity? and Journey through Art, which has been translated into seven languages.
---
​