Release date: Mar. 6, 2020
When MOCRA opened in 1993, many people were skeptical about a museum focusing on expressions of religion and spirituality in contemporary art. Preconceptions were firmly lodged for those coming from the perspective of art and for those coming from the perspective of faith and spirituality. By the time Founding Director Fr. Terrence Dempsey, S.J., retired from the museum on June 30, 2019, however, MOCRA had convincingly established that the religious and spiritual dimensions continue to nourish vital and varied currents in contemporary art.
MOCRA celebrated Fr. Dempsey on Nov. 10, 2019, in a program called Pursuing the Spirit in Contemporary Art: A Celebration of Terrence Dempsey, S.J. The afternoon featured a talk by author and curator Dr. Aaron Rosen, who reflected on MOCRA's significance and took stock of the present and future of the dialogue between contemporary artists and the religious and spiritual dimensions. You can see that talk and other highlights of the celebration here.
While he was in St. Louis, Rosen joined MOCRA's new Director, David Brinker, to talk about Rosen's scholarly and curatorial projects. In their wide-ranging conversation, they also speculated about future trajectories for MOCRA. Also be sure to listen to the Audio Extra, in which Rosen reflects on a work of art that holds deep personal meaning for him.
The Conversation
Audio Extra: Love as Strong as Death
MOCRA Voices on Stitcher MOCRA Voices on iTunes MOCRA Voices on Spotify
Related Exhibitions
Credits
Producer: David Brinker
Recording Engineer and Editor: Mike Schrand
Theme and Incidental Music: Stephen James Neale
Background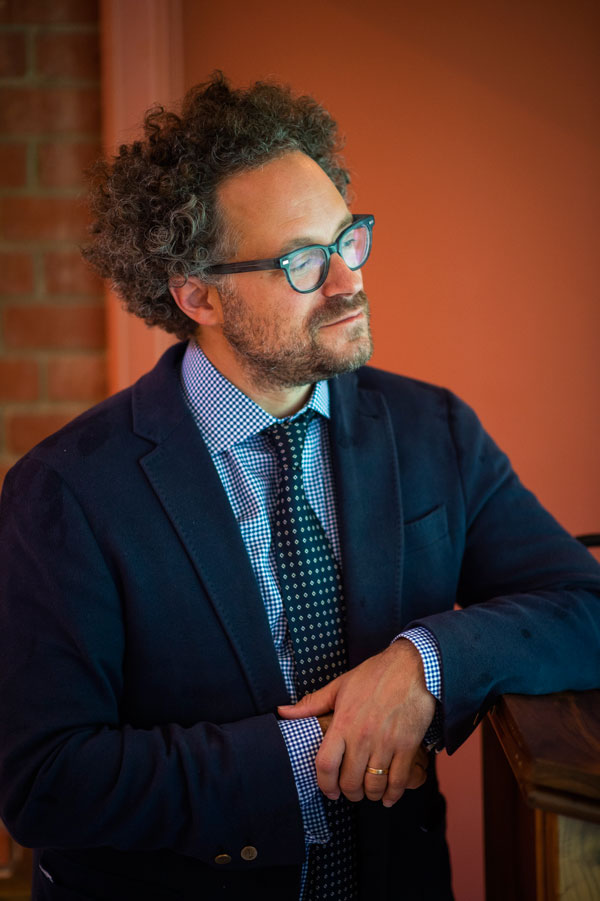 Dr. Aaron Rosen is Professor of Religion & Visual Culture and Director of the Henry Luce III Center for the Arts & Religion at Wesley Theological Seminary in Washington, D.C. He is also Visiting Professor at King's College London, where he taught previously. Rosen began his career at Yale, Oxford, and Columbia Universities, after receiving his doctorate from the University of Cambridge. He has held various honorary posts, including Visiting Professor at University College Utrecht, The Netherlands.
Rosen is the author of several books: Imagining Jewish Art; Art and Religion in the 21st Century; and Brushes with Faith. His edited books include: Religion and Art in the Heart of Modern Manhattan; Visualising a Sacred City; Encounters: The Art of Interfaith Dialogue; and Religion and Sight (forthcoming). He is currently working on a monograph entitled The Hospitality of Images: Modern Art, Architecture, and Interfaith Dialogue.
Rosen is the visual arts editor for Image Journal. He has written widely for popular publications, including The Guardian, The Los Angeles Times, CNN.com, Apollo, and Times Higher Education, and often provides commentary for US, UK, and Irish radio. He regularly curates exhibitions and is the co-founder of the arts project Stations of the Cross, which has been staged in London, New York, Washington, D.C., and Amsterdam. He also writes books for young people, including Where's Your Creativity? and Journey through Art, which has been translated into seven languages.