Release date: Jun. 7, 2014
From the late 1980s through 2000, Austral Gallery brought St. Louis audiences the best in contemporary Australian art. In this episode, Mary Reid Brunstrom talks with MOCRA director Terrence Dempsey, S.J., about founding Austral Gallery, her collaborations with MOCRA, and her decision to return to school to pursue studies in art history.
Be sure to listen to the Audio Extra, in which Brunstrom explains how two major sculptures by Richard Serra prompted a new direction in her life.
Scroll down for a Listening Guide with more information about the topics discussed.
The Conversation
Audio Extra: Serra Shows the Way
MOCRA Voices on Stitcher MOCRA Voices on iTunes MOCRA Voices on Spotify
Related Exhibitions
Utopia Body Paint: Art from Australia's Central Desert
Ian Friend: The Edge of Belief
Credits
Producer: David Brinker
Recording Engineer and Editor: Mike Schrand
Host: Linda Kennedy
Theme and Incidental Music: Stephen James Neale
Listening Guide: David Brinker
Featured Guest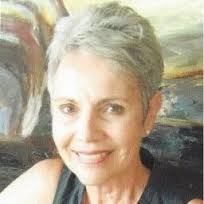 In 1988 Mary Reid Brunstrom founded Austral Gallery in St. Louis. In doing so, she was among the first to introduce work by living Australian artists, including Aboriginal art, to North American audiences through exhibitions, programs, and publications. She was involved with two exhibitions at MOCRA, "Ian Friend: The Edge of Belief," and "Utopia Body Paint Collection." After closing Austral Gallery in 2000, Brunstrom embarked on studies in art history. She earned a Masters in Liberal Arts (2005) followed by a Masters in Art History (2006) from Washington University in St. Louis and is currently completing doctoral studies in art/architectural history from the same institution. Her dissertation focuses on 1950s Catholic Church architecture in the Midwest and developing new frameworks for evaluation of mid-century modernist architecture.
---
00:55
Austral Gallery was located in an historic home in Lafayette Square, a landmark St. Louis neighborhood that reached its heyday in the latter part of the nineteenth century. Lafayette Square is the only land within the city of St. Louis never under private ownership. The 30-acre park, named for the American Revolution hero, was marked out in 1836, the first park west of the Mississippi River and the oldest of the city's parks. In the prosperous years after the Civil War, Lafayette Square became one of the most fashionable neighborhoods in St. Louis. The neighborhood and park were devastated by a major cyclone in 1896, opening into a period of decline that lasted until the 1960s, when the grassroots Lafayette Square Restoration Committee launched a highly successful restoration effort. In 1972 Lafayette Square was named St. Louis' first historic district, and in 1973 the U.S. Congress placed Lafayette Square on the National Register of Historic Places. Learn more about Lafayette Square.
01:10

The Second Empire architectural style had its heyday between 1865 and 1880, deriving its name from the architectural elements in vogue during the Second French Empire. In the United States, the Second Empire style tended to combine a rectangular tower with a steep mansard roof.

George Ingham Barnett (1815–1898) was born in Nottingham, England, and after training as an architect, came to New York in 1839. Six months later he took up residence in St. Louis, where he would go on to design hundreds of buildings, including houses, churches, commercial, and civic structures, and earning him the nickname the "Dean of Architects." His adherence to classical designs helped establish Classicism as St. Louis' dominate architectural influence. Barnett's sons and other apprentices themselves went on to be major figures in American architectural history. Explore some of his notable buildings here.

07:56
St. Joe Minerals Corporation was an American mining company with a long presence in Missouri. The company was sold the Fluor Corporation in 1981, and later its components were spun off to the Horsehead Corporation (zinc), the Doe Run Company (lead), and Massey Energy (coal). Read a detailed history of the company.
08:10

Austral Gallery was founded in 1988 to represent Australia's mainstream contemporary artists in North America, including Aboriginal artists from the Central Desert. The artist roster included Robert Boynes, Ian Friend, George Foxhill, Mandy Martin, Karen Papacek, Jörg Schmeisser and Aboriginal Artists from Utopia.

Brunstrom was also involved with exhibitions in a number of public venues in North America:

1997: Artist Karen Papacek worked with the New Art in the Neighborhood Program of Contemporary Art Museum St. Louis (then Forum for Contemporary Art), executing a design for a Bi-State bus shelter at Lindell and Grand Boulevards, St. Louis.

1994–1997: Brunstrom collaborated with Nina Felshin, Independent Curator, New York, on the organization of an eleven-venue tour of the "Utopia Body Paint Collection" to museums in the US and Canada including the Wadsworth Atheneum (Hartford, CT), the Bishop Museum (Honolulu, HI), the Museum of Canadian Civilization (Ottawa), and MOCRA.

1995: Brunstrom co-curated with MOCRA Director Terrence Dempsey, S.J., the exhibition "Ian Friend: The Edge of Belief/Paintings and Works on Paper 1980–1994."

1992: Brunstrom organized a mural project at the Kansas City Zoo involving designs executed by Aboriginal artists Gloria Petyarre and Ronnie Price (see discussion below at 21:25). In 1994, the mural won the Excellence of Art in Architecture Award given by the American Institute of Architects, Kansas City Chapter.

11:10

Clifford Possum Tjapaltjarri (ca. 1932–2002) was born in Tjuirri, an area north west of Alice Springs also known as Napperby Station. He is widely considered one of the leading figure in Australian Aboriginal Art, and was the most famous of the contemporary artists who lived around Papunya, in the Northern Territory's Western Desert area, where the "dot art" style of acrylic painting was initiated. His career as an artist began in the 1950s with carvings. Beginning in the early 1970s he was one of the first artists to be involved with the Aboriginal Art Movement, when Geoffrey Bardon came to Papunya in the early 1970s and encouraged the Aboriginal people to put their dreaming stories on canvas, stories many of which had been the subject of ceremonial art made on the ground and the body.

Clifford Possum Tjapaltjarri's work has been included in galleries and museum collections around Australia and internationally, and in exhibitions around the world. Collections include the National Gallery in Canberra and the New South Wales Art Gallery. His work has travelled extensively around the world. Not long before his death he was made an "Officer of the Order of Australia" in recognition of his contribution to Australian Art and culture. Speaking about his experiences as an artist, he reflected,

That Dreaming been all the time. From our early days, before European people came up. That Dreaming carry on. Old people carry on this law, business, schooling for the young people. Grandfather and grandmother, uncle and aunty, mummy and father, all that, they been carry on this, teach 'em all the young boys and girls. They been using the dancing boards, spear, boomerang all painted. And they been using them on body different times. Kids, I see them all the time, painted. All the young fellas they go hunting and the old people there, they do sand painting. They put down all the story, same like I do on canvas. All the young fella they bring 'em back kangaroo. Same all the ladies, they been get all the bush fruit, might be bush onion, plum, might be honey ants, might be yala, all the kungkas (women) bring them back. Because everybody there all ready waiting. Everybody painted. They been using ochres all the colors from the rock. People use them to paint up. I use paint and canvas that's not from us, from European people. Business time we don't use paints the way I use them, no we use them from rock, teach 'em all the young fellas.

In this video, Clifford Possum talks about one of his paintings:

11:25

KWMU-90.7 FM, also known as St. Louis Public Radio, is a National Public Radio affiliate station in St. Louis, Missouri. A number of MOCRA Voices interviews have been recorded in the stations' studios.

11:50

"Utopia Body Paint: Art from Australia's Central Desert" was presented at MOCRA from April 4 to July 31, 1997. A private preview reception was held with The Honorable Andrew Peacock, Ambassador of Australia to the United States of America, on April 3, 1997. As Brunstrom indicates, Utopia is the name given to the tribal lands of the Anmatyerre and Alyewarreye people, situated 180 miles north of Alice Springs, in the Central Desert of Australia. The region was named Utopia by the first white settlers in 1927, but the harsh local climate belied the name. The original Aboriginal occupants were forced off of their land and ceremonial sites and went to work for the settlers in exchange for food rations and clothing. While in 1967 a law was passed that required Aboriginal workers to be paid at the same rate as white people doing similar work, it wasn't until 1981 that a successful land claim over the Utopia station resulted in the community gaining permanent legal title to the land.

As an independent curator, Nina Felshin organized a 12-venue North American Tour of the Utopia Body Paint Collection from 1994-1996. She later served as the Curator of Exhibitions at the Ezra and Cecile Zilkha Gallery, Wesleyan University, Middletown, Connecticut, where she also taught a seminar on art and politics in the Art and Art History Department. She is the editor of "But Is it Art? The Spirit of Art as Activism," as well as numerous catalog essays. Her many writings and exhibitions reflect her belief that thinking about things visual and developing an ethical and moral stance in social and political life are not just compatible but necessary.

Watch an interview with Felshin:

12:35

Rodney Gooch (1949–2002) was a charismatic art advisor and then independent agent to Anmatyerr, Eastern Anmatyerr and Alyawarr artists spanning a period of 15 years, from late 1987 until his untimely death in 2002. Gooch was deeply engaged with the production and sale of art from Utopia to the wider world. He gifted his personal collection of some 400 works from the Central Desert (predominantly Utopia, including artists who participated in "Utopia Body Paint") to the Flinders University Art Museum in 2002. See examples of the works in that collection. The education kit from the touring version of the collection offers helpful insights.

Watch an interview in which Gooch's nephew, Marc Gooch, discusses his uncle's legacy and the significance of Utopia.

14:15

Joy Kngwarreye's work is an example of a "shield painting" from "Utopia Body Paint" that makes direct reference to the traditional practice of painting on the body.

Body decoration using ancestral designs is an important part of many ceremonies. In central Australia hereditary designs are painted onto the face and body using ochres ground to a paste with water and applied in stripes or circles. As Brunstrom mentions, contemporary Aboriginal artists incorporate many of these designs in their work. Simpler individual symbols are used in combination to tell more complex stories. The artists may provide an "outside" story about their work to the general public, while the painting retains an "inside" story accessible only to those with the proper level of knowledge. For non-Aboriginal viewers, dots are the most characteristic symbol in these works. Yet while the dots may represent stars, sparks, burnt ground, or other things dotting may also be used to obscure meanings and hide some of the symbolism not appropriate for the uninitiated.

Download a guide to the symbols and markings found on contemporary Aboriginal art.

15:35

Michael Robert Hamilton Holmes à Court (1937–1990) was the first Australian businessman worth over a billion dollars. He amassed his fortune through aggressive corporate raiding in the 1980s. The Holmes à Court Collection, started in the early 1970s, grew from an interest in Australian and Indigenous art to become an internationally renowned collection documenting many areas of Australian cultural significance. It includes more than 4000 registered artworks, with a strong emphasis on Indigenous works. Visit the Holmes à Court Gallery website.

Batik is an art medium in which wax is applied to portions of a surface (usually cloth). The material is then dyed and the wax removed, resulting in a work with vibrant colors and often intricate designs. Batik has been practiced since antiquity and across the globe.

Batik-making projects were launched in five Australian desert communities beginning in the 1970s and marked an opportunity for Aboriginal women artists to assert their rightful place within Aboriginal society in relation to culture and ceremony. Read more about batik's significance in Aboriginal history and culture. Read a blog post about batik from Utopia.

18:30
Find a copy of "Dreamings: The Art of Aboriginal Australia" on WorldCat.
20:50
Read about the complex history of Aboriginal land rights in Australia.​
21:25

Gloria Petyarre (b. ca. 1938) was born at Atnangkere Soakage, Northern Territory, and later relocated to Utopia. She is one of seven sisters who are all acclaimed artists, including Kathleen Petyarre, Violet Petyarre and Ada Bird. Her aunt, the late Emily Kame Kngwarreye, is perhaps the most celebrated painter of the Utopia Movement. Petyarre was a founding member of the Utopia Women's Batik Group in the 1970s. In the 1980s she began painting on canvas and developed a signature style of abstractly depicting the traditional stories and country, with forms representing bush medicine leaves, painted breasts, ceremonial grounds, round bowls, sticks and animal tracks.

Petyarre has travelled internationally to locales such as Ireland, England, and India. Her first solo exhibition was at the Australia Gallery in New York in 1991, and in 1993, she executed a mural for the Kansas City Zoo that won that year's Excellence of Art in Architecture Award of the American Institute of Architects, Kansas City Chapter. Among other notable awards are the prestigious Wynne Landscape Prize at the Art Gallery of New South Wales, Sydney. Her work is found in collections throughout the world, including the National Gallery (Australia), the Holmes à Court Collection, and the Wadsworth Athenaeum in Hartford, CT.

See samples of Gloria Petyarre's work at Gloria Petyarre at Kate Owen Gallery and Gloria Petyarre at Japingka Aboriginal Art.

Gloria Petyarre's husband, Ronnie Price Mpetyane (ca. 1938–2006) was from Lyentye (Mosquito Bore), Utopia. View samples of his work.

The large-format paintings made by Gloria Petyarre and Ronnie Price as the basic design for the mural at the Zoo in Kansas City, Missouri, were acquired by the Kluge-Ruhe collection at the University of Virginia. The late John Kluge was one of the foremost collectors of Australian Aboriginal art in the world. He bequeathed his collection to the University of Virginia where it is housed in the house of Peter Jefferson, Thomas Jefferson's father. The collection's curatorial staff runs an active exhibition program and collaborates worldwide on scholarship in the field. Learn more about the Kluge-Ruhe collection.

22:10

Read more about the development of Urban Aboriginal Art.

For further learning about Australian Aboriginal history and culture, and the wider context of Australian history, try these resources:

24:40

For further reading about the Dreaming, try these resources:

Find a copy of James Cown's "The Elements of the Aborigine Tradition" on WorldCat.

30:25

The conference "Creativity as Ancestral Mind: Living with the Ancestors" took place on June 7, 1997.

During the "Utopia Body Paint" exhibition, MOCRA also presented a lecture by Dr. Jennifer Biddle titled "Body, Country, Canvas: Meaning and Identity in Central Desert Aboriginal Women's Art," exploring the relationship between traditional and contemporary painting practices of the Warlpiri Aboriginal women of Australia.

36:10
MOCRA organized the 1999 retrospective exhibition "Bernard Maisner: Entrance to the Scriptorium."
38:00
Learn about copyright and intellectual property protections for indigenous culture under Australian law.
40:10

The exhibition "Ian Friend: The Edge of Belief – paintings, sculpture, and works on paper, 1980–1994," was shown at MOCRA from May 19 to July 2, 1995. The featured works based on Hans Holbein the Younger"s "The Dead Christ in the Tomb" are titled "The Protestant Affliction," and are now part of the MOCRA collection.

Bulgarian-French philosopher, literary critic, psychoanalyst, sociologist, and feminist Julia Kristeva was born in 1941. Her influence in the field ls of critical analysis, cultural theory and feminism was launched in 1969 with her first book, "Semeiotikè." The essay referred to by Mary Brunstrom, "Holbein's Dead Christ," is found in Kristeva's 1987 book "Black Sun: Depression and Melancholia" (English edition published in 1989). Look for a copy near you on WorldCat.

John C. Welchman, Professor of Art History, Theory and Criticism at the University of California, San Diego, penned an essay on the ways in which Friend's work visually reflects and interprets Kristeva's analysis. Read the essay here.

Hans Holbein the Younger (ca. 1497–1543), a German artist and printmaker of the Northern Renaissance, painted "The Dead Christ in the Tomb" around 1521–1522. The painting currently resides in the Kunstmuseum in Basel.

Cuban-American artist Juan González (1942–1993) is another artist who has referenced Holbein's painting by incorporating it into his seminal work "Don't Mourn, Consecrate."

44:05

Visit the websites of artists Mandy Martin, Robert Boynes, and Karen Papacek.

Artist Jörg Schmeisser died in 2012. See examples of his work in the collection of the Art Gallery of New South Wales. A substantial collection of Schmeisser's etchings is found at the Museum of Art and Archaeology, University of Missouri-Columbia.

47:00

"Mid-century modern" is a term applied to mid-20th century developments in modern design, architecture and urban development from roughly 1933 to 1965. As in many cities, awareness and appreciation is growing in St. Louis of the remaining stock of buildings from this period. The organization Modern STL reflects local activism to preserve such buildings. The City of St. Louis Cultural Resources Office conducted a Mid-Century Modern Survey of these buildings, which documented their architectural and historical background.

Brunstrom describes three mid-century Catholic church buildings in St. Louis built during the tenure of Cardinal Joseph Ritter (1892–1967), who served as Archbishop of St. Louis from 1946 to 1967. Among other notable accomplishments, Ritter ordered the desegregation of Catholic schools in St. Louis in 1947.

The three churches were all designed by the St. Louis architectural firm of Murphy and Mackey, who also designed the spectacular Climatron at the Missouri Botanical Garden (1961), Olin Library at Washington University (1956), and the Loretto Hilton Center at Webster University (1962). The three churches also feature impressive expanses of stained glass by Emil Frei Studio. Browse a visual tour of Emil Frei stained glass on the Built St. Louis blog.

St. Ann Catholic Church was dedicated in 1951. Find additional photos and descriptions on the Built St. Louis blog.

St. Peter Catholic Church was dedicated in 1953. Find additional photos and descriptions on the Built St. Louis blog.

Resurrection of Our Lord Catholic Church was dedicated in 1954. Find additional photos and descriptions on the Built St. Louis blog.

51:00
Learn more about David Conradsen and the Department of Decorative Arts and Design at the Saint Louis Art Museum.
Listening Guide for Audio Extra: Serra Shows the Way
00:15

The Pulitzer Arts Foundation opened in October 2001. Designed by Pritzker Prize-winning architect Tadao Ando, the building also includes on permanent view commissioned works by Ellsworth Kelly and Richard Serra.

Richard Serra's imposing sculpture Joe resides in the Pulitzer's courtyard. According to the Pulitzer website,

This sculpture is the first in Richard Serra's series of torqued spirals. It is named for the late Joseph Pulitzer, Jr. (1913–1993), one of the earliest supporters of Serra's work. In the context of this exhibition the sculpture can be seen as a portrait (by associating its qualities with those of Joseph Pulitzer, Jr.), as an homage (because the title can be taken as a dedication), and as an embodied experience (in that the work is inseparable from one's movement in and around it).

01:10

An earlier public sculpture in St. Louis by Serra, titled Twain , was dedicated on May 1, 1982. Serra commented to the St. Louis Post-Dispatch,

It's an enclosure. To experience the piece, you must walk through it. You won't know the world after one view. Visually, the only total view will be from one of the high buildings. It is not a solid, high steel wall. It has eight openings. The piece relates to the Arch, to the intersections, to the buildings.

Whatever Serra's intention, the reception to the work was decidedly mixed, and the work continues to evoke strong reactions thirty years on. Read more about Twain on the St. Louis Public Art Consortium website. In 2014 the Saint Louis Art Museum presented the exhibition "Sight Lines: Richard Serra's Drawings for Twain."

Walk through Twain in this video: