Release Date: Jul. 12, 2013
The Jewish holiday of Passover recalls and celebrates the freeing of the Israelites from slavery in Egypt. The haggadah is the book that contains the ritual guide to the Passover Seder meal, along with scripture passages, commentary, prayers, and songs.
For centuries the haggadah has been one of the most celebrated items of Jewish literature and art. The Exodus narrative and its primary theme of liberation from oppression have resonated with people in many times and places over the centuries, who have adapted the haggadah to respond to political and social developments such as the Holocaust, feminism, and gay rights. There are many examples of both handwritten and printed haggadot with intricate illustrations. Some haggadot are unique masterpieces, while others have been printed in large, widely available editions.
Stephen Durchslag holds what is considered to be the largest private collection of haggadot in the world, numbering some 4,500 volumes dating from 1485 to the present day. In this May 20, 2012, lecture titled "The Jewish Experience and the Haggadah," he draws on examples from his collection to show how the haggadah is a central element of the Jewish experience, a text that sustains both tradition and innovation, and a vehicle for myriad expressions of the Jewish imagination.
Related Exhibition
Archie Granot: The Papercut Haggadah
Related Episode
Credits
Producer: David Brinker
Videography and editing: Tangent Mind, LLC
Background
Explore the Listening Guide to Episode 4: Archie Granot to learn more about the haggadah across the centuries.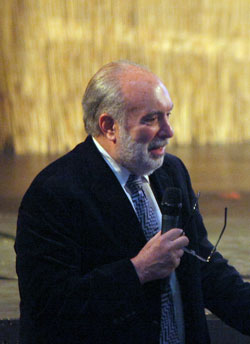 Stephen P. Durchslag was an attorney for 44 years at the Winston and Strawn Law Firm in Chicago, serving as Chair of the Intellectual Properties Department of the firm. Now retired, he is currently pursuing a master's degree in Jewish Studies at the University of Chicago. His wife Ruth is an ordained rabbi and psychologist, and they are the parents of two beautiful daughters.
Photo by Jeffrey Vaughn.