Artist Gary Logan talks with art historian Olubukola Gbadegesin about his work and his exhibition Elements, now on display at MOCRA.
Discover how Trinidadian-American artist Gary Logan uses the visual language of abstraction to convey encounters with the sublime and explore challenging dimensions of the human experience. Art historian Olubukola Gbadegesin will lend her perspective as a leading scholar of art in the African Diaspora. The conversation will be moderated by MOCRA Director Terrence Dempsey, S.J.
Learn about the exhibition Gary Logan: Elements
Time and Location
The conversation takes place on Sun., Apr. 14, at 2 p.m. in the Anheuser-Busch auditorium in Cook Hall on the SLU campus. It will be followed by a reception at MOCRA, just a short walk from Cook Hall. Signs will be posted to guide you to both locations.
Free parking is available on the nearby streets. Free parking is also available in the Canisius lot, located at the northeast corner of Lindell Blvd. and Spring Ave.
Bios
---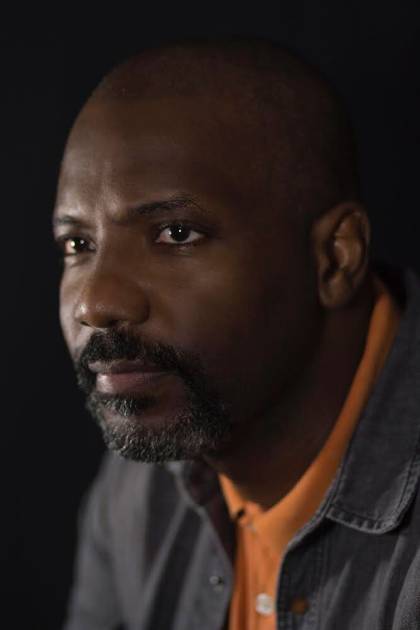 Gary Logan
Artist, Miami, Florida
Gary Logan was born on the island of Trinidad in 1970 and raised in the United States. He received his Bachelor of Fine Arts and Master of Fine Arts in Painting from Boston University. He currently resides in Miami, Florida, and devotes his time to painting, teaching, and directing a visual arts program at a school for the arts. Along with individual and group exhibitions in Massachusetts, New York, New Jersey, São Paulo, and South Florida, his artwork has been highlighted in periodicals such as Bostonia magazine, and the literary journals Callaloo and AGNI. In 1999, he and poet Eric McHenry were awarded The Phillip Guston Prize for their artist collaboration featured in AGNI.
---
​
---
Olubukola Gbadegesin, Ph.D.
Associate Professor of Art History, Saint Louis University
Olubukola Gbadegeshin holds a Ph.D. from Emory University. With a focus on the art of the African Diaspora, her research interests include photography, portraiture, transnationalism, cultural politics, and the West African film industry. She has contributed responses, book reviews, and encyclopedia entries to the African Arts journal, H-AfrArts H-Net Reviews, Encyclopedia of African Thought, and Contemporary African Art Since 1980.
---
​