Browse the chronological list of events at the Saint Louis University Museum of Contemporary Religious Art (MOCRA), or search for a specific event. Click "View" for more information about an event. If you need further information about an event, please contact us.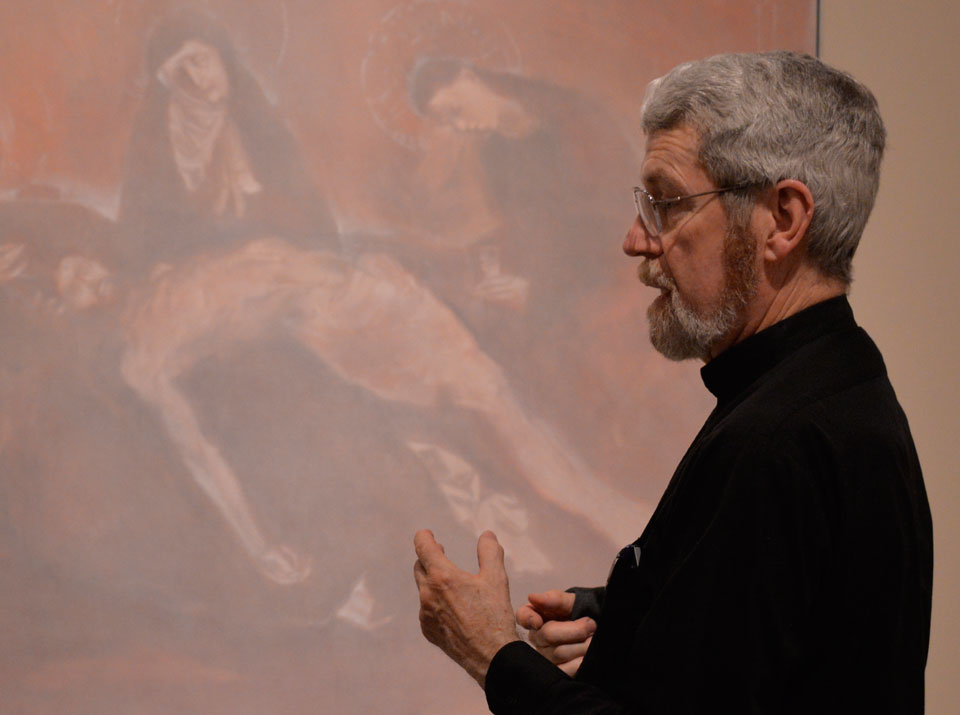 Pursuing the Spirit in Contemporary Art: A Celebration of Terrence Dempsey, S.J.
November 10, 2019
On June 30, 2019, MOCRA Founding Director Terrence Dempsey, S.J., retired from Saint Louis University after nearly three decades of teaching and museum leadership. Fr. Dempsey jokes that he may be the only person ever to turn his dissertation into a museum. It's a distinction, to be sure, but hardly the only one that marks a long, creative, and productive career in art and education.
During his doctoral studies at the Graduate Theological Union in Berkeley, CA, a chance remark from a former student set Dempsey off in an unexpected direction that would define his career and his life: Why don't you see what's going on with artists now, rather than study the artists of the past? Dempsey's imagination was soon captivated by what he saw as something significant but under-recognized happening in contemporary art. But he was not content to confine his passion for the subject to the printed page, and in 1993, MOCRA opened to the public.
Dempsey has focused on certain key qualities during his quarter-century tenure as MOCRA's Founding Director, qualities that will continue to guide the museum in the years to come: breadth of scope in the artists, subjects, and perspectives; a deep respect for artists and visitors; an emphasis on education; an openness to collaboration; and at the core of it all, compassion as the perennial touchstone.
This program reflected on and celebrated Dempsey's rich and varied scholarship and his accomplishments with MOCRA. It featured special guest Dr. Aaron Rosen, who spoke about the intersection of art, faith and spirituality, in a talk titled "Brushes with Faith: Encounters in Contemporary Art."
---
"Pursuing the Spirit" was made possible with support from the Art History Program of the Department of Fine and Performing Arts, Saint Louis University, and a generous private donor.
The program took place in conjunction with the MOCRA exhibition Gratitude.
---
Dr. Aaron Rosen is Professor of Religion & Visual Culture and Director of the Henry Luce III Center for the Arts & Religion at Wesley Theological Seminary in Washington, D.C. He is also Visiting Professor at King's College London, where he taught previously. Rosen began his career at Yale, Oxford, and Columbia Universities, after receiving his doctorate from the University of Cambridge. He has held various honorary posts, including Visiting Professor at University College Utrecht, The Netherlands.
Prof. Rosen is the author of several books: Imagining Jewish Art; Art and Religion in the 21st Century; and Brushes with Faith. His edited books include: Religion and Art in the Heart of Modern Manhattan; Visualising a Sacred City; Encounters: The Art of Interfaith Dialogue; and Religion and Sight (forthcoming). He is currently working on a monograph entitled The Hospitality of Images: Modern Art, Architecture, and Interfaith Dialogue.
Rosen is the visual arts editor for Image Journal. He has written widely for popular publications, including The Guardian, The Los Angeles Times, CNN.com, Apollo, and Times Higher Education, and often provides commentary for US, UK, and Irish radio. He regularly curates exhibitions and is the co-founder of the arts project Stations of the Cross, which has been staged in London, New York, Washington, D.C., and Amsterdam. He also writes books for young people, including Where's Your Creativity? and Journey through Art, which has been translated into seven languages.
---
above:
MOCRA Founding Director Terrence Dempsey, S.J. In the background is a painting by James Rosen, Homage to the Pietá d'Avignon. Photo by Kevin Lowder.
---
Watch Pursuing the Spirit in Contemporary Art: A Celebration of Terrence Dempsey, S.J.
Watch Aaron Rosen: Brushes with Faith - Encounters in Contemporary Art
Exhibition
2018-10-07 to 2018-10-14

Walking in Hope: A Weeklong Celebration of the Canonization of Archbishop Oscar Romero
October 7, 2018 to October 14, 2018

2017-04-20

"The Hand Acts Out a Joyous Dance": Celebrating the Art of Bernard Maisner
April 20, 2017

2016-09-25

Erika Diettes: "Stories Told from the Threshold"
September 25, 2016

2015-12-06

So That You Know Each Other: Intercultural Reflections on Art, Beauty, and Islam
December 6, 2015

2014-11-15

John Handley: "The Religious Art of Pablo Picasso"
November 15, 2014

2018-09-28 to 2018-09-29

Fleur-de-Lis Floral Art Walk
September 28, 2018 to September 29, 2018

2014-02-23

"The Economy of Gift" in Socially Engaged Art Practices: A Public Deliberation
February 23, 2014

2013-10-02

"Art21: The Spiritual Light" screening at CAM
October 2, 2013

2013-03-02

Rituals and Spirituality in the Performative Photographic Work of Maria Magdalena Campos-Pons
March 2, 2013

2012-11-11

Breaking Boundaries: A Conversation about the Art of Patrick Graham
November 11, 2012

2012-05-20

Stephen P. Durchslag: "The Jewish Experience and the Haggadah"
May 20, 2012

2012-03-27

2012 Loyola Chair Lecture: "The Image of the Wounded Body of Christ and the Modern Social Consciousness"
March 27, 2012

2011-10-06

2011 Loyola Chair Lecture: "The Pursuit of the Spirit: The Renewed Interest in the Spiritual and Religious Dimensions in Contemporary Art"
October 6, 2011

2011-05-01

Terrence Dempsey, S.J.: "Georges Rouault and the Art of Sacred Engagement"
May 1, 2011

2010-11-15

Terrence Demspey, S.J.: "Creating a Religious Environment through Contemporary Art and Architecture"
November 15, 2010

2010-03-28

Terrence Dempsey, S.J.: "The Wounded Body of Christ and the Modern Social Conscience"
March 28, 2010

2009-12-01

Day With(out) Art
December 1, 2009

2009-11-15

Michael Byron: "Cosmic Tears: Word and Image"
November 15, 2009

2009-03-29

Art and the Religious Imagination
March 29, 2009

2008-04-15

Wu Hung: "What Is Contemporary Chinese Art?"
April 15, 2008

2007-10-07

Celluloid Bible Classics: The Ten Commandments
October 7, 2007

2007-11-04

Celluloid Bible Classics: Ben-Hur
November 4, 2007

2007-09-16

Michael Morris, O.P.: "Moving Pictures: The Bible and Beyond"
September 16, 2007

2007-03-30

Peter Frank: "An Oskar Fischinger Tribute"
March 30, 2007

2006-12-01

Day With(out) Art
December 1, 2006

2005-12-04

Robert Rosenblum: "DoDo Jin Ming: An Art Historian's View"
December 4, 2005

2003-09-07

To Make Extraordinary: The Role of Sacred Objects in Life and Worship
September 7, 2003

2002-05-04

The Tuskegee Syphilis Experiment: A University Response
May 4, 2002

2002-04-30

Fred D. Gray: "The Tuskegee Syphilis Experiment: A Study That Should Never Have Occurred"
April 30, 2002

2002-01-31

Cloudlanders
January 31, 2002

2002-01-26

Thomas Sokolowski: "The Last Temptation: Andy Warhol's Art as Belief"
January 26, 2002

2000-11-30

Day With(out) Art
November 30, 2000

2001-04-06

Bare Naked Statues in concert
April 6, 2001

1999-04-15

Two Lectures: Ellen Dissanayake and Jack Renard
April 15, 1999

1999-03-27

Bernard Maisner: "The Art of the Illuminator"
March 27, 1999

1998-03-22

Renaissance and Modern
March 22, 1998

1997-11-15

The Role of the Computer in Contemporary Art
November 15, 1997

1997-07-24

Jennifer Biddle: "Body, Country, Canvas: Meaning and Identity in Central Desert Aboriginal Women's Art"
July 24, 1997

1997-06-07

Creativity as Ancestral Mind: Living with the Ancestors
June 7, 1997

1997-02-27

The Artist and the Theologian Dialogue: The Body of Christ as Veiling and Unveiling the Invisible God
February 27, 1997

1996-12-01

Day Without Art
December 1, 1996

1996-05-19

The Artist as Poet: Readings by Edward Boccia
May 19, 1996

1995-05-20

Ian Friend: "The Edge of Belief"
May 20, 1995

1995-05-04

Peter Selz: "Degenerate Art"
May 4, 1995

1995-02-05

Lynn Hague in recital
February 5, 1995

1994-11-13

Terrence Dempsey, S.J.: "The Spiritual in Art in the Time of AIDS"
November 13, 1994

1994-12-01

Day Without Art
December 1, 1994

1994-11-05

Thomas Sokolowski: "The Changing Face of AIDS"
November 5, 1994

1994-11-01

The Amici String Quartet in recital
November 1, 1994

1994-10-15

Consecrations: The Spiritual in Art in the TIme of AIDS dance program and opening reception
October 15, 1994

1993-10-29

I Remember Alvin
October 29, 1993

1993-11-05

An Evening with Katherine Dunham
November 5, 1993

1992-11-07

The Artist and Sacred Space
November 7, 1992

2019-04-14

A Conversation with Gary Logan
April 14, 2019

2019-11-10

Pursuing the Spirit in Contemporary Art: A Celebration of Terrence Dempsey, S.J.
November 10, 2019

2021-10-26 to 2021-10-26

Religion and Complex Social Issues Series: Panel on Immigration, Justice, and Religion
October 26, 2021 to October 26, 2021

2021-11-03 to 2021-11-03

Sobrevida: A Conversation with Prof. Daisy Vargas
November 3, 2021 to November 03, 2021

2021-11-05 to 2021-11-05

Meet the Artist: Tom Kiefer
November 5, 2021 to November 05, 2021

2021-11-06 to 2021-11-06

Conversations with Photographer Tom Kiefer
November 6, 2021 to November 06, 2021

2022-04-07 to 2022-04-07

Tom Lucas, S.J.: Art in the Jesuit Tradition
April 7, 2022 to April 07, 2022

2022-09-29

Artist, Poet, Curator: A Conversation with Lesley Dill, Tom Sleigh and Rene Paul Barilleaux
September 29, 2022

2022-11-19

What Is Viral? What Is Value? — Open Mic
November 19, 2022