Release date: May 7, 2015
Journalist and author Menachem Wecker has had a long-standing interest in art and religion in contemporary society. He joins MOCRA Assistant Director David Brinker to talk about a wide range of topics, including how he identifies and researches topics for reporting, the role social media is playing in the dialogue between art and religion, and how religious scriptures are interpreted in graphic novel format. Be sure to listen to the Audio Extra, "The Crucifixion Market."
The Conversation
Audio Extra: The Crucifixion Market
Listening Guide for the Audio Extra
MOCRA Voices on Stitcher MOCRA Voices on iTunes MOCRA Voices on Spotify
Credits
Producer: David Brinker
Recording Engineer and Editor: Mike Schrand
Host: Linda Kennedy
Theme and Incidental Music: Stephen James Neale
Listening Guide: David Brinker
Background
Menachem Wecker is a freelance reporter based in Washington, D.C., mostly focused on the beats of arts and culture, religion, and education. A former education reporter at U.S. News & World Report, he holds an M.A. in art history from George Washington University, along with B.A. from Yeshiva University and training at Massachusetts College of Art, School of the Museum of Fine Arts Boston, and Art Institute of Boston. With Brandon Withrow, he is co-author of Consider No Evil: Two Faith Traditions and the Problem of Academic Freedom in Religious Higher Education, published in 2014.
Wecker's articles and reviews have appeared in numerous print and online publications, including Arab American News, Chicago Tribune, Christian Science Monitor, Christianity Today, Chronicle of Higher Education, Deseret News, Houston Chronicle, Jerusalem Post, Mormon Times, National Catholic Reporter, New York Arts Magazine, Relevant Magazine, Tablet, altMuslim.com, and interfaithfamily.com.
Visit Menachem Wecker's website.
photo by Vicki Kolomensky
Listening Guide
Audio Extra: The Crucifixion Market
4:35
In the December 2009 Forward article "Did William Blake know Hebrew?" Wecker explores the appearance of Hebrew inscriptions in works by the nineteenth-century English poet and artist. Wecker's October 2005 article in Forward, "Jacob van Ruisdael Is Not Jewish" also looks at the ways Hebrew inscriptions in artworks may give clues to an artist's familiarity with Jews and Judaism.
07:25
Visit the website of artist Thomas Barron here. Read a 2004 interview with Barron from The Jewish Press here.
In mentioning the Second Commandment, Wecker refers to part of the code of instructions found in the Hebrew Bible (or Christian Old Testament) known as the Ten Commandments or Decalogue. The commandments appear in the Bible twice, first at Exodus 20:1-17, and then at Deuteronomy 5:4-21. Various religious traditions enumerate them differently, but included with the Second Commandment is the imperative, "You shall not make yourself any graven image." This is generally understood to be a prohibition against idolatry.
Learn more about the Decalogue in this Wikipedia article, or read more specifically about how the Second Commandment is interpreted in different traditions.
14:15
In a March 2013 article in The Washington Post, Wecker wrote about the surprising prevalence of rabbits in Passover haggadot illuminated manuscripts. The haggadah is the book containing the text of the Passover Seder, one of the major festivals of the Jewish religious year.
In 2012 MOCRA presented an exhibition titled The Papercut Haggadah, featuring works by Israeli artist Archie Granot. Learn more about The Papercut Haggadah here, or listen to a MOCRA Voices interview with Granot and collector Max Thurm (click here for the listening guide to the podcast):
You can also watch a MOCRA Voices presentation by Stephen Durchslag, who holds one of the world's largest private collections of haggadot:
17:15
In May 2012 Wecker published his final column as an art writer for The Jewish Press. He wrote in part,
Jewish art, you see, comes in all sizes, shapes, colors, compositions, media, and temperaments. If something declares itself to be Jewish art, it shouldn't always be believed, and the reverse is true as well. The question of what is Jewish art -- which may be unanswerable, and in fact, I certainly hope it's unanswerable -- is worth wrestling with for a long, long time.
11:10
Artist Archie Rand (b. 1949) was born in Brooklyn. His work is found in collections worldwide, including the San Francisco Museum of Modern Art, the Art Institute of Chicago, the Victoria and Albert Museum in London, the Bibliothèque Nationale de France in Paris, and the Tel Aviv Museum of Art. He teaches painting at Brooklyn College. Learn more about Archie Rand on the Jewish Art Salon, or read this 2014 interview on "Hyperallergic." Or watch this 2011 interview:
Rand's massive work The 613 covered over 2000 square feet but was exhibited for only a single day in 2008. Its title and composition refer to the Jewish tradition that the Torah contains 613 commandments, or mitzvot. Read more about this tradition on Wikipedia. Read a New York Times review of Rand's installation of The 613 here.
Richard McBee is an artist and writer based in New York. He has surveyed the Jewish arts scene since 2000 in a weekly column in The Jewish Press, also publishing in the Forward, The Jewish Week, and other publications. Visit his website here. Read a selection of McBee's articles for The Jewish Press, or read Menachem Wecker's reflections on his collaborations with McBee in this Jewish Press article.
Archie Rand, The 613, installation in 2008.
23:25
Wecker wrote about an online forum for Mormon artists who critique the religion's officially sanctioned artwork in this 2008 Religion News Service article.
In a 2009 article for Forward he wrote about the connection between Mormons and Jewish author Chaim Potok's novel My Name is Asher Lev, about a young Hasidic Jew whose interest in becoming an artist puts him at odds with his religious community and family. Wecker also wrote a 2009 blog post about the under-representation of Mormon artists in museum collections.
29:15
Diana Apostolos-Cappadona is Professor of Religious Art and Cultural History in the Catholic Studies and Women's & Gender Studies Programs at Georgetown University. She is the author of numerous scholarly articles and has contributed to, edited or co-edited many books and collected volumes. Her research, teaching, and publications are centered on the interconnections of art and religion. Her current research is devoted to studies such as the iconology of Mary Magdalene in Christian art and cultural history; the iconology of women readers in Christian art and cultural history; and the iconology of scriptural women. Learn more about Apostolos-Cappadona here.
29:45
Rembrandt van Rijn, The Sacrifice of Isaac, 1635. Oil on canvas. Collection of the State Hermitage Museum.
The Biblical story of the Binding of Isaac is found in Chapter 22 of Genesis. It remains one of the most unsettling and debated passages in Scripture. Read a summary of perspectives on the story in this Wikipedia article.
A Google Images search demonstrates the range of artistic depictions of this episode noted by Wecker, including the version by Rembrandt van Rijn (1606-69), above.
31:35
The Prince of Egypt is a 1998 animated musical film from DreamWorks Animation with story based on the Biblical book of Exodus. Learn more about the film on Wikipedia.
32:55
The question of the permissibility in Islam of visual depictions of the Prophet Muhammad has been a contentious issue. It remains a timely topic with very real consequences, as demonstrated by the reaction to the publication of Danish cartoons in 2010 and the Charlie Hebdo shootings in France in 2014. Teachings and practices about such depictions have varied across time and geography. Read a summary of this topic on Wikipedia. Wecker wrote on the topic of representation in Islamic art in a 2007 article for The Arab American News.
34:25
In November 2011 the Metropolitan Museum of Art opened a new wing of Islamic art, the Galleries for the Art of the Arab Lands, Turkey, Iran, Central Asia and Later South Asia. Explore the Islamic wing on the Met's website, or get an overview in this New York Times article on the new galleries.
In a 2011 article for the Houston Chronicle, Wecker wrote about the documentary, Wham! Bam! Islam!, about about Naif Al-Mutawa, creator of an Islamic superhero comic book and animated TV series called The 99.
Wecker wrote about the presence of Islamic art for sale at the European Fine Art Fair (TEFAF) in a 2013 blog post.
39:00
Iranian artist Shirin Neshat (b. 1957) currently lives and works in New York City. She is best known for video works that address themes of gender and society, the individual and the group, religion, violence, and madness. Her work as been featured in solo exhibitions at major venues worldwide, including the Whitney Museum of American Art, the Art Institute of Chicago, Dallas Museum of Art, National Museum of Contemporary Art in Athens, Walker Art Center in Minneapolis, and National Gallery of Iceland in Reykjavik, as well as numerous biennials and festivals.
Read more about Neshat and see samples of her work here. Or watch this TED Talk given by Neshat in 2010:
39:20
The Museum of Biblical Art (MOBIA) in New York presented the exhibition Sculpture in the Age of Donatello: Renaissance Masterpieces from Florence Cathedral from February 20 to June 14, 2015. Read the New York Times review of the exhibition. (In late April 2015, it was announced that MOBIA would close permanently at the conclusion of the Donatello exhibition.)
Wecker's January 2014 Deseret News article on the panel discussion "Sacred Objects in Secular Museums" (held at the American Academy of Religion/Society of Biblical Literature 2013 Annual Conference) can be read here. The article includes links to Baltimore's Walters Art Museum exhibition "Holy Image, Holy Space: Icons and Frescoes from Greece" and images of the El Greco painting Saint Francis Receiving the Stigmata.
42:10
In March 2009, MOCRA presented "Art and the Religious Imagination," in which a panel of distinguished museum directors and theologians discussed the roles that secular and religious art museums can play in the presentation of art with spiritual and religious content. They also explored how spiritual and religious art has the potential to invite viewers into a deeper interior journey. MOCRA Director Terrence Dempsey, SJ, recounted the genesis of the world's first interfaith museum of contemporary art. Pamela Ambrose, Director of the Loyola University Museum of Art (LUMA), described how an existing private university museum's mission was extended and enriched, while Gerald Bolas, former Director of the Ackland Museum of Art, reflected on the challenges facing a public university art museum in showing work that relates to religion and spirituality. Charles Bouchard, OP, examined MOCRA's Good Friday exhibition through the lens of Christian theological reflection. Watch a video of the conference on the MOCRA Voices website.
Stewards of the Sacred , edited by Lawrence E. Sullivan and Alison Edwards, was published in 2004. It seeks to help museums strike a balance between the traditions of the past, the demands of the present, and the opportunities of the future as they engage in a discourse about the principle and practices of faith. Drawn from a conference organized by Harvard University's Center for the Study of World Religions, the book's leading authors cover a full range of topics, including community involvement in conservation and interpretation of sacred objects, representing spirituality for widely diverse visitors, acknowledging the sacred nature of non-religious objects, and sharing authority with Native communities. Includes sample policies and procedures related to these activities, as well as a comprehensive bibliography. Find a copy near you on WorldCat.
The exhibition Atua: Sacred Gods from Polynesia was presented at the Saint Louis Art Museum from October 12, 2014 to January 4, 2015. Visit the exhibition website here. Read about the opening ceremony in this St. Louis Post-Dispatch article, or watch a video of the event:
47:05
A number of museums, recognizing that today's audiences may lack the Biblical literacy assumed in previous generations, have made efforts to provide context about the religious works in their collections. One example is an exhibition held at the National Gallery, London , in 2000. Curated by Neil MacGregor and titled The Image of Christ, it explored works in the National Gallery's own collection and was accompanied by a richly illustrated catalogue. MacGregor hosted a related BBC television series titled Salvation Salvation, also broadcast in 2000 and accompanied by a book of the same title.
30:25
Wecker has written a review of four different books, titled "Graphic and Comic Torahs Are Fruitful, Multiply" (available on Scribd here) as well as an article titled "On the Strange Relationship Between Religion and Comics" (find a copy on EBSCOhost).
Scott McCloud's 1993 book Understanding Comics: The Invisible Art is a seminal work exploring the comics medium and art form. Watch a 2009 TEDTalk by McCloud:
Roy Lichtenstein (1923-97) was a leading figure in the Pop Art movement. His most recognizable works employ cartoon images and techniques derived from the appearance of commercial printing, while delivering a parodic punch of social commentary. Learn more on the Art Institute of Chicago website.
Keith Haring (1958-90) was an American artist and social activist who emerged from the New York City street culture of the 1980s to rise to international prominence before his untimely death from AIDS-related causes. With his highly recognizable cartoon-like visual language, he addressed significant social and political topics such as birth, death, sexuality, and war. Learn more on the Keith Haring Foundation website.
"Visionary art" is one of a number of terms applied to work that falls in the broad spectrum of "outsider art." Find a discussion of the vocabulary of outsider art here. The American Visionary Art Museum, located in Baltimore, Maryland, opened in 1995 and focuses on the preservation and display of outsider art.. The museum understands "visionary art" to be art produced by self-taught individuals, usually without formal training, whose works arise from an innate personal vision that revels foremost in the creative act itself.
Visit the AVAM website here. A number of visionary artists incorporate copious amounts of text, often Biblical passages, in their work. One such artist is the Rev. Howard Finster (1916-2001), who produced some 40,000 paintings in his lifetime.
The books and authors mentioned by David Brinker include:
The Book of Genesis Illustrated (2009), by famous underground cartoonist R. Crumb. Listen to an NPR interview with Crumb about his take on the first book of the Bible:
Sita's Ramayana (2001), written by Samhita Arni and illustrated by Moyna Chitrakar . A retelling of an epic poem by the Hindu sage Valmiki, retold from the perspective of Sita, the queen and wife to the hero Rama.
Persepolis (2000), by Marjane Satrapi. An autobiographical graphic novel depicting the author's childhood through her early adult years in Iran during and after the Islamic revolution. Watch an interview with Satrapi about the 2007 film adaptation:
The Rabbi's Cat (2007), by French cartoonist Joann Sfar . A richly told story, set in 1930s Algeria, of a rabbi, his daughter, and their talking cat, who is also a philosopher and theologian. brimming with scathing humor and surprising tenderness. Listen to an NPR interview with Sfar:
50:30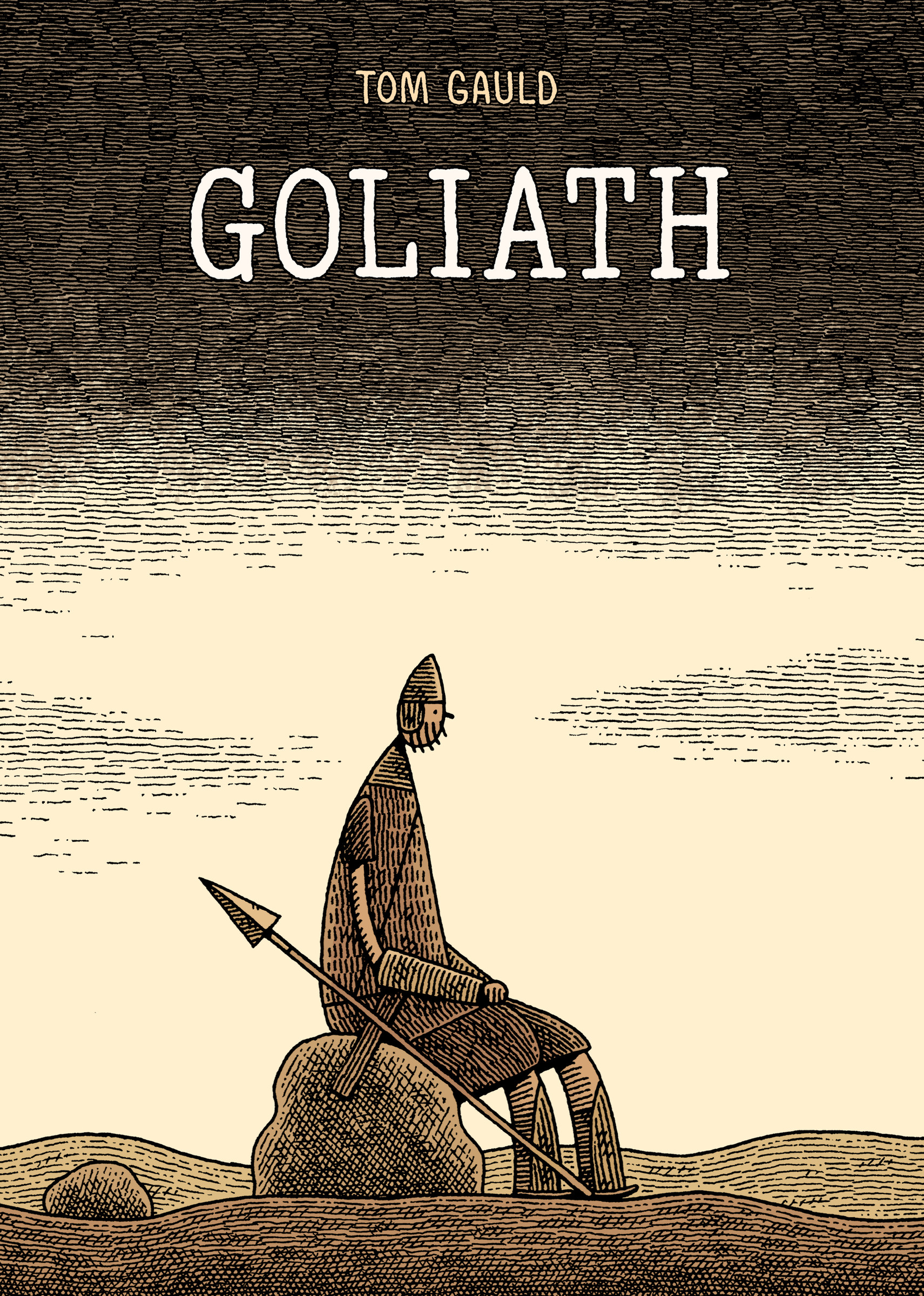 Wecker talks about the 2012 graphic novel Goliath , by British author Tom Gauld. Read an interview with Gauld here.
Audio Extra: The Crucifixion Market
00:20
Click here to read Wecker's June 2013 article for Christianity Today, "Is Crucifixion Art the Victim of Its Own Success?"
Click here for his 2007 article for Relevant , "The Atheist and the Crucifix."