The Department of Biology at Saint Louis University offers a Leica SP8 confocal microscope with resonant scanner for academic and commercial use. Live-cell imaging can be performed using a stage incubator with programmable gas (O2, CO2 and N2) and temperature controls.
See the microscope in action in the slideshow below.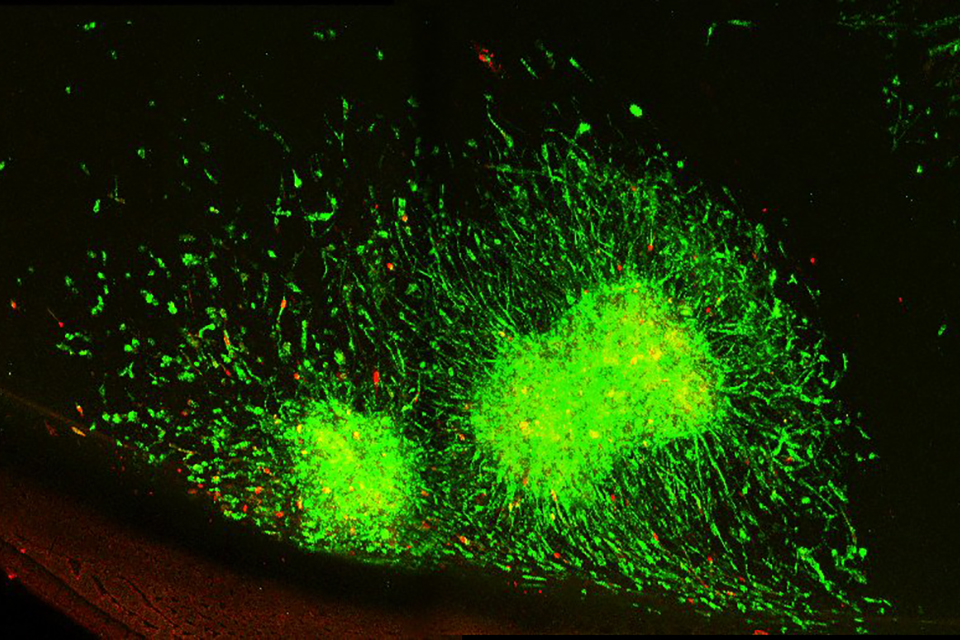 Launch SlideshowZoomed in Microscope
The instrument features 405, 488, 522 and 645 nm diode laser lines, which allow for imaging of most fluorescent dyes with its two HyD and two PMT detectors. The instrument must be reserved on lab agenda before using.
Live-Cell Imaging Capabilities
An OkoLab stage incubator with variable and programmable CO2 (0-10%), O2, N2 and temperature controls (4-40 degrees Celsius) can be used for a variety of cell and tissue culture-based studies under normoxic, hypoxic, and hypercapnic conditions.
Image Analysis Capabilities
Image analysis capabilities include Lightning deconvolution, colocalization, 3D reconstruction, FRAP and FRET. A separate image analysis workstation with the Lightning and Colocalization modules is free to all users.
Rates for Outside Users
Initial Training
$75/hr
Minimum 1 hr training
Commercial Use
Saint Louis University users should contact Dan Warren for pricing information.
Funded by National Science Foundation Major Research Instrumentation Grant 1920251.
Tutorials