Saint Louis University's award-winning Learning Studio is a state-of-the-art teaching space designed by a team of faculty and students as part of the Herman Miller Learning Spaces Research Program.
The space, located in Des Peres Hall, provides flexible furniture, combined with a range of innovative technologies and features. Using the instructional design assistance provided by the staff of the Reinert Center for Transformative Teaching and Learning, and the unique features and technologies in the room, faculty teaching in the space experiment with new teaching strategies to create engaging and interactive learning experiences designed especially for today's learners.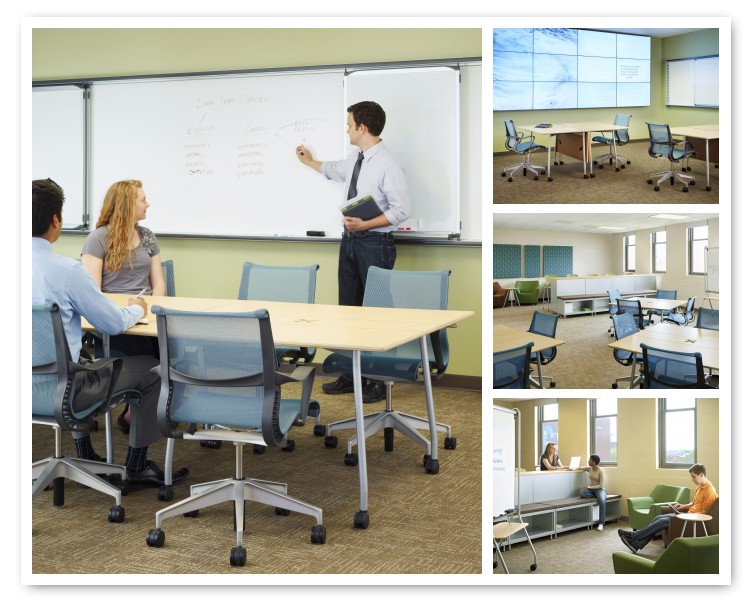 The Learning Studio has been profiled as a Herman Miller Case Study, and has received a 2012 Outstanding Classroom Design Award from Educational Interiors Showcase.
What's in the Learning Studio?
While it's evolving all the time, the Learning Studio features a variety of flexibilities and technologies, including:
Flexible seating including bar seating and movable furniture
A multi-input video wall consisting of 18 - 46" video screens
Personal computers for student use during class time, including MacBook Pros, PC Laptops, and 26 iPads
Wireless projection capabilities for both iPads and wireless projection capabilities for iPads, MacBook Pros, and PC laptops
Ample whiteboard space
PC and Mac Mini Teacher's Station
Two HD video camera for video conferencing
Panopto lecture capture capabilities
Crestron room controls
How Can the Learning Studio Be Used?
The Learning Studio can be used in numerous ways, given its flexible furnishings, layout, and technologies, including:
Experiential learning courses
Flipped classroom exercises
Simultaneous courses taught in multiple locations
Simulations with other universities and schools via video-conferencing
Multi-media content creation
Digital story telling
Back channeling / synchronous feedback
Lecture capture
Small and large group collaboration
In order to take full advantage of the flexibility of the Learning Studio, classes using the space will be restricted to no more than 25 students.
Who Teaches in the Learning Studio?
Faculty members interested in taking advantage of the opportunities presented by this unique teaching and learning space to develop innovative instructional approaches that effectively optimize the use of the features and technologies in the Learning Studio are invited to apply for an Innovative Teaching Fellowship.

Innovative Teaching Fellows can be from any discipline, and the Learning Studio has been used for courses in Public Health, Athletic Training, Organizational Studies and Communication, History, Modern and Classical Languages, Biology, Nursing, English, Communication, Law, Occupational Therapy and Occupational Science, Social Work, Management, and Education. To learn how past Innovative Teaching Fellows have used the space, check out videos from previous Learning Studio Symposia at our Vimeo account.

CTTL Learning Studio photos courtesy of Herman Miller, 2012. To view more photos of the Learning Studio, please visit our Flickr photostream here.