Founded in 1843, Saint Louis University School of Law is the oldest law school west of the Mississippi River.
The law school's home at Scott Hall is located in the heart of downtown St. Louis. It is steps away from the City of St. Louis Civil Courts Building and the Thomas F. Eagleton U.S. Courthouse, and offers students unparalleled access to leading law firms, corporations, government agencies and nonprofit organizations.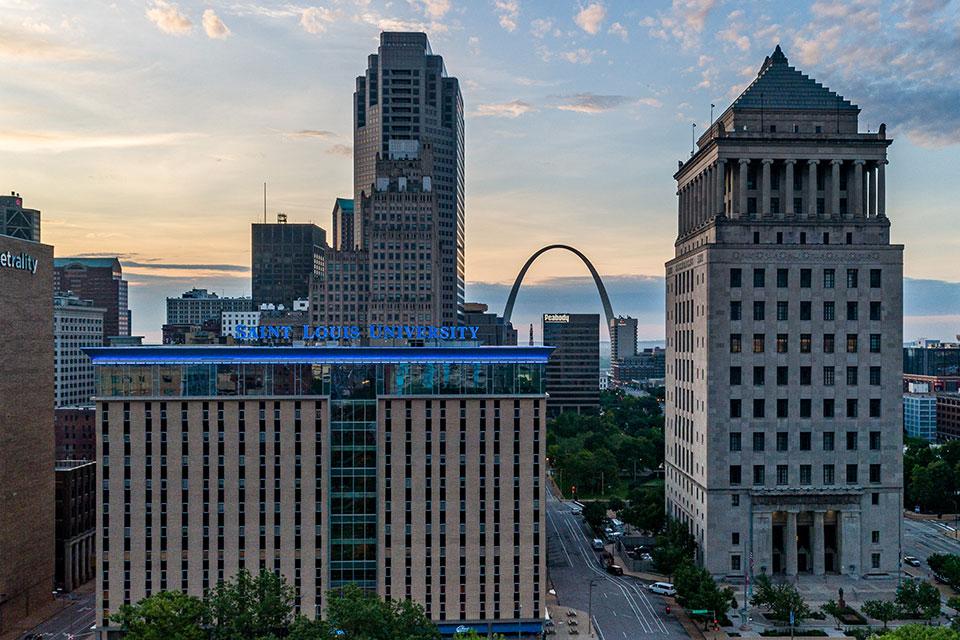 Scott Hall is located in the heart of downtown St. Louis next to the City of St. Louis Civil Courts Building.
Religious Affiliation and Heritage
Program Rankings
Health Law ranked No. 1 in the nation by U.S. News & World Report for 16 of the last 17 years
Employment Law ranked in the top 3 in the nation by Pre-Law Magazine, 2019
SLU LAW ranked in top 15 nationally for 'ultimate' bar passage by ABA 2020 data
Unique Offerings
Extensive professional skills training and unparalleled public service opportunities
Several study abroad opportunities, including one-on-one assistance in securing an international internship that matches your interests

Two "Semester in D.C." programs, with the chance to intern at federal health or employment agencies and be mentored by SLU LAW alumni

Three law journals, including the ABA Journal of Labor & Employment Law
SLU LAW by the Numbers
full-tuition scholarships
Missouri bar passage rate for first-time takers (July 2019)
employment rate for Class of 2019, as of March 16, 2020 (based on graduates seeking employment)
Concentrations
Health law
Employment law
International and comparative law
Intellectual property law
Experiential Education by the Numbers
Legal Clinics and dozens of field placement options
of free legal assistance provided annually by the Legal Clinics
of free legal service provided annually by clinic and field placement participants
students who have argued in the MO Court of Appeals and MO Supreme Court since 2010
Class of 2020 Profile
Number of students
196: 181 full time; 15 part time
Median GPA
3.45
Median LSAT score
155
75th to 25th percentile of LSAT score
158-151
75th to 25th percentile of GPA
3.69-3.16
Minority enrollment
24.5%
Gender identity
57.1% Female / 42.9% Male / 0% X
States represented, including D.C.
27
Undergraduate institutions represented
93
These institutions include:
Arkansas State University
Augustana College-IL
Bates College
Biola University
Boston University
Bradley University
Butler University
Calvin College
Christian Brothers University
Coe College
Columbia College – MO
Creighton University
Culver-Stockton College
Fontbonne University
Fordham Univ. Fordham College @Rosehill
Franklin And Marshall College
George Washington University
Harvard University
Illinois College
Illinois State University
Illinois Wesleyan University
Indiana University-Bloomington
Iowa State University
Jackson State University
Kaplan University
Knox College
Lasalle University
Lindenwood University
Marquette University
Maryville University of Saint Louis
Mckendree University
Michigan State University
Millikin University
Missouri State University-Springfield
Missouri University of Sci & Tech
Murray State University
Northern Arizona University
NYU Tisch School of the Arts
Ohio State University-Columbus
Pennsylvania State Univ-University Park
Pepperdine University
Purdue University-West Lafayette
Quincy University
Saint Louis University
Southeast Missouri State University
Southern Illinois Univ.-Edwardsville
Southern Illinois Univ.-Carbondale
Southern Methodist University
Syracuse University
Texas A&M University-College Station
Texas State University
The Univ. of South Dakota – Vermillion
The University of Texas At Austin
The University of Texas At Dallas
Thomas More College
Truman State University
Tulane University
University of Alabama
University of Alberta
University of Arizona
University of Arkansas-Fayetteville
Univeristy of California-Davis
University of Central Missouri
University of Denver
University of Illinois- Champaign-Urbana
University of Kansas
University of Maryland-College Park
University of Mississippi
University of Missouri-Columbia
University of Missouri-Saint Louis
University of Mount Olive
University of Nebraska-Lincoln
University of Nebraska-Omaha
University of Nevada-Las Vegas
University of Oklahoma
University of Puerto Rico-Rio Piedras
University of The Incarnate Word
University of Utah
University of Virginia
University of Wisconsin – Eau Claire
University of Wisconsin – Madison
VA Polytechnic Inst & State University
Valdosta State University
Villanova University
Washington University
Webster University
Wellesley College
Western Illinois University
Westminster College-MO
William Jewell College
Xavier University
Xavier University of Louisiana