Informed by the Jesuit mission of "the service of faith and the promotion of justice," Saint Louis University's Campus Ministry provides integrated learning opportunities that help you witness the challenges faced by others, reflect on those experiences, and challenge how you will think and act differently.
Through accompaniment and solidarity, we amplify the voices that are not heard and become men and women for and with others.
Spring Break Immersion Program
The Campus Ministry Immersion Program challenges students to build communities that stand in solidarity with people on the margins, engage diverse expressions of spirituality and work for justice. This immersion experience is much more than a simple spring break trip. Through pre-trip formation meetings and program-wide events both before and after spring break, you will build community with your peers, hone your critical thinking and reflection skills, and prepare yourself to engage deeply with the people and places you will encounter on your trip. Our program will continue to support you and engage you upon your return to campus and in your ongoing efforts to be in solidarity with the oppressed of the world.
We invite you to join us, experience immersion, understand, imagine and act. In the words of Peter Hans Kolvenbach, S.J., former superior general of the Society of Jesus, "Students, in the course of their formation, must let the gritty reality of this world into their lives, so they can learn to feel it, think about it critically, respond to its suffering and engage it constructively."
For more information, contact Michael Schreiner, immersion program coordinator, at michael.schreiner@slu.edu or 314-977-3055.
Learn More About Immersion Experiences and Student Leader Opportunities
Ignatian Family Teach-In for Justice
The Ignatian Family Teach-In for Justice (IFTJ) is an annual gathering near Washington, D.C., that commemorates the Jesuits and their companions who, in 1989, were martyred in El Salvador. The IFTJ is the largest, most diverse Catholic social justice conference in the US. It provides an opportunity for people to come together in the context of faith, advocacy and solidarity. The Department of Campus Ministry regularly sends a selected delegation of students to represent SLU.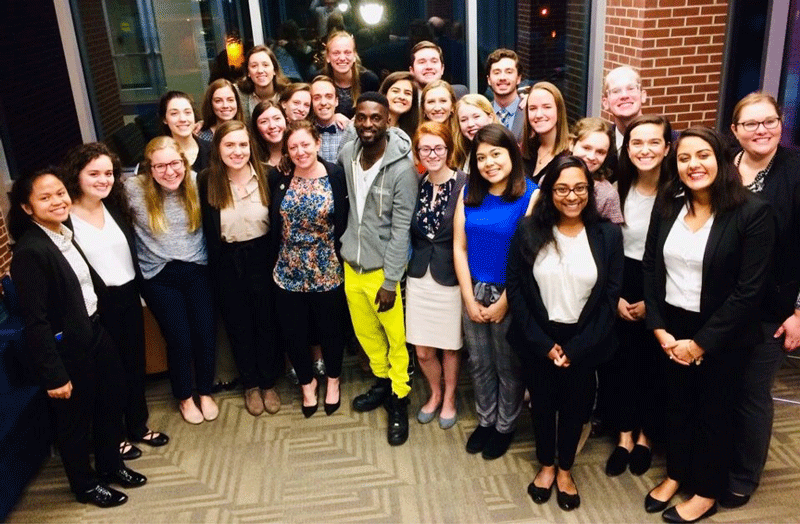 Saint Louis University selected student delegation at the conclusion of its pre-trip advocacy training to prepare for the 2018 Ignatian Family Teach-In for Justice.
Each fall semester, members of SLU's delegation prepare for this amazing opportunity to learn, reflect, pray, network, advocate and explore the important connections between faith and justice. The teach-in is a community where you will be empowered, re-energized, inspired, challenged and affirmed in your work for Gospel-centered social change. The conference concludes with a day of advocacy on Capitol Hill with your senators and representatives. It's exhilarating and humbling.
More information about the teach-in can be found at ignatiansolidarity.net.
For more information about this amazing program, contact campus ministers Jim Roach at jim.roach@slu.edu or Patrick Cousins at patrick.cousins@slu.edu.