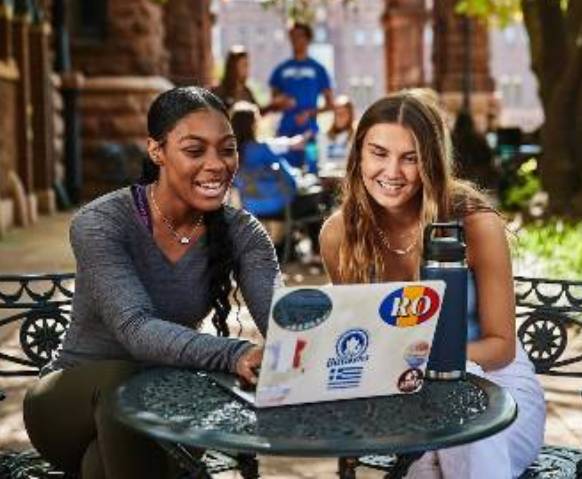 SLU EXPeriential Learning Program
---
Saint Louis University wants to give talented students like you a head start, at no cost to you. Get a feel for what it's like to study at SLU by enrolling in our EXPeriential Learning Program.

You'll earn digital credentials and become eligible for micro-scholarships through on-the-job opportunities like virtual internships, power skills courses, events and competitions. Discover why SLU is right for you while you build your résumé and prepare for your career.
We Cannot Wait to See All You Learn and Accomplish as You Start Shaping Your Future.
With SLU EXP, you can explore any of the following opportunities:

Global Virtual Internships

Virtual internships allow students to explore the working world and connect with a global community while considering their SLU enrollment. Students can choose internships in innovation and entrepreneurship, health care management, project management, data visualization or digital marketing and more, gaining impactful insights while earning career-ready credentials.

Power Skills Course

These courses help you consider and prepare for your future career to make the most of your time at SLU.

Competitions

Show off your prowess and exercise important life skills by entering one of our many competitions while building your network and earning micro-scholarships.

Events

Explore career paths by participating in one of our workshop events, where you explore critical thinking, enhance your communication skills and earn skills badges for your résumé. We also have informative events through which you can become more aware of various domains.
Your

Journey
Step 1
Create your account on Excelerate.
Step 2
Participate in experiential learning opportunities of your choice.
Step 3
Complete the opportunity and earn micro-scholarships.
Step 4
Redeem your scholarship toward any SLU program.
Sign Up Now Through Excelerate
Virtual Internship Schedule
Please register at least one week before your desired start date.
Start Dates
June 12, 2023
June 26, 2023
July 10, 2023
July 25, 2023
Aug. 14, 2023
Aug. 27, 2023
Please note: Depending on cohort size and availability, you may be asked to participate in a different cohort than you initially requested.
Get Ahead Before You Get Started
Bring your learning to life — expand your network and gain valuable experience through these exciting opportunities.
Frequently Asked Questions