Saint Louis University Selects Leading Scholar and Surgeon to Oversee Medical Affairs, Serve as Dean of its School of Medicine
ST. LOUIS (Aug. 10, 2016) — Following a national search, Saint Louis University has appointed Kevin Behrns, M.D., vice president for medical affairs and dean of the SLU School of Medicine. His appointment is effective Jan. 1, 2017.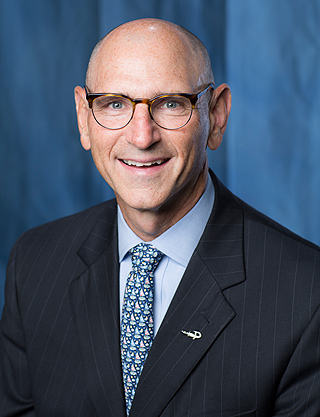 Behrns comes to SLU with more than 20 years of experience as a highly accomplished educator, researcher, physician and administrator. He's currently the chair of the department of surgery at the University of Florida (UF) College of Medicine. He also serves as the Edward R. Woodward Professor of Surgery.
In his new leadership role, Behrns will oversee the educational, research, clinical and service activities of SLU's nationally ranked School of Medicine. The CEO of SLUCare, the University's physician practice, will report to Behrns, who will also serve as a key liaison with SSM Health, which owns and operates SSM Health Saint Louis University Hospital. Behrns will report directly to SLU's president and will be a member of his cabinet.
"Dr. Behrns' application immediately caught our attention, and meeting him confirmed our impression that he is the right person for this critically important position," said University President Fred P. Pestello, Ph.D. "Dr. Behrns brings the experience, temperament, vision and drive to identify and maximize the many opportunities before us, including our newly expanded partnership with SSM."
Throughout his career, Behrns has been dedicated to educating the next generation of academic surgeons and has received numerous awards for teaching and mentorship. His focus on academic excellence has led to surgical residents at UF posting nearly 100 percent written and oral board pass rates during the past five years.
On the research side, annual funding from the National Institutes of Health to the surgery department at UF tripled during his tenure, making it the 18th most NIH-funded department of its kind in the country. Recently, the department secured a $12 million NIH program project grant for the study of critical illness and sepsis.
Behrns received his first RO1 grant — the NIH's most competitive and prestigious award — more than a decade ago. As a scientist, his areas of focus — liver and pancreatic diseases — align with the SLU School of Medicine's own standing as a national leader in liver disease research.
The SLU medical community is poised to make major advances in all missions, and I look forward to facilitating their aspirations."

Kevin Behrns, M.D.
Behrns also has significant experience with patient care and clinical operations. Under his watch, the department of surgery's annual revenues and the number of outpatient visits grew by more than 25 percent. As a gastrointestinal surgeon, he's also a skilled clinician who focuses his own practice on handling complex pancreatic surgical procedures.
Additionally, Behrns is one of only four physicians who serve on the University of Florida Health Shands Hospital board of directors. In that role, he has worked on strategic initiatives to grow the clinical practice, ensure high quality care and integrate clinical services among nearly 1,200 providers. He also chairs the board's quality committee.
"The opportunity to lead an outstanding SLU faculty, staff and student body at a critical time in its long and illustrious history is truly unique," Behrns said. "The SLU medical community is poised to make major advances in all missions, and I look forward to facilitating their aspirations. Collectively, we will work diligently to improve the health of the St. Louis community and surrounding regions."
Behrns joined the University of Florida College of Medicine in 2005 as chief of the division of general surgery, residency program director and vice chairman of the department of surgery. In 2008, he was named interim chairman of the department and assumed the role permanently in 2009. Prior to coming to the University of Florida, Behrns was an associate professor of surgery at the University of North Carolina at Chapel Hill.
A Minnesota native, Behrns attended medical school at Mayo Medical School in Rochester, Minnesota, and received postdoctoral training at the Mayo Graduate School of Medicine, where he was a general surgery resident. He earned his undergraduate degree at the University of St. Thomas in St. Paul, Minnesota.
At Saint Louis University, Behrns succeeds Philip Alderson, M.D., who announced his intention to retire last fall. Alderson joined SLU as dean of the School of Medicine in 2008. He was appointed vice president for medical affairs in 2009.
"I want to thank Dr. Alderson for all he has done during his eight years of service to SLU," Pestello said. "We are better in so many ways thanks to his leadership. Under Dr. Alderson's guidance we have grown the School of Medicine and forged our greatly enhanced partnership with SSM, as well as developed promising international partnerships and top-ranked areas of specialization."
The search for Alderson's successor began last fall. The search committee included several faculty members and chairs from the School of Medicine, a first-year medical student, the dean of the School of Nursing, a member of the SLU Board of Trustees and the regional president of hospital operations for SSM Health–St. Louis.
---
Established in 1836, Saint Louis University School of Medicine has the distinction of awarding the first medical degree west of the Mississippi River. The school educates physicians and biomedical scientists, conducts medical research, and provides health care on a local, national and international level. Research at the school seeks new cures and treatments in five key areas: infectious disease, liver disease, cancer, heart/lung disease, and aging and brain disorders.
Saint Louis University is a Catholic, Jesuit institution that values academic excellence, life-changing research, compassionate health care, and a strong commitment to faith and service. Founded in 1818, the University fosters the intellectual and character development of nearly 13,000 students on two campuses in St. Louis and Madrid, Spain. Building on a legacy of nearly 200 years, Saint Louis University continues to move forward with an unwavering commitment to a higher purpose, a greater good.