SLU No. 4 in National Ranking for Community Service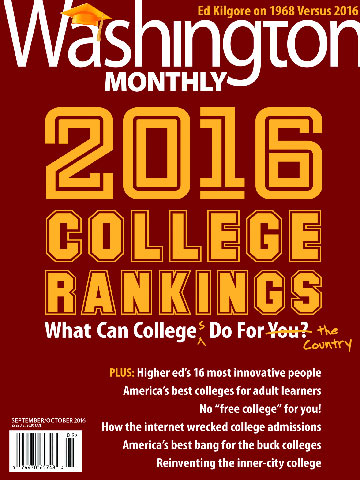 The September/October edition of Washington Monthly.
---
For the sixth consecutive year, Washington Monthly ranked Saint Louis University No. 4 in the United States for community service as part of its "2016 College Guide," which was released this week.
The Washington D.C.-based publication bases its community service participation rankings on data reported to the Corporation for National and Community Service by colleges and universities in their applications for the President's Higher Education Community Service Honor Roll.
The Washington Monthly ranking for service measures the level of student participation in volunteer activities at each college and university, as well as the amount of institutional support committed to outreach efforts, among other criteria. Overall, SLU ranked No. 125 on Washington Monthly's list of top-239 national universities, which rates institutions based on social mobility, research and civic engagement.
Bryan Sokol, Ph.D., director of the Center for Service & Community Engagement, said service and solidarity are two principles that are part of SLU's mission and culture.
"The students, faculty, staff, and alumni all do their part to support this culture," Sokol said. "It's an honor to be recognized by Washington Monthly for SLU's commitment to others, to the community and to the region. And, quite frankly, it's an honor to be part of this fantastic university."
About Service at SLU
Service and community engagement are essential parts of Saint Louis University's educational experience. Beyond the classroom, students contribute significantly to the more than one million service hours the University completes each year. According to a recent University survey, 80 percent of SLU students volunteer at least once during an academic year. Nearly half are regular volunteers, providing service multiple times a month.
Service highlights from the 2015-2016 academic year include:
To learn more about service at SLU, visit the Center for Service and Community Engagement website at www.slu.edu/service.