MEDLaunch Demo Day Event Celebrates Medical Innovations
ST. LOUIS - Saint Louis University students showcased solutions to a wide range of medical problems - from improving education for future physicians to improving outcomes for those needing help breathing - at the second MEDLaunch Demo Day.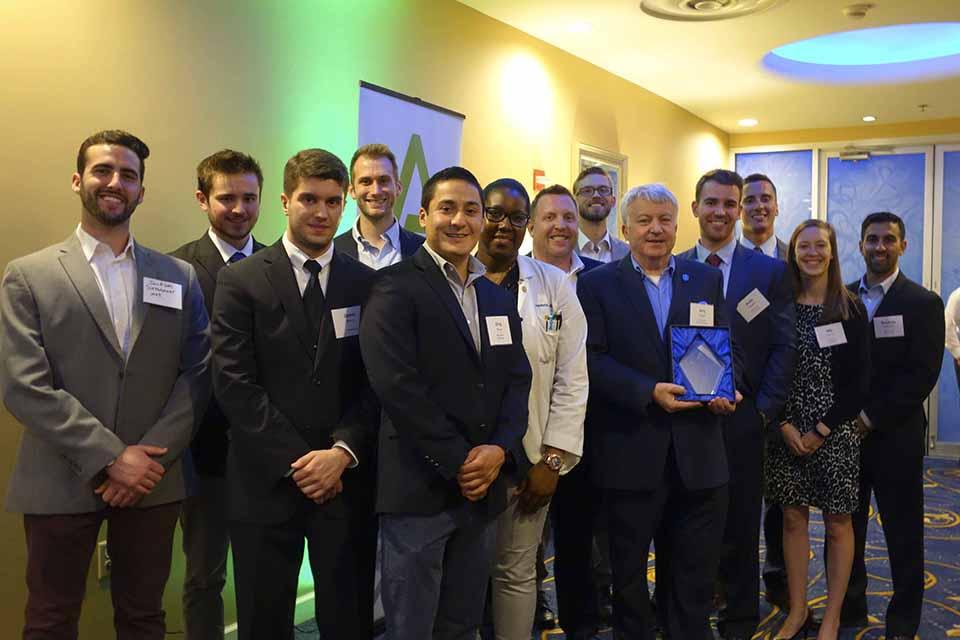 The founders and executive board members of MEDLaunch pose with Jerry Dwyer, M.D., M.B.A., a member of the Board of Advisors. Photo by Maggie Rotermund
Founded in 2015 by SLU School of Medicine students, MEDLaunch is a non-profit, biomedical and entrepreneurship incubator partnering with Saint Louis University and other organizations in the area.
The program is the product of collaborative efforts between SLU School of Medicine, Richard A. Chaifetz School of Business, Parks College of Engineering, Aviation, and Technology, and SLU School of Law.
"MEDLaunch is an absolute treasure," Kenneth Olliff, vice president for research, told a crowd of potential investors at the April 26 Demo Day event.
As a part of MEDLaunch, participants work in multidisciplinary teams under the guidance of clinical and industry mentors to improve the standard of health care in areas including surgical devices, health information technology and medical diagnostics.
Physicians share ideas for improving daily clinical practice, and teams of students tackle those ideas with an aim for creating a practical solution which will improve the practice of medicine.
Kurtis Sobush, SLUCare pediatric pulmonologist and assistant professor of pediatrics, served as an advisor to the Gastrode team. Gastrode team members wanted to improve Neurally Adjusted Ventilatory Assist (NAVA), which approached mechanical ventilation based on neural respiratory output. The current technology uses a wire placed up through the nose. Gastrode designed a replaceable version of a stomach port that enables NAVA ventilation without a nasal electrode.
"Currently many of those on NAVA are in critical care units," Sobush said. "This could help with the step down process."
Sim Solutions aims to improve medical education by improving the artificial skins used during practice procedures.
"We make to make these as low-cost as do-it-yourself kits so that medical students can train efficiently, effectively and uniquely," said Kevin Bockerstett, an M.D. / Ph.D. student and team leader for Sim Solutions.
Sim Solutions hopes to produce for $10-15 what currently costs $200-$500.
2016-17 Projects
The projects for MEDLaunch's second year include a novel design for an IV catheter, optimization of mechanical ventilation, improving medical simulation lab technologies, remote cardiac rehabilitation and automated neurologic function evaluation.
Last year, teams worked on solutions to problems including accurately measuring blood loss in the operating room and automating the delivery and weaning of oxygen for hospitalized patients.
The arc of a MEDLaunch project follows the school calendar. The MEDLaunch board will begin sorting through clinical problem submissions over the summer. Teams form at the beginning of the school year and present their projects in spring. Each team has at least one medical student, one engineering student and one business student.
The year ends with the Demo Day presentation to local investors and angel networks, with the goal of obtaining seed funding to progress to advanced prototyping, clinical trials and manufacturing.
---
Saint Louis University is a Catholic, Jesuit institution that values academic excellence, life-changing research, compassionate health care, and a strong commitment to faith and service. Founded in 1818, the University fosters the intellectual and character development of nearly 13,000 students on two campuses in St. Louis and Madrid, Spain. Building on a legacy of nearly 200 years, Saint Louis University continues to move forward with an unwavering commitment to a higher purpose, a greater good.