Macelwane Hall Renovation Nears Completion
by Nancy Solomon on 10/19/2018
On May 25, 2017, a fire broke out in Macelwane Hall, causing such extensive damage the building could not be occupied.
Macelwane has since undergone a $28.8 million renovation and will reopen for classes in January. Funded by a mix of insurance reimbursement and capital funding, construction for the facility includes individual research labs, teaching labs, classrooms and offices.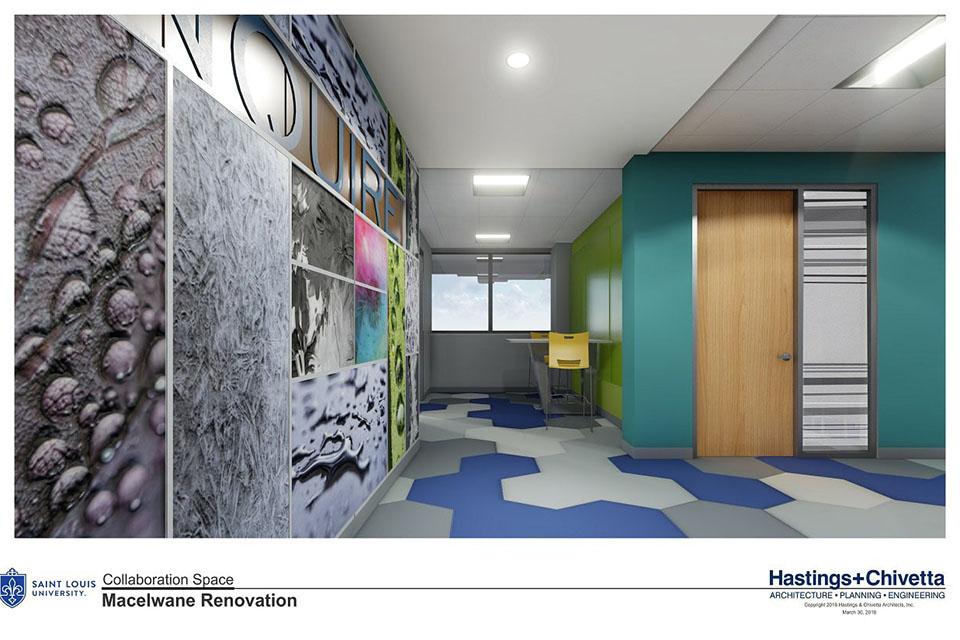 "Although the fire that struck Macelwane Hall in May 2017 was contained to the third floor, the building experienced extensive smoke and water damage, requiring a total renovation of all four floors," said Dustin Montgomery, assistant director of construction services for Saint Louis University.
"The renovations to Macelwane Hall have significantly modernized the building, turning it into a state-of-the-art teaching facility with new labs, classrooms, student lounges, meeting spaces and faculty offices. Improvements were made with sustainability in mind, with energy upgrades through green design and construction strategies," Montgomery continued.
Macelwane Hall is the home of the Department of Biology, with some teaching space dedicated for labs taught by faculty from the Department of Chemistry and a vivarium that is maintained by the Department of Comparative Medicine. Jack Kennell, Ph.D., chair of biology, led a team comprised of faculty and staff who participating in planning the design of the building.
"These are the end-users of the building and if we hadn't checked with them along the way, they would be understandably frustrated. As it turns out, we are going to be able to deliver more undergraduate research experiences in our new quarters," Kennell said.
"Our department is closer and unified in demonstrating our capacity to tackle big things. It's a team effort."
The building opens for classes on Jan. 14 with a litany of improvements including emergency backup power, better heating and cooling, new scientific equipment, keycard access, more natural lighting, bright colors and creative tiling, windows that look into teaching labs and a student lounge with a view of the Arch.
"I'm anxious to show it off," Kennell said.
The renovation was designed to accommodate the current and future needs of faculty, staff and students. For instance, second floor teaching labs in Macelwane will move into the new $50 million Interdisciplinary Science and Engineering Building when it opens in 2020. Those Macelwane labs are constructed to be easily retrofitted for biology faculty researchers who will move back to the north campus from their current temporary quarters.
Hastings + Chivetta, which also is the architect for the ISE building, designed the Macelwane renovation. McCarthy Building Companies was the Macelwane project's construction manager.
While Macelwane was closed, the majority of lab and lecture classes offered by the Department of Biology were taught last year and first semester of this year in the Biology Extension Building, which is at the corner of Spring and Chouteau avenues on the south campus.
"We didn't skip a beat during a very challenging time. I'm proud we all pitched in to get the teaching labs up and we didn't cancel a single course," Kennell said.
"At the end of the day, I'm very enthusiastic about how things will shape up. It will be vastly improved for our students, faculty and staff."