School of Medicine Holds Annual White Coat Ceremony for Incoming Class of 2023
Saint Louis University recently welcomed the next generation of researchers and healers to campus. The White Coat Ceremony marks the entrée of a class of students into the medical profession.
During the ceremony, incoming Saint Louis University School of Medicine students are cloaked in their first white coat as a symbol of the trust being bestowed upon them to carry on the honorable tradition of doctoring.
The white coat ceremony for the Class of 2023 was held Sunday, Aug. 4, at St. Francis Xavier College Church.
The Class of 2023 is comprised of 180 men and women from 30 states and seven different countries. Thirty-nine students are coming to SLU from California, while 30 first-year students are Missouri residents.
Class members graduated from 84 different colleges and universities. The group enters medical school with 16 masters degrees and one Ph.D.
Thirty-eight members of the class received their undergraduate degree at Saint Louis University. The University of California system, Washington University in St. Louis, the University of Illinois, Rockhurst University, Brigham Young University, the University of Washington and the University of Arizona also have multiple alums counted among SLU's first-year medical students.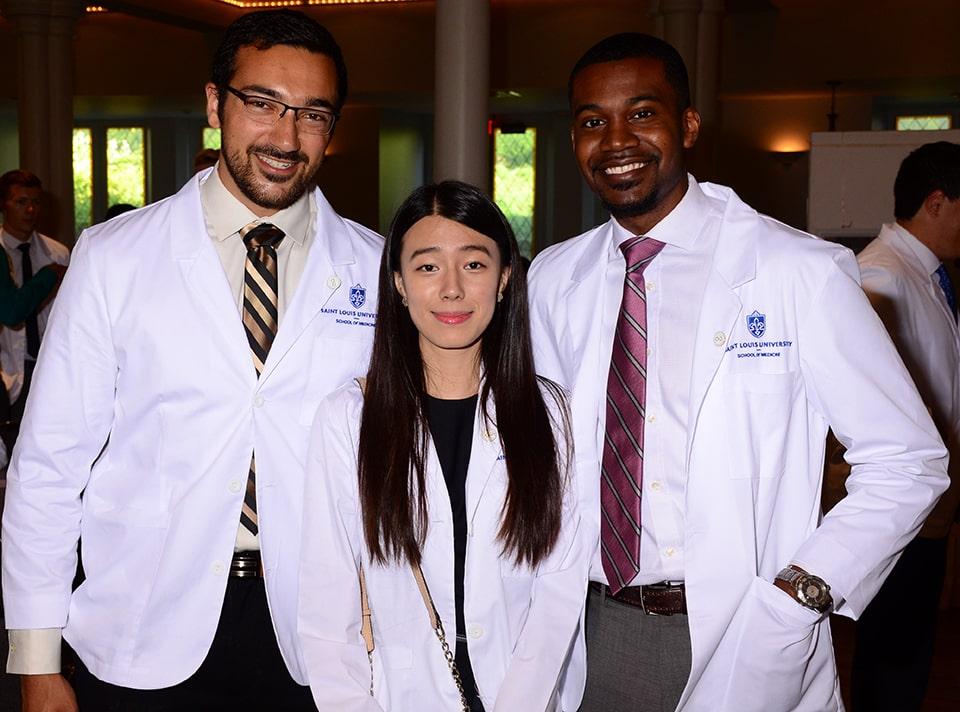 Members of the Saint Louis University School of Medicine Class of 2023. Photo by Kyle Kabance.
---
Established in 1836, Saint Louis University School of Medicine has the distinction of awarding the first medical degree west of the Mississippi River. The school educates physicians and biomedical scientists, conducts medical research, and provides health care on a local, national and international level. Research at the school seeks new cures and treatments in five key areas: infectious disease, liver disease, cancer, heart/lung disease, and aging and brain disorders.