SLU Students Spearhead Water Project for Kenya Children's Home
02/12/2019
While many of us may take filling a glass of water for granted, students from Saint Louis University are partnering with a small community and orphanage in Kenya to provide consistent access to clean water through a five-year project spearheaded by SLU's chapter of Engineers Without Borders (EWB-SLU).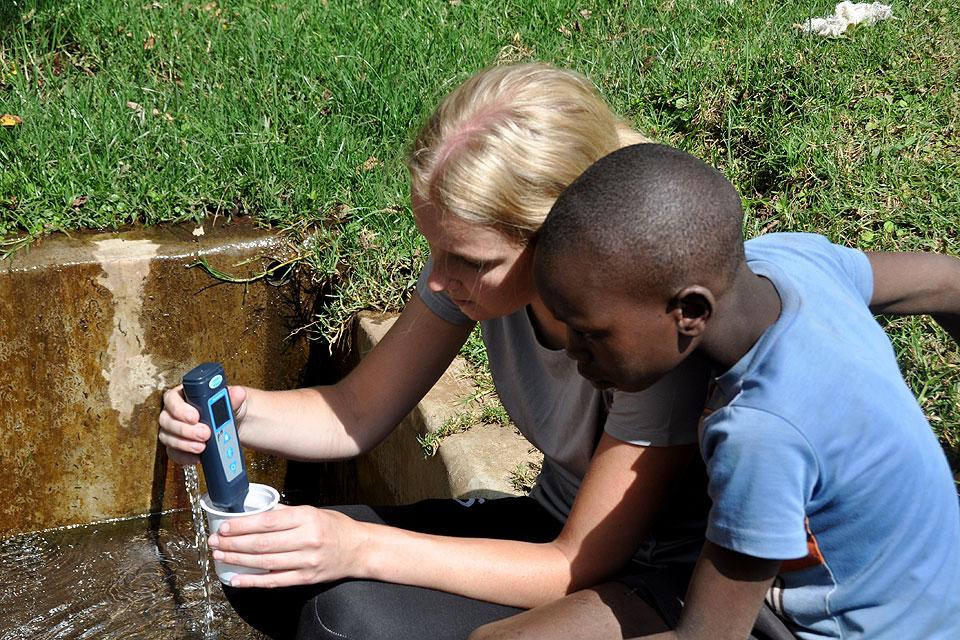 SLU student Lauren Beduhn (left) demonstrates water testing to a resident of Esther House.
As the project, which began with an assessment trip to Kapenguria, Kenya, in August 2018, continues, EWB-SLU's members will put their engineering and public health educations to use in helping the Kenyan community access and manage this vital resource. They have also formed relationships – with the local community, the kids and staff of Kapenguria's children's home, Esther House, and with fellow students at the University of Nairobi – that they believe will sustain the new water access project in the future.
"The knowledge that we're working on something important that will help real people motivates us to work harder and inspires us to think more creatively," Maggi Richard, a sophomore mechanical engineering major and SLU-EWB board member said. "And an innovative person who works hard for others is someone I absolutely hope to become."
Assessing a Community's Water Needs
Three students, sophomore Emma Nehring, junior Lauren Beduhn, and senior Carla Rattunde, traveled with SLU faculty members Ronaldo Luna, Ph.D., and Craig Adams, Ph.D., to Kapenguria, in the summer of 2018 to assess the water needs of Esther House, an orphanage where 21 kids ranging from infants to teenagers and their caregivers lack a reliable water supply. They took water samples, recorded GPS coordinates, and sought feedback from the local community about their water needs.
The trip was part of the EWB-SLU club's goal to design and implement a sustainable water source for the orphanage. The chapter has between 30 and 50 members. EWB-SLU is planning a trip this coming summer to begin installing the solar-powered piping system that make Kapenguria's water more accessible to its residents.
Kapenguria's water is currently difficult to access consistently, leading to shortages, treks to fetch water, and health issues for the Esther House's children and staff.
Eventually, if the project proceeds successfully, both children's home and surrounding community will have a reliable, safe and sustainable water supply, with local community members trained to maintain its infrastructure.
"Planning this project and trip has been a learning process, and EWB-SLU has really grown in many areas throughout the past couple years," Beduhn, a civil engineering major and president of EWB-SLU, said. "I am really excited because I'm passionate about EWB's mission, and happy to be part of this project."
The students raised the funds for the trip themselves, through drives and GoFundMe accounts. Nehring, for example, partnered with a local meat market in her native Murphysboro, Illinois, to raise funds through the sale of smoked pork tenderloins and smoked ham orders.
Fundraising for the project continues. The chapter has held a variety of events to fund the project including a profit share night with Chipotle planned in February. It has also approached the St. Louis engineering community for support.
A SLU Education Sparks Passion and Change
As the project has taken shape, the chapter members have dived into putting what they've learned in SLU's engineering classrooms into action. For some, like junior Caitlin Lulay, the project's coordinator, it reawakened her passion for her major.
"Working on this project has given me confidence in my career path," Lulay explained. "The project gives my classes a new sense of purpose. Before, I would go to a class and learn material for future use and application. Now, I go into class more engaged than ever because I get to apply the concepts I learn there today, instead of two or three years from now when I've graduated."
"We had a reading assignment for hydraulics class," she continued, "and I was excited to read the textbook because it was outlining how to design a water distribution system. That's directly applicable to our project in Kenya. Personally, this project has reaffirmed my love for engineering. A year ago, I wasn't even sure if engineering was right for me, and now I am more confident than ever that this is what I am meant to be doing."
Planning to Learn
SLU's chapter developed a relationship with Esther House through students' local connections with a church in Webster Groves, Missouri. The church's congregation was working with Esther House and members who were spearheading their own efforts to help the children's home talked at length with EWB-SLU, according to Luna, the SLU chapter's advisor. SLU students were drawn to the home's mission and story of its namesake, Esther.
The project gives my classes a new sense of purpose. Before, I would go to a class and learn material for future use and application. Now, I go into class more engaged than ever because I get to apply the concepts I learn there today, instead of two or three years from now when I've graduated."

Caitlin Lulay, junior and EWB-SLU project coordinator
It's the first such undertaking for SLU's chapter and will continue for years. The minimum commitment required for an Engineers Without Borders (EWB) chapter project is five years. The chapter undertook a lengthy approval and vetting process before the national EWB approved the project. The process included assessment, fundraising, communications and planning.
"You can't just go and do something that is going to break tomorrow," Luna, professor of civil engineering at Parks College of Engineering, Aviation and Technology, explained. "Students work with real-life problems in communities that are underserved around the world. Delivering a solution to the basic needs of people prepares students to be of service to society at large. The experience is humbling and the reward is to be in service to the spirit of humanity."
All parts of the initial application process also lead to invaluable student learning and brings what they learn in SLU classrooms to bear to change lives for the better, Luna said.
"The real big impact is when the students realize they have the training to make an impact," Luna said. "Students need to find solutions to engineering problems with the skills they possess at the time, and when they do not have the skill or knowledge, they learn to ask and to learn on the go. They cannot wait for this to be taught in the class."
Connecting Across Continents
Part of that "learning as they go," has been to develop leadership and communication skills in order to collaborate effectively with the people who will ultimately run and maintain the water system they install in Kenya. Managing those partnerships effectively, the students said, is critical to the project's long-term success.
"This is not 'our' project, it's for the residents of the Esther House and it belongs to them," Richard said. "We are not swooping in to save the day. We are here to consult with the people who know the most about the problem and to work together to find the best way to solve it."
Part of the planned project calls for an education plan centered on sustaining and maintaining the new water system. Local adults will be trained to repair parts and materials for the project will be locally-sourced as a way to benefit Kapenguria's economy and to ensure replacement parts are available in case the system encounters an issue after it's up and running.
The knowledge that we're working on something important that will help real people motivates us to work harder and inspires us to think more creatively. And an innovative person who works hard for others is someone I absolutely hope to become."

Maggi Richard, sophomore mechanical engineering major and EWB-SLU
The partnership with fellow engineering students from the Kenyan university will also bolster the project's chances of success, SLU's EWB members said. The EWB-SLU chapter presented on its Kapenguria work while in Kenya and the Nairobi students hope to start their own EWB chapter soon.
"The partnership with the University of Nairobi is great because it embodies everything we strive for including the unification of humanity and international cooperation for the common good," Richard said.
Minds on a Mission
For Nehring, a biomedical engineering major, the project has been an opportunity to put her SLU education and the University's Jesuit values into practice.
"I got involved with Engineers Without Borders because I wanted to use my degree in a way that helps people locally and globally," Nehring said. "I hope to be a good engineer but I hope to be an even better person. I think our club represents SLU well because we are using our degrees in a way that is bigger than ourselves. We are using it in a way that will change and enhance lives."
"For me, nothing taught me more about the human spirit than studying the way other people live, interact and approach obstacles," Richard said.
"SLU's mission is to educate the whole person and have us use that knowledge to be men and women for others," she noted. "Engineers Without Borders embodies that goal by feeding every aspect of ourselves: using our knowledge and minds to design a water system, using our bodies to physically implement our ideas and using our spirits to find the empathy and compassion necessary to take on and carry out a project like this one."
Interdisciplinary Impacts
The SLU chapter is uniquely situated to work with Esther House's needs because it includes members with specialties not only in civil engineering, but also fields like public health and biomedical engineering.
Rattunde, a senior majoring in public health and international studies, joined EWB-SLU two years ago because she was wanted practical public health experience with an international focus. After growing up in Mali, she was especially sensitive to the need to work with Esther House's community as an equal partner, rather than as a charitable project. Throughout the process, she gained an appreciation for the way EWB nationally, and the SLU chapter specifically, approach projects like the house's water supply.
"EWB tries to emphasize that this is a partnership in which both the community and the students work together, not one for the other," Rattunde explained. "This work linked to my life goals as it is helping me discover my skills and passions. It is challenging me and making me question what a positive impact or development is. I am glad that I, as a non-engineering major, could positively contribute to the team by bringing in some things I had learned in my public health classes."
---
Saint Louis University is a Catholic, Jesuit institution that values academic excellence, life-changing research, compassionate health care, and a strong commitment to faith and service. Founded in 1818, the University fosters the intellectual and character development of more than 13,000 students on campuses in St. Louis and Madrid, Spain. Building on a legacy of nearly 200 years, Saint Louis University continues to move forward with an unwavering commitment to a higher purpose, a greater good.
Story by Amelia Flood, University Marketing and Communications. Photos provided by EWB-SLU.