'You Sunk My Battleship!' : SLU Kayak Club Hosts Nautical Battle Royale
02/16/2019
The battle raged for just under an hour. In the end, however, those taking part in the SLU Kayak Club's first "Pool Battleship" melee were all smiles as they tossed bucket after bucket of water at each other, attempting to sink each other's boats.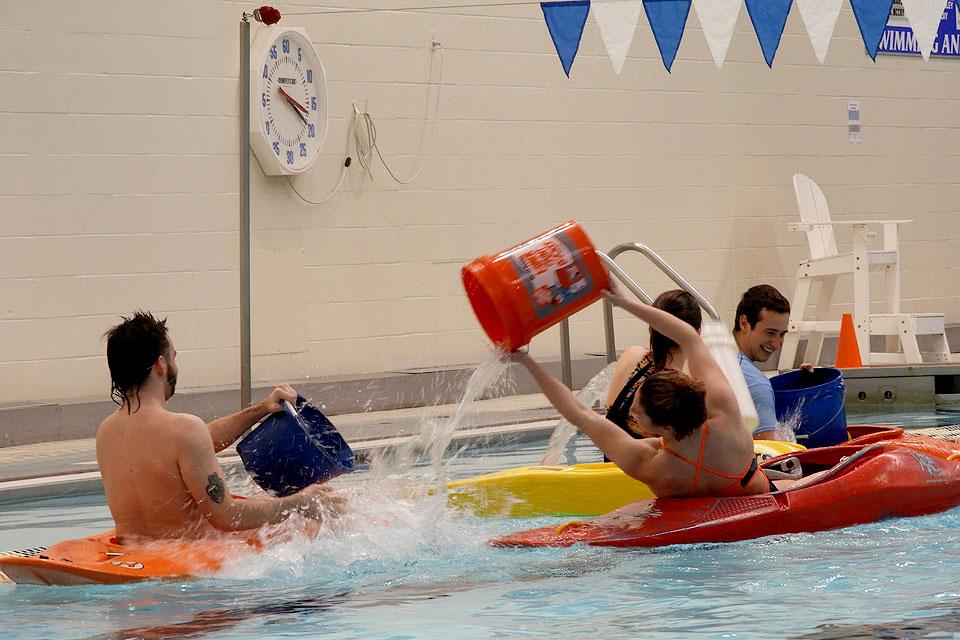 Water warriors battle during "Pool Battleship" on Saturday, Feb. 16.
The club hosted its first "Pool Battleship," a nautical battle royale, on Saturday, Feb. 16, with hopes of engaging their fellow Billikens with kayaking while raising funds to purchase new equipment for the club's outings.
"Events like this are a fantastic way to bond with friends and to get good exercise," sophomore Nicole Schneider, an aeronautics major who serves as the club's secretary, said. "Taking part in the kayaking club adds to your SLU experience because you make new friends, take advantage of Missouri's unique rivers and exercise. We want to see God in nature and the peace that exercise can bring."
The club has 10 active members and is always seeking more, its executive board said.
The Kayak Club is dedicated to providing access to kayaking to their fellow Billikens of all experience levels in a safe environment and through trips. The club collaborates with Missouri Whitewater Association and travels around the country to paddle.
"SLU's kayaking club was my first experience with kayaking in any form," Schneider continued. "It has provided me with the opportunity to make fantastic friends, stay in good shape and to explore areas of Missouri I would otherwise never see."
Saturday's water warriors earned points by sinking each other's boats using bucketfuls of water as their weapons of choice. In the end, there could be only one winner after three rounds of intense paddling, laughter and dousing.
In addition to the Feb. 16 battle in SLU's pool, the club holds weekly practices and members compete in kayaking pool slaloms and the Missouri Whitewater Championships.
"In short, our goal is to share Missouri's sublime Saint Francis River with a wide range of students," Zach Messaglia, the club's president and a sophomore aerospace engineering major, explained. "At SLU we focus in on mind, body and spirit. As a club, we hope to relate to all of those values. The exercise keeps your body in good shape while also being a way to relieve stress and give you a better mental outlook."
To learn more about the club's practices and river outings, visit the SLU Kayak Club.
---
Saint Louis University is a Catholic, Jesuit institution that values academic excellence, life-changing research, compassionate health care, and a strong commitment to faith and service. Founded in 1818, the University fosters the intellectual and character development of more than 13,000 students on campuses in St. Louis and Madrid, Spain. Building on a legacy of nearly 200 years, Saint Louis University continues to move forward with an unwavering commitment to a higher purpose, a greater good.
Story and photos by Amelia Flood, University Marketing and Communications.