New Year, New Labs: Macelwane Hall Renovations Complete
by Maggie Rotermund on 01/18/2019
Nearly two years after a fire caused extensive damage to Macelwane Hall, the building is now fully reopened for faculty and student use. Macelwane opened for classes on Monday, Jan. 14.
The building has undergone a $28.8 million renovation since the May 2017 fire, funded by a mix of insurance reimbursement and capital funding. The renovations include offices, individual research labs, teaching labs and classroom spaces.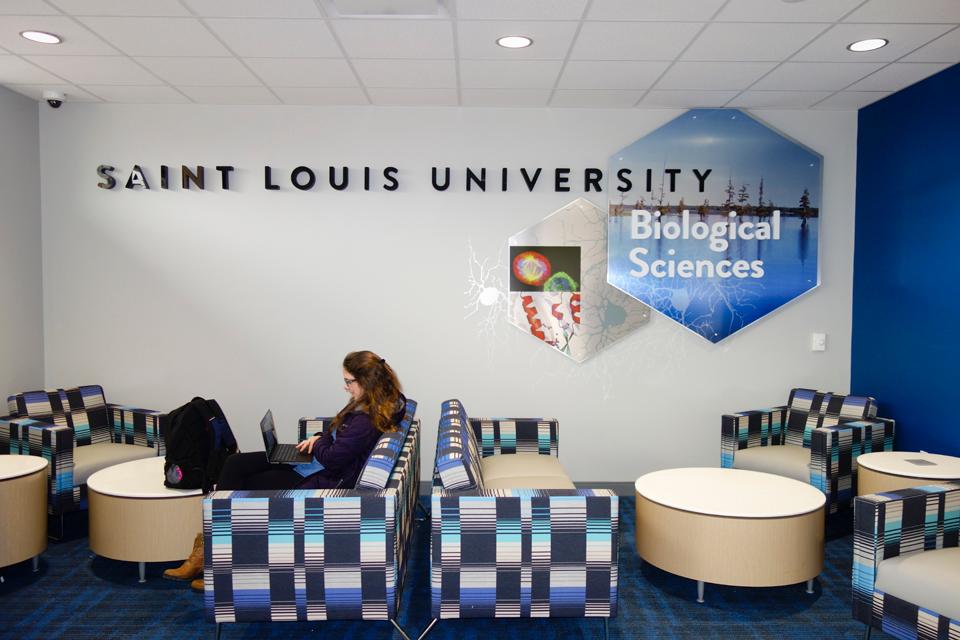 A student works in the newly renovated lobby of Macelwane Hall. Photo by Ellen Hutti.
Macelwane Hall is the home of the Department of Biology, with some teaching space dedicated for labs taught by faculty from the Department of Chemistry and a vivarium that is maintained by the Department of Comparative Medicine. Jack Kennell, Ph.D., chair of biology, led a team comprised of faculty and staff who participating in planning the design of the building.
The renovations are not just aesthetically pleasing - the green design includes better heating and cooling, new scientific equipment and improved laboratory space. The facilities were designed to accommodate both the current and future needs of faculty, staff and students.
Hastings + Chivetta designed the Macelwane renovation. McCarthy Building Companies was the Macelwane project's construction manager.