TRIO Talent Search Invites Students to Experience Diverse Cultures
07/30/2019
The steel drum's rhythm inspired students from across the St. Louis Public Schools to groove to a Caribbean beat while they learned about the diverse cultures as part of Saint Louis University's TRIO Talent Search's first Cultural Festival.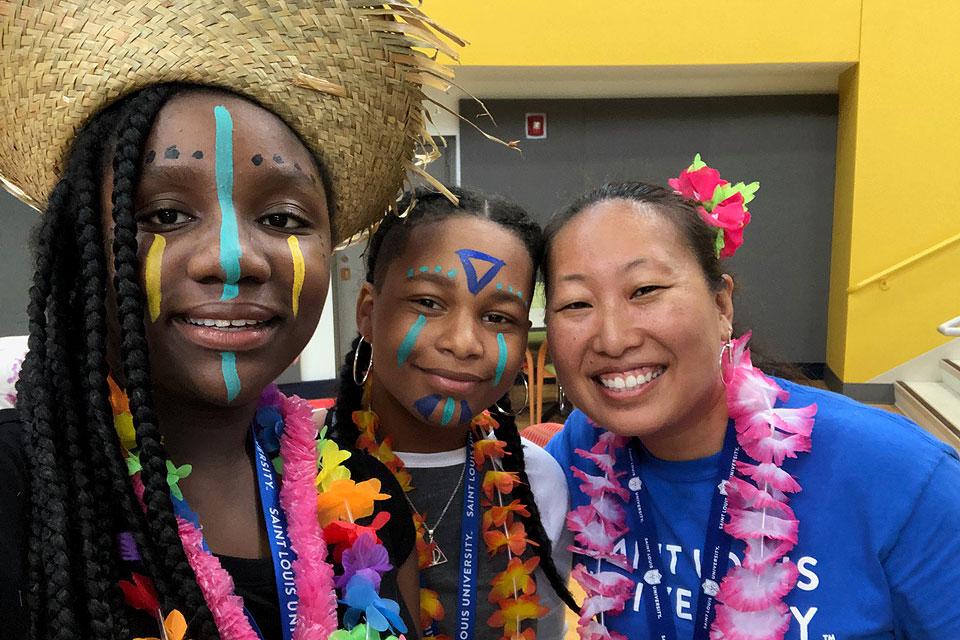 TRIO Program students pose with TRIO Talent Search academic coordinator member Marlene Wu (right) during the TRIO Talent Search's first Cultural Festival on July 16. Photo by Doris Hawkins
The July festival at SLU's Center for Global Citizenship included guest speakers, performances and experiential learning activities ranging from science experiments conducted by SLU faculty members and students to face painting based on indigenous African designs.
"We wanted to host an event that would not only celebrate the diversity of cultures that we see at the school, but also provide a way for the students to learn about and appreciate other cultures that they have to interact with on a daily basis," Marlene Wu, academic coordinator with the TRIO Talent Search, said. "As the students prepare to attend college or enter the working world, the ability to get along with diverse groups of people will be vital to their success."
The festival was one way the TRIO Program is reaching out to underserved students from across the Saint Louis region. Federal TRIO programs provide educational opportunities for first-generation and underserved students as they progress through the academic pipeline from middle school to graduate work.
SLU's pre-collegiate TRIO Programs include the Talent Search, serving 501 students from grades 6 to 12, as well as two collegiate programs, Student Support Services program, funded by the U.S. Department of Education, and the McNair Scholars Program, a federal program that prepares undergraduate first-generation students from traditionally unrepresented groups for doctoral studies.
The July 16 cultural festival capped off the TRIO Talent Search's summer programming, which combined traditional classroom sessions aimed at preparing students for the coming school year with guest speakers and experiential learning opportunities.
The TRIO program's staff, Wu explained, wanted to include cultural exchange and diversity experiences into their students' summer work. Wu, Karen Askew, the Talent Search's director, and Tim Hamm-Bey, TRIO Programs academic coordinator, organized the festival.
"In our increasingly diverse education and workspace, it is more important than ever to be open and understanding of other people's cultures and backgrounds," Hamm-Bey said. "In preparing the students to be successful in college and beyond, we hope that this cultural festival will provide the students with new experiences that will broaden their mind and improve their ability to work with and relate to people from various backgrounds."
Festival Facts
Keynote speakers
Brendan Underwood, current SLU student and McNair Scholar. Underwood is studying philosophy and African American Studies.
Wynette Whitegoat, assistant director for the Kathryn M. Buder Center for American Indian Studies at Washington University. Whitegoat is a member of the Navajo nation.
Performances
St. Louis Cultural Flamenco Society, Spanish dance
Our Lady Guadalupe Dancers, Mexican dance
Jason Simmons, Caribbean Steel Drums
Grupo Atlantico, Colombian Dance
Founded in 1818, Saint Louis University is one of the nation's oldest and most prestigious Catholic institutions. Rooted in Jesuit values and its pioneering history as the first university west of the Mississippi River, SLU offers nearly 13,000 students a rigorous, transformative education of the whole person. At the core of the University's diverse community of scholars is SLU's service-focused mission, which challenges and prepares students to make the world a better, more just place.
Story by Amelia Flood, University Marketing and Communications