Their Mission is Simple: Make SLU Laugh
03/06/2019
At Saint Louis University, LOL is more than text-speak for "laughing out loud." At SLU, it's the call sign for a team of comedic crusaders and their mission is simple: Make people laugh.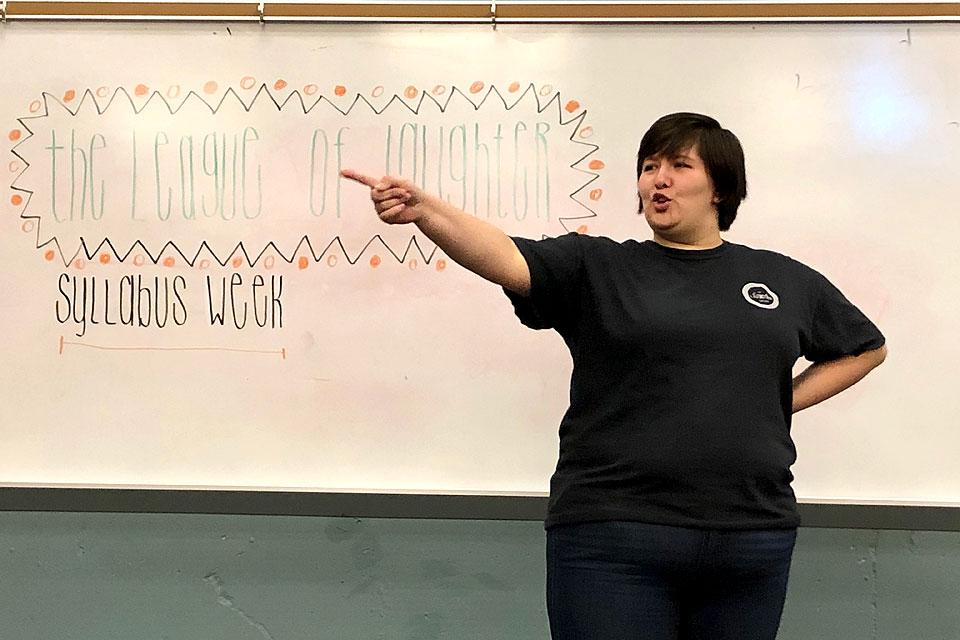 Do you have what it takes to join SLU's comedic action heroes?
Using improv and comedy, Saint Louis University's League of Laughter (LOL) puts it all on the line to create a campus atmosphere that provides joy, acceptance and the means to de-stress. LOL is the University's only comedy club and its 52 members provide free laughs to their fellow Billikens like a recent "Syllabus Week" showcase in Morrissey Hall.
Stretching their comedic muscles with monthly shows, the league's members embrace the most outlandish audience suggestions, creating jokes, gags and good times on the fly. It's an opportunity they say to not only connect with others students, but also to continue nourishing their need to be creative.
"My confidence has improved drastically through improv and LOL," sophomore Katie Payne, LOL's secretary, said. "I joined the League of Laugher because I was looking for a way to express myself. I stayed because of the wonderful people who became my funny friends."
Performing with the league has been a way to hold onto their best childhood memories of the stage, its members said. Junior Hannah Scheckel acted from grade through high schools. She competed in the National Performing Arts Competition at Disney World before coming to SLU.
While she was able to pursue her passion for acting at SLU, she also discovered more after joining the league at Payne's insistence.
"I found a group of amazing friends," Scheckel said.
Improv and performing have also been a way for the league's members to discover who they want to become.
"I joined as a way to perform with a bunch of fun, spontaneous, and passionate performers in a medium that allowed me to be creative, spontaneous, and most importantly, myself," senior Valen Piotrowski said.
The League of Laughter holds shows monthly and can be found mugging for laughs on Instagram, Facebook and Twitter@SLULOL. To learn more, meet SLU's League of Laughter.
---
Saint Louis University is a Catholic, Jesuit institution that values academic excellence, life-changing research, compassionate health care, and a strong commitment to faith and service. Founded in 1818, the University fosters the intellectual and character development of more than 13,000 students on campuses in St. Louis and Madrid, Spain. Building on a legacy of nearly 200 years, Saint Louis University continues to move forward with an unwavering commitment to a higher purpose, a greater good.
Story and photos by Amelia Flood, University Marketing and Communications.