SLU Springs Into March Madness
The men's basketball team is the No. 13 seed in the East Region of the NCAA Tournament, the Billiken won Jimmy Fallon's dunk contest and the SLU campus is feeling March Madness in the air.
It's been a whirlwind of a week at SLU and the St. Louis area is joining in on the fun. KSDK-TV Ch. 5's Frank Cusumano called the Billikens' A-10 Tournament win "the best moment in St. Louis sports this year."
The 13th seeded Billikens play the 4th seeded Virginia Tech Hokies at 8:57 p.m. (CST) Friday, March 22, in San Jose. The game will be televised on truTV.
The winner of Friday's game will face the winner of No. 5 Mississippi State/No. 12 Liberty on Sunday, March 24. The winner of that game will advance to the East Regional on March 29 and 31 in Washington, D.C. The Final Four is set for April 6 and 8 in Minneapolis.
Official Watch Party
The official Billiken student watch party is in the Center for Global Citizenship. Doors open at 8 p.m. Friday. There will be free food, a deejay, photo booth and giveaways for students.
SLU's beloved mascot will also be out and about Friday from noon to 1 p.m., revving up Billiken spirit for the NCAA Tournament game. Catch him for a chance to collect some SLU swag. Follow SLU's Instagram for updates on his whereabouts.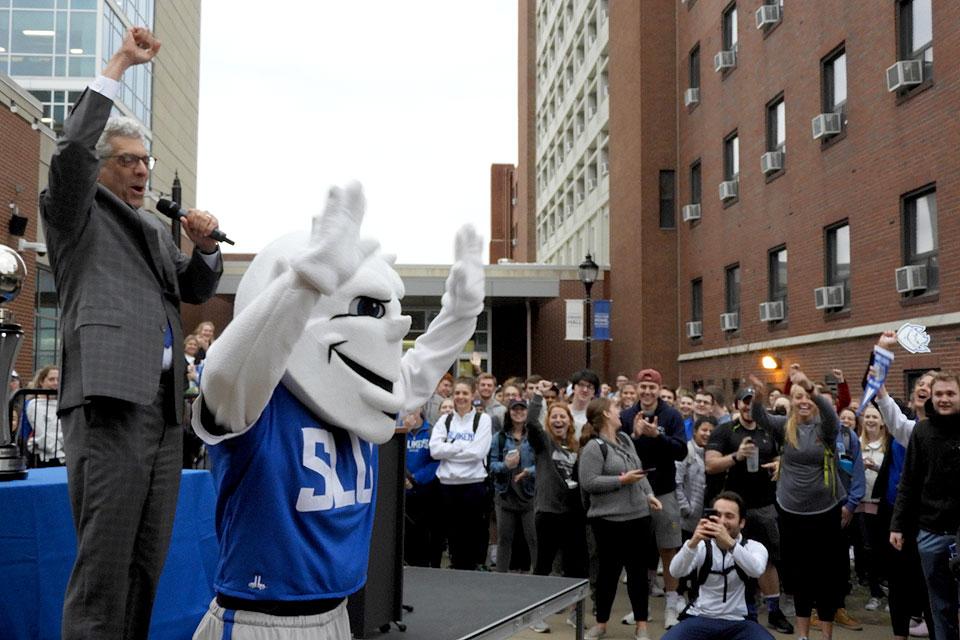 The Billiken celebrates his lucky lottery number and trip to San Jose.
Stock Up on Billiken Gear
The Saint Louis University Official Billikens Fan Store has all your gear Friday at the pop-up shop on West Pine outside Griesedieck Hall. Shop online at the Saint Louis Billikens Official Store or the Saint Louis University Bookstore.
SLU Pep Band
Twenty-nine members of SLU Pep Band will be whipping Billiken fans into a frenzy in San Jose, California. Among them are four alums and 25 students, whose trip has been underwritten by the NCAA.
Nearly 20 Saint Louis University alums have put their pledge as sons and daughters of SLU forever into practice by joining about 65 students as members of the SLU pep band.
Austin Turner, band director and instructor of clinical health sciences, says several alumni in the band have been part of the group for more than two decades.
Turner, who has been part of the band for 19 years, said many college pep bands are comprised exclusively of music majors. SLU Pep Band includes a music student or two as well as undergraduate and graduate students from disciplines including math, science, medical, law and nursing programs.
Not everyone in the band was available to go on the trip to San Jose because of scheduling commitments. But all of those schedules allowed them to participate could, Turner said.