SLU Sends Billiken Basketball Team Off to NCAA Tournament
by Maggie Rotermund on 03/19/2019
The Saint Louis University community sent the men's basketball team off in style Tuesday to the 2019 NCAA Tournament. Well-wishers gathered at Chaifetz Arena to see the team off to its first-round game in San Jose, California.
The 13th seeded Billikens play the 4th seeded Virginia Tech Hokies at 8:57 p.m. (CST) Friday, March 22, in San Jose. The game will be televised on truTV.
"We go out every game, every day, every practice and we're playing for this university and we're playing for the city of St. Louis and that means a lot to us," said Head Coach Travis Ford.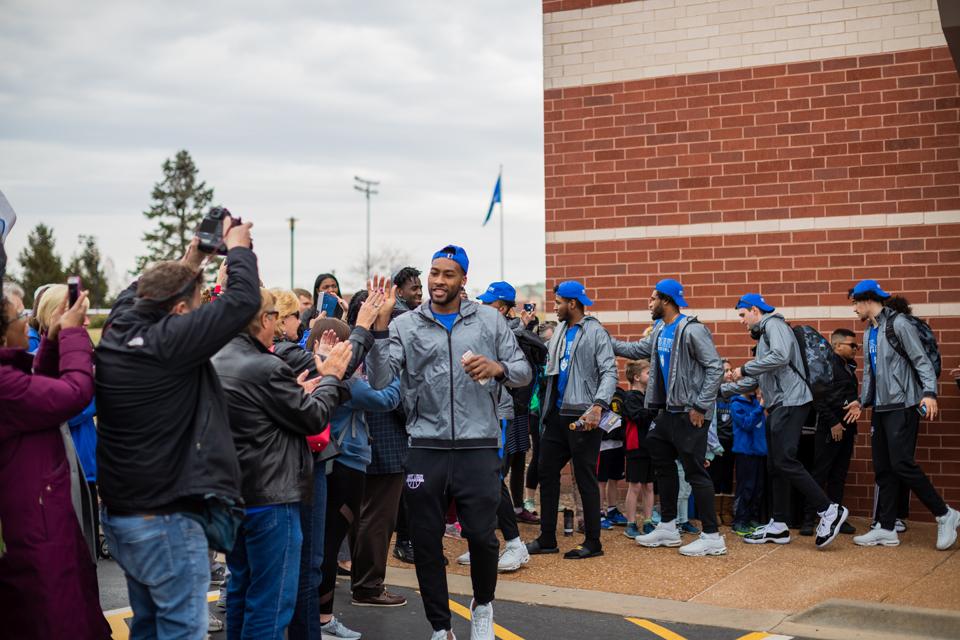 The men's basketball team engages with SLU community before heading off to the first round of the NCAA Tournament. Photo by Garrett Canducci.
The winner of Friday's game will face the winner of No. 5 Mississippi State/No. 12 Liberty on Sunday, March 24. The winner of that game will advance to the East Regional on March 29 and 31 in Washington, D.C. The Final Four is set for April 6 and 8 in Minneapolis.