SLU Celebrates Its Newest Graduates
05/18/2019
As he stood at the commencement podium, Matthew Prest, Saint Louis University's student speaker, told his fellow graduates to be mindful of a proverb from his native New Zealand: "What is the most important thing in the world? It is the people, it is the people, it is the people."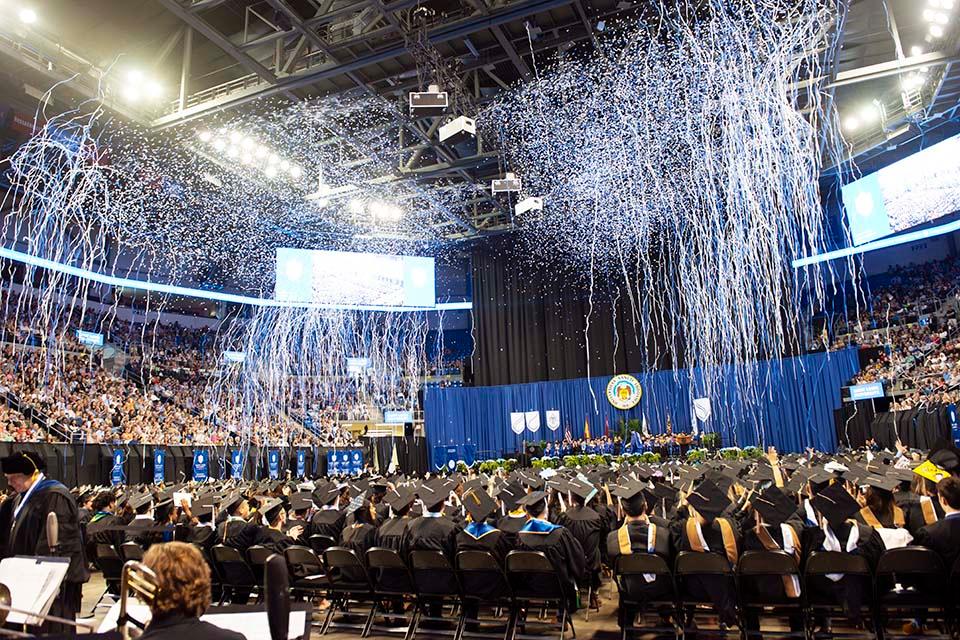 Confetti and cheers mark the end of SLU's 2019 spring commencement ceremony at Chaifetz Arena. Photo by Anne Marie Apollo-Noel
For Prest and the University's 2,546 newest alumni, the call to shape the world for the better for all people has defined their SLU educations and the road they will take following their May 18 commencement at Chaifetz Arena.
"Whether we are from Ferguson or Chesterfield, Cardinals or Cubs fans, citizens of the United States, or like myself, are international students, for four years, we have shared this home," Prest, a new graduate of Parks College of Engineering, Aviation and Technology, said. "To me, being a Billiken means being part of a Jesuit university community, and all the ways that sets us apart from other schools."
"We point to a world in need and to the ways we make a difference," Preset told his fellow graduates. "To whom much is given, much is required. The legacy of SLU and of yourselves is in your hands today. What being a Billiken means is up to you but I challenge you to make it matter."
University President Fred P. Pestello, Ph.D., echoed Prest's emphasis on the uniqueness of a Jesuit education and on Billikens as change-makers, as did the ceremony's keynote speaker, Randall L. Stephenson, chairman and CEO of AT&T.
Readying New Graduates for a Lifetime of Seeking Truth
Opening with a recruitment pitch to Prest and thanks to the families gathered in the arena, Stephenson spoke of his respect for both the Jesuit educational philosophy, and SLU's mission to seek truth.
"There are no shortcuts to discovering truth," Stephenson said.
Speaking about his own experience working full-time while raising a young family during his own college years, Stephenson connected the impact of higher education to creating opportunity across experiences.
"My story is fortunately not unique," he said, "and it is repeated again and again, and by many of you in this room."
Stephenson cautioned the graduates about the changing social, political and economic landscapes being shaped by technology and the digital public sphere.
There are no shortcuts to discovering truth."

Randall L. Stephenson, chairman and CEO of AT&T, 2019 commencement speaker
"Very quickly, you can find yourself reading only those things with which you instinctually agree," he said. "And gradually, your world becomes narrower and narrower."
This narrowing can lead to an inability to ask tough questions, Stephenson continued, and to provoke the debates that necessarily define a society's understandings of truth, justice and right.
SLU's mission and its focus of seeking truth, he said, should spur the new graduates to "be the very, very best at what you do," and to pursue truth and a merciful justice.
"'What is truth?' is a courageous question to ask," Stephenson said. "We must never stop pursuing it. There's not a single answer. It requires a collective, varied engagement from all of us. You're just now approaching the starting line of a lifetime of learning."
Honoring Acclaimed New Alumni
This year's honorary degree recipients were chosen for their singular achievements in fields ranging from advocacy on behalf of immigrants and refugees to civic leadership to government innovation.
Joseph Conran, chairman of the University's Board of Trustees, announced the honorary degrees for Stephenson, Robert Cardillo, SLU alumna Marie Kenyon, J.D. (Law' 86) and Donald Ross.
2019 Honorary Degree Recipients
Vice Chairman of the Board of Trustees Patrick J. Sly, and University Trustees Marian V. "Bo" Mehan, W. Winston Chan and Jackie Drury Pollvogt assisted with the presentations of the degrees.
Cardillo received an honorary Doctorate of Humane Letters. Kenyon was awarded an honorary Doctor of Public Service degree. Ross and Stephenson each were awarded honorary Doctor of Commerce degrees.
Celebrating Traditions, New and Old
The May 18 commencement kicked off with the traditional entrance processional of University leaders and faculty members. Gregory Smith, M.D., professor of surgery and University co-marshal, served as this year's mace bearer.
The University Mastersingers, directed by David Kowalcyzk, performed the National Anthem and the Honor Guard from Parks College of Engineering, Aviation and Technology posted the colors before the packed arena.
Interim Provost Chet Gillis, Ph.D., greeted graduates, Billiken families and well-wishers before David Suwalsky, S.J., director of academic initiatives in the Office of Mission and Identity, offered a blessing highlighting how the students had "shared their talents and ingenuity with us."
While the ceremony began with many time-honored University traditions, the Mastersingers led the crowd in a rendition of the University's updated "Varsity Song." The song, composed more than 100 years ago, was revived as part of the University's bicentennial celebrations in 2018.
Yes, we take unique classes and there are Jesuits around us, but beyond these facialities is the Jesuit mission that says we serve a higher purpose, we seek a greater good."

Matthew Prest, commencement student speaker
In a nod to those members of the University community who had passed away over the course of the academic year, Pestello led the crowd in observing a moment of silence.
Then, asking the graduates to stand, he thanked the families and well-wishers gathered, along with the University's faculty and staff.
"I am proud of you," Pestello told the graduates. "We are proud of you and all that you have achieved."
"The Billiken's appearance may be difficult to describe, but you know one when you see one," Pestello continued. "Graduates, as I describe our mascot, it is clear that the Billiken looks like all of us, and acts like all of you."
Following speeches by Pestello, Prest and Stephenson, the deans of each of the University's schools and colleges presented their graduates to Pestello and the crowd.
Reverend Rodrick K. Burton, pastor of the New Northside Missionary Baptist Church and father of a 2019 graduate, gave the ceremony's closing blessing.
"While this day marks the end of your time as a student," Gillis said, "it's the beginning of your lifelong connection as an alumna or alumnus of Saint Louis University. And wherever your journey takes you, there will be opportunities to remain connected to your Saint Louis University family.
"We hope that here you have met the people who will dance at your wedding," he continued. "SLU is still your home, and you will always be welcome on campus."
As the arena erupted in cheers, confetti streamed down on SLU's newest alumni.
Story by Amelia Flood, University Marketing and Communications