SLU Celebrates Social Justice Mission In Opus Prize Laureate, Finalists' Work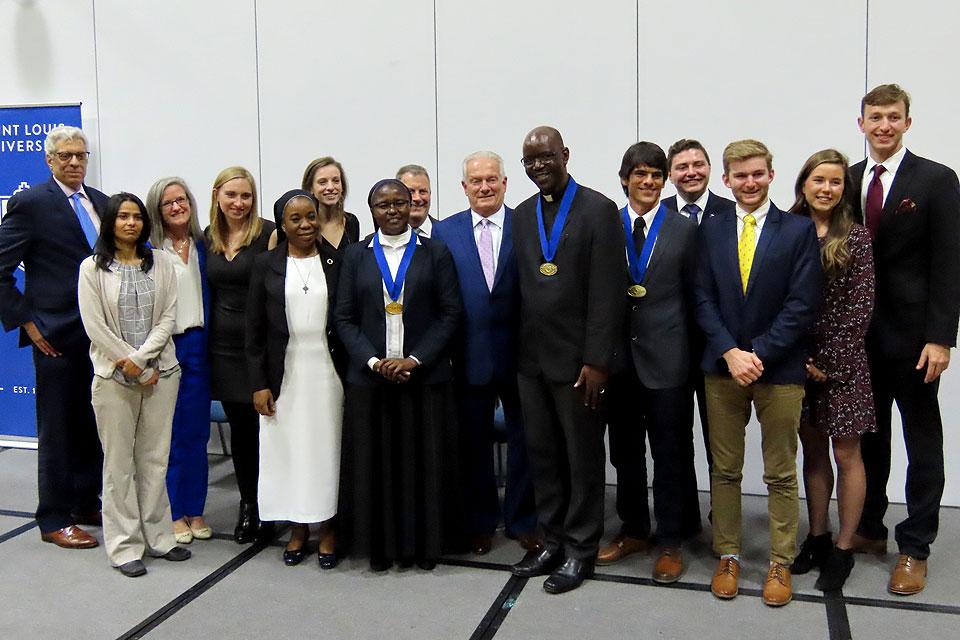 The 2019 Opus Prize finalists, along with SLU President Fred P. Pestello, Ph.D. and the SLU student, faculty and staff ambassadors. Photo by Amelia Flood.
Sr. Catherine, founder of Bon Pasteur in the Democratic Republic of Congo, and her fellow finalists - Michael Fernandez-Frey, founder and director of Caras con Causa in Puerto Rico, and Brother Charles Nuwagaba, Provincial Vicar of the Bannakaroli Brothers of St. Charles Lwanga in Kenya - spent the week on campus interacting with students and members of the St. Louis community.
The trio spoke with multiple classes and service organizations. They also participated in a public panel discussion about their service and an ecumenical prayer service. Each said they were leaving SLU with renewed sense of faith in the future.
"When I look at you I see hope in the world. This week I felt your curiosity, your passion, your courage to make a difference," Fernandez-Frey said. "I encourage you to, as San Ignacio would say, go forth and set the world on fire with Christ's love."
Called to Service
Molly Schaller, Ph.D., associate professor in the School of Education and SLU's Opus Prize site coordinator told guests at Thursday's award ceremony that commitment to be women and men for and with others is an integral part of SLU's identity.
"And yet, the Opus Prize experience has deepened our understanding of what a life of service through faith can be and how it can manifest itself in our world."
Jordan Glassman, a senior who served as an Opus Prize ambassador to Bon Pasteur, said he was forever changed by his time in the DRC with Sr. Catherine.
"The people I have interacted with are now held deeply in my heart and in my mind as I consider where to spend my energy in the future," he said. "I am inspired by Sr. Catherine to invest more fully in my relationship with God and trust in his slow but persevering work."
Sr. Catherine said her time in St. Louis gave her an opportunity to reflect on the power of global connectivity to improve the common good for all people.
"The impact of what we are sharing is powerful," she said. "We are building on the idea of what the world can do when we respect the basic human dignity of all people."
Br. Charles, an alumni of Loyola University Chicago, said he immediately felt embraced by the Saint Louis University community.
"The welcome we received made me feel right at home here," he said. "The student Mass on Sunday was inspiring. SLU is training students to go out and transform lives."
Margaret Kirsch, a senior who served as an Opus Prize ambassador for the Bannakaroli Brothers in Kenya, said her trip reminded her of the many blessings in her life.
"The disparities I witnessed are hard to sit with, but I try to allow these truths to motivate me in how I live my life and use my passions and gifts," she said. "I remind myself not to take the opportunities I have been blessed with for granted. I am learning now that I may give back going forward."
Each year, the Opus Prize Foundation chooses one Catholic university to help it award one $1 million and two $100,000 prizes recognizing individuals who are addressing persistent and pressing social problems. Collectively, these are among the world's largest faith-based, humanitarian awards for social innovation.